Voice Packages of local telecommunication operators until the end of June 2022
The followings are the voice packages of telecommunication operators in Myanmar, Atom, Ooredoo, and MPT until the end of June 2022.
MPT offers three voice packages, Shwe Zagar, Shwe Thahar, and Shal Pyaw for voice rate packages. The rates are as follows: 

Starting from 13th December 2017, all local calls except for Base Tariff will be charged at every 15 seconds. Visit MPT's Blog Post for more about Base Tariff.
Other voice packages of MPT are as follows:

All-in-one Promotion Pack of MPT's international call packages can be purchased at a price of 499 Kyats for 50 Mins to Thailand, Malaysia, China, Singapore, Bangladesh, India, South Korea, Japan, Austria, and Hong Kong, the US, and Canada within 30 Days. Dial *2050# (or) *106# to purchase.
Users can purchase voice packages through MPT4U App which can be downloaded through Google Play Store and App Store or through mpt.com.mm.
Users can also get voice packages of Atom, which is recently changed to Atom from Telenor through ATOM Store (or) atom.com.mm.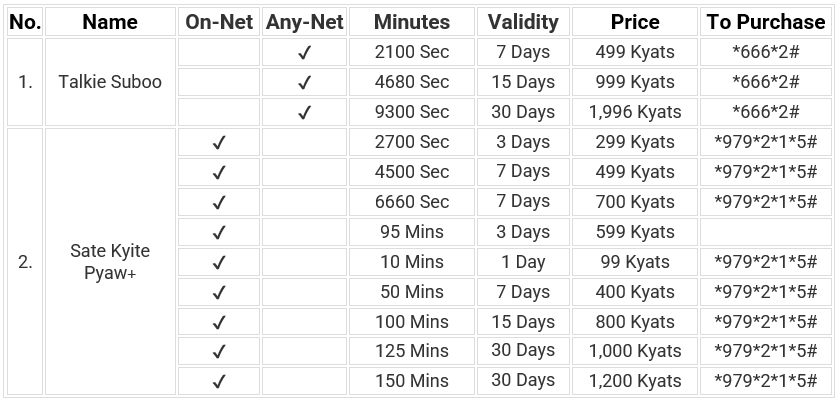 International Voice Packages of ATOM are as follows:
Call Like Local Packages will be available to contact Singapore and India.

Ooredoo users can purchase voice packages through the My Ooredoo App or ooredoo.com.mm. Download My Ooredoo Mobile App from Google Play Store and App Store.
Users who purchase Oomanji Package will be able to win up to 1,000 GB of data at each level. Those who buy Don Don Don packages will also have a chance to get up to 200 GB.
The voice package of Ooredoo's international voice packages is as follows.
International Call Package will be available to connect 7 countries, China, Malaysia, India, Singapore, USA, Canada, South Korea, Japan, and Austria. However, IDD Call Pack will be available only in Thailand, and Bangladesh.

Ooredoo users who use USSD codes can access the valuable codes provided by Ooredoo at https://ooredoo.com.mm/portal/mm/usefulcodes.
The above call packages of MPT, ATOM, and Ooredoo are referenced through their respective websites and applications.