About HUAWEI P40 smartphone series
HUAWEI Consumer Business Group is launching a new generation of smartphones P40 Pro+, P40 Pro, and P40. HUAWEI's newest P40 Series Flagship comes with a new look and aesthetic design. Stunning photography and video recording technology in this series will set a new milestone in mobile photography and video capabilities.
To achieve this, the HUAWEI P40 series has inherited the legacy of the former P series which had gained a strong reputation in the field of smartphone photography and added a 1/1.8" high-resolution image sensor which is a larger size to enhance the ability to capture a better image in low light conditions. With the Pixel Binning technology combined, the pixel size becomes 2.44μm and enhances the entry of light. The new Periscope Lens is capable of a zooming range of 10x True Optical Zoom.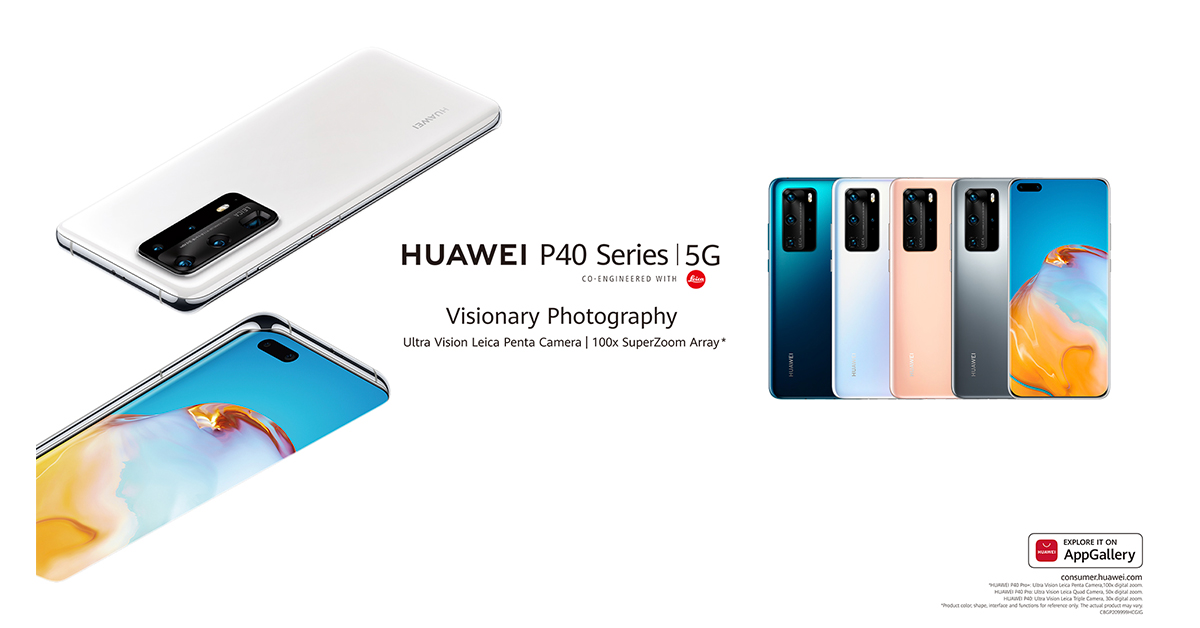 Photo Source https://www.facebook.com/huaweimobile/
HUAWEI P40 Series features Kirin 990 5G SoC and Wi-Fi 6 Plus technology which can connect to faster 5G networks. Not only the camera and performance are enhanced but also the design is made to be attractive, compact, and aesthetic. The OLED Curved Panel is designed with HUAWEI Quad-Curve Overflow Display technology to create a four-sided curved display. The design is also been enhanced and the Quad-Curve Overflow Display is very responsive which allows users to feel the good experiences in both visual effect and design.
HUAWEI's Quad-Curve Overflow Display is the unprecedented design of HUAWEI P40 Pro and P40 Pro+. The design of the four-sided curved display is inspired by the steady flow of water. It resembles the movement of water filled in a cup. Because of the usage of the small body frames and rounded corners, the P40 series gives a compact and nearly full-screen feeling. Not only the display and beauty are innovative but also the In-Display Fingerprint Reader is enhanced, thus the unlocking speed of the biometric authentication system is 30% faster than the previous smartphone generations.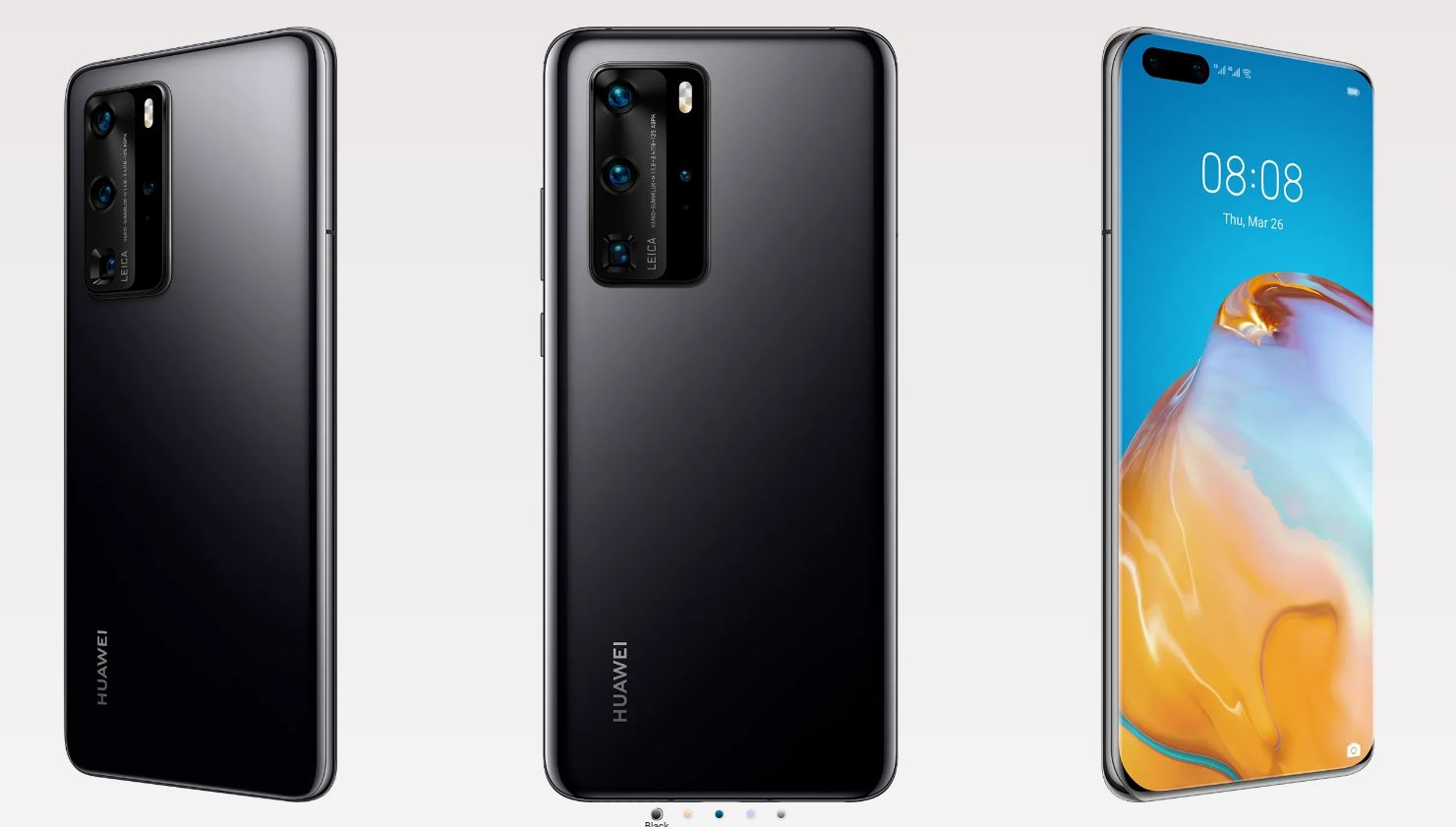 Photo Source https://www.facebook.com/huaweimobile/
The Glossy Glass color scheme comes with Ice White, Sea Blue, and Black whereas the Refractive Matte Glass color scheme has Blush Gold and Silver Frost. These innovative and aesthetic color schemes made the P40 and P40 Pro smartphones look chic in every viewing angle. Ceramic body made with special nanotechnology is exclusively available only for P40 Pro+ and has two choices; black and white.
The unique feature of the HUAWEI P40 series is the camera featuring the upgraded Ultra Vision Leica Camera system. This feature will be seen in HUAWEI P40, P40 Pro, and P40 Pro+ as the triple, quad, and Penta camera systems respectively. The advantage of using the Ultra Vision Leica Camera is that each of the performances of ultra-wide-angle, wide-angle, and the telephoto lens of cameras is enhanced and provides unique artistic creation. The Leica Quad Camera used in the HUAWEI P40 Pro is combined with the more powerful Ultra-Wide Cine Camera and ToF (Time of Flight) sensors as well as the power of SuperSensing Zoom with Tele Lens which can give maximum zoom range of 50x.
In addition to the upgraded features of P40 Pro, P40 Pro+ supports SuperZoom Array technology, which can achieve a 10x True Optical Zoom as well as a maximum of 100x digital zoom. The advantage of Ultra Vision Sensor in the HUAWEI P40 series is that it features the largest CMOS sensor of size 1/1.28" with the support of Pixel Binning technology and the Pixel size of 2.44μm. Full Pixel Octa PD (Phase Detection) Auto Focus system is integrated with AI technology, allowing faster autofocusing even in low light conditions. Nevertheless, HUAWEI's XD Fusion Engine can process different pictures taken with different lenses and shooting angles such as Ultra-Wide, Wide and Telephoto Lens, and help to get better image quality.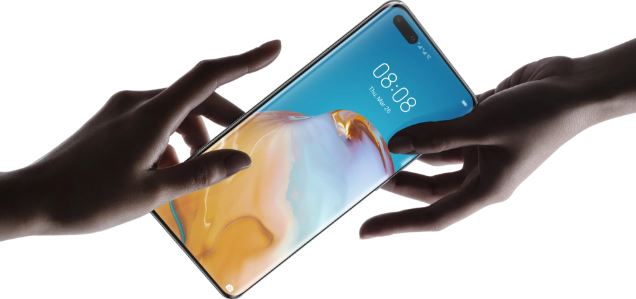 Photo Source https://www.facebook.com/huaweimobile/ 
Periscope Lens used in HUAWEI P40 Pro offers 5x Optical Zoom, 10x Hybrid Zoom, and 50x Maximum Digital Zoom and this unique telephoto capturing power is made possible by the use of company's first RYYB Color Filter Array technology. It allows better light entry and contradicts the drop of image quality when captured with zoom. The Lighting and Detail Effect for Portrait photography is optimized by Deep Learning Algorithm and Real-Time Optimization. The HUAWEI P40 Pro and P40 Pro+ feature 32MP AF Selfie Cameras which have autofocus and Bokeh features assisted by the IR Depth Camera that meets HUAWEI's Signature Quality standards. If someone or something undesirable comes into the photo frame, it can be easily removed or hide with the AI Remove Passerby feature in the camera setting. Also, AI Remove Reflection is a great way to eliminate intense reflections and improve image quality. The P40 series has not only improved photography features but also enhanced video functionality. P40 Pro and P40 Pro+ have 40MP Ultra-Wide Cameras with 18mm focal length and 1/1.54" sensor with 3:2 Aspect Ratio support. These cameras are equipped with SedecimPixel Fusion technology which supports 16-in-1 Pixel Binning and will achieve a Super Pixel Size of 4.48μm. The sensor has ISO up to 512,000 for better light sensing and can shoot Ultra Slow-Motion Footage at 7,680fps (frame per second). All HUAWEI P40 series features real-time Bokeh Video recording functions which can highlight the main subject and that feature can also be used in a wide-angle lens. Telephoto Camera can create a High-Quality Zoom video and can shoot time-lapse footage in 4K resolution. All smartphones of the HUAWEI P40 series are powered by Kirin 990 5G SoC and an integrated 5G network system provides better connectivity. The accompanying NPU function enhances the AI performances and also adds a unique side to the energy-saving segment.
HUAWEI P40 Series will be sold at respective prices and the prices listed below are international prices. They are predicted to be launched by the end of April in Myanmar but Huawei Consumer Business Group (Myanmar) will announce the exact release date and price.