MPT Customers Can Access To Millions of Local and International Music From JOOX VIP with Newly-Launched Data Pack
MPT has launched a new, all-purpose JOOX Data Pack to offer the best in music and entertainment for its customers.
Now, MPT customers can purchase all-purpose mobile data packs and get unlimited access to millions of local and international music from JOOX's VIP global music catalog.
As the leading music streaming services, JOOX offers music lovers a massive catalog of artists, playlists, and songs. Where the VIP Plan allows customers with access to ad-free and Hi-Fi quality music experience and offline listening function to enjoy all downloaded songs without any limits.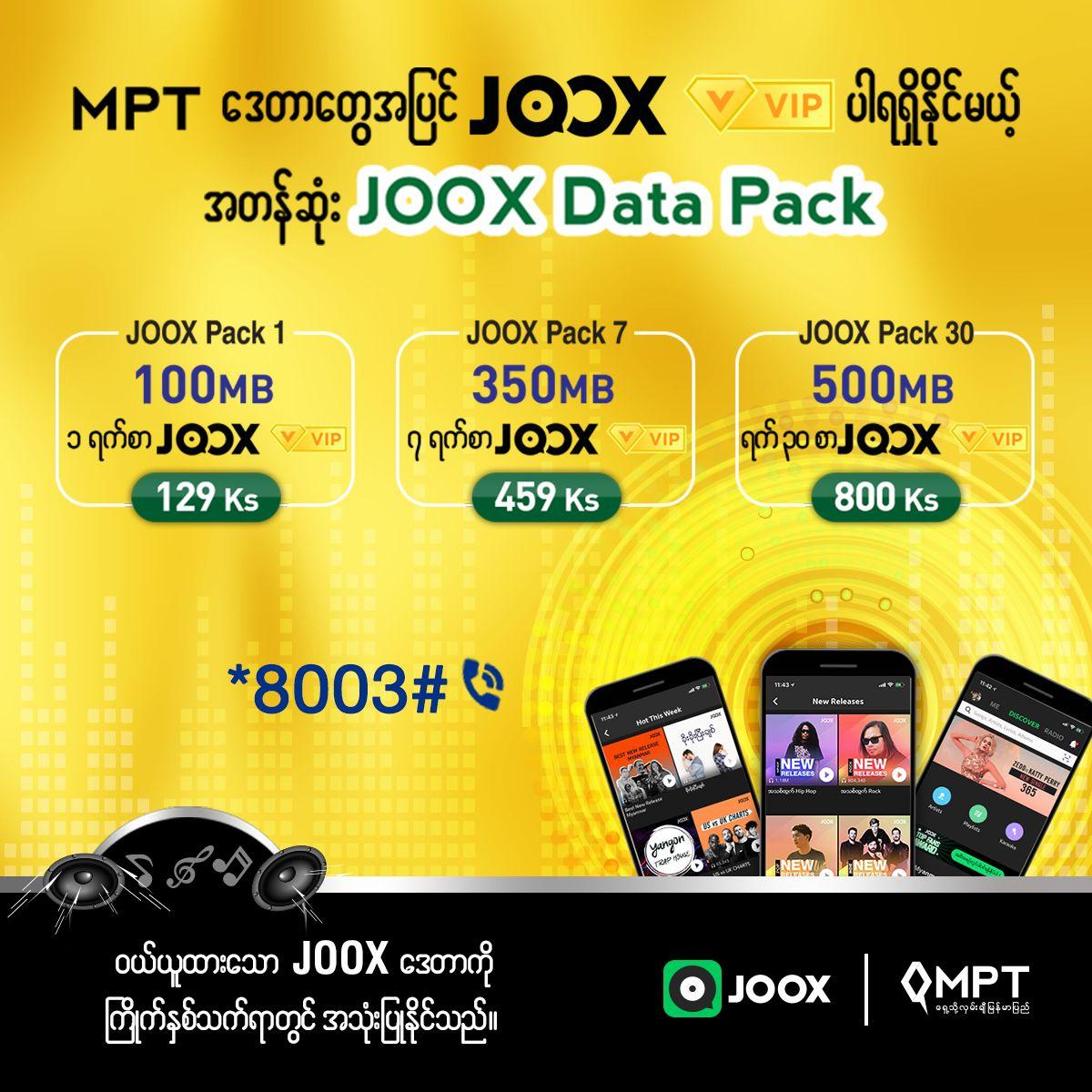 Photo Source https://www.facebook.com/mptofficialpage/
Many people are staying home due to the current COVID-19 situation, the JOOX Data Packs will allow MPT customers to have unlimited access to all music at no extra cost along with access to JOOX VIP service. Customers can choose from a variety of data packs including Purchased JOOX data can also be used anywhere customers like.
JOOX is a product of MPT's premier Alliance Partner Tencent Corporation and delivering tailored music experience for MPT customers since 2019.
With the new data pack, customers can simultaneously enjoy free access to millions of music from JOOX's global music catalog and have access to all things digital, from social media to streaming videos and live gaming.
Mr. Tetsunori Nagashima, Chief Commercial Officer of MPT-KSGM JO, said: "JOOX has been our alliance partner since 2019 and this year we are strengthening our collaboration to offer affordable JOOX Data Packs, which connects MPT customers to an amazing catalog of local and international music. Our innovative and affordable entertainment pack will enable our customers to spread out their digital experience to next level. We are expanding our digital entertainment offerings with exclusive privileges to provide our customers with comfort, entertainment, and inspiration while staying home during these difficult circumstances."
JOOX Data Packs can be purchased by dialing *8003*# or via the MPT4U app. After buying one of the packs, customers will receive an SMS with a special link to redeem JOOX VIP access. Data consumption will be deducted from the data quota bundled in the JOOX Data Pack. After reaching the data limit, data will be charged at regular rates depending on data packs or PAYG.
Customers can purchase an unlimited number of packs. The data quota and validity will be merged, i.e. the volume of all purchased packages will be added, and the period of use will be extended to the date of the last purchased package.
MPT customers can visit Google® Play Store or Apple® App Store to download the JOOX Music application.
All MPT customers can also seamlessly use MPT4U applications to manage their accounts on mobile devices from the convenience of their own homes. For more information, please call 106 or visit the official MPT Facebook page at https://www.facebook.com/mptofficialpage/ or MPT official website www.mpt.com.mm for further details on MPT's products and services.