Ooredoo Myanmar wins the STEVIE® awards in three categories in 2022 international business awards®
Ooredoo Myanmar has received three bronze STEVIE® awards at the 19th Annual International Business Awards® 2022 for the achievements in Customer Satisfaction, Human Resources, and Most Valuable Corporate Response (COVID-19 Response) recognizing its unwavering commitment to enriching the lives of its employees, customers and Myanmar people.
My Ooredoo App earned the prestigious recognition for "Achievement in Customer Satisfaction". My Ooredoo App is designed to enrich the customers' digital lives as an all-in-one platform.
Ooredoo Myanmar has been upgrading the App to improve the customer experience and released additional features in 2021. The upgraded App was integrated with M-Pitesan Mobile Wallet, whereby customers could access all the functionalities of the Wallet (e.g., making digital payments). Customers can view their data, SMS, and voice balances on the simple intuitive interface and enjoy all its services (buying voice and data packs, topping-up etc.)  and 75+ entertainment options.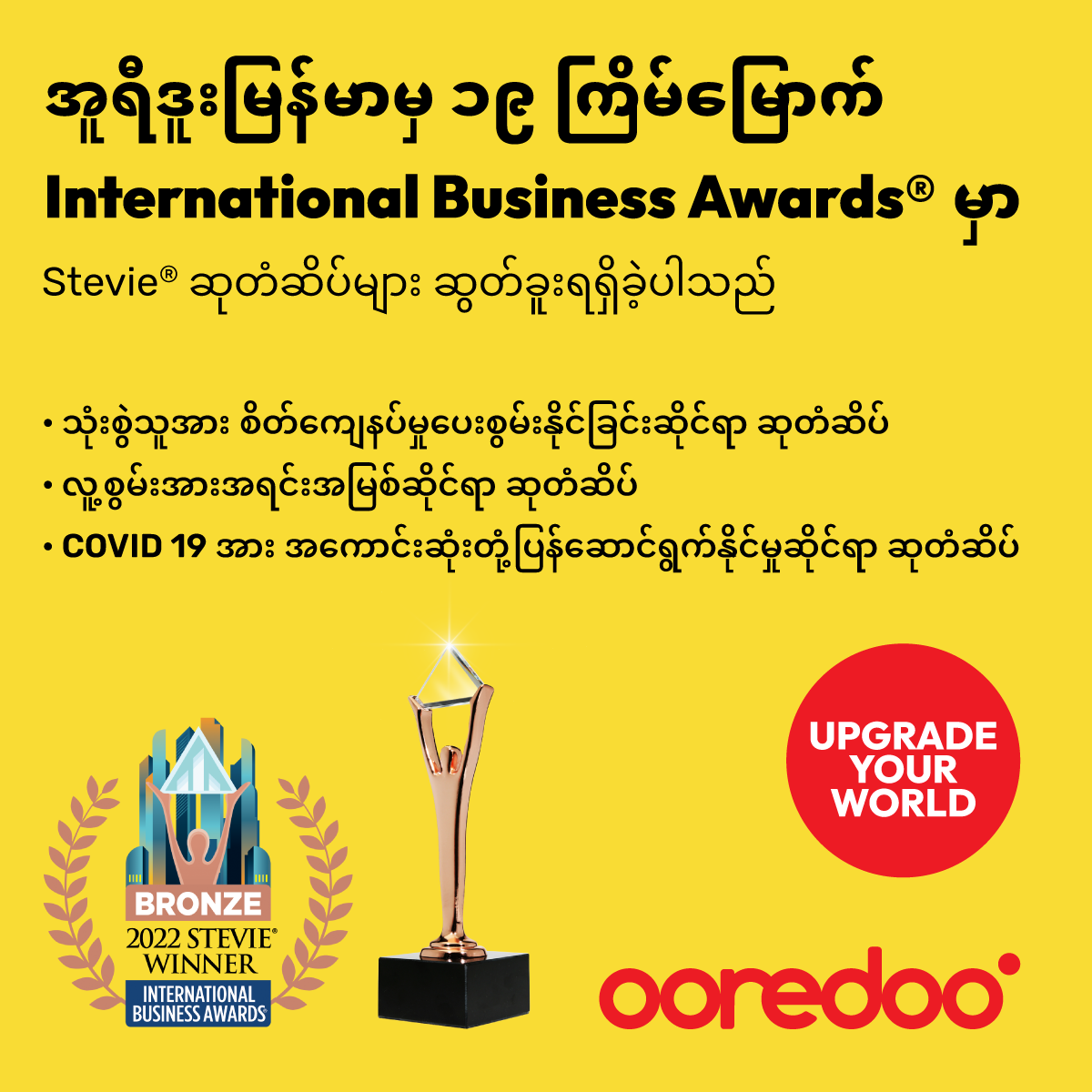 Photo Source https://www.ooredoo.com.mm
Customers can also win voice and data bundles by playing Oomanji and O-Cade on the App. One of the key features is its digital care service, which allows customers to report digitally on the app without having to phone the contact center.
Ooredoo Myanmar launched the following channels for employee engagement: Ask Me Anything channel, which is an interactive digital platform to facilitate employees' inquiries ; Coffee with the CEO and Coffee with the CXO programs—designed to increase communication lines between employees and senior management; the Online Suggestion Box for employees to send their suggestions to the management and Team Barometer which is a short survey used to regularly assess the overall happiness of employees.
Mr. Rajeev Sethi, CEO of Ooredoo Myanmar, noted: "We are honored to receive three prestigious  STEVIE® Awards and are grateful to the jury for acknowledging Ooredoo Myanmar's consistent efforts to provide the best telecommunications services in Myanmar, to empower the communities of Myanmar and support the country in combatting the COVID-19 pandemic.  Moreover, at Ooredoo Myanmar, ensuring the health and safety of every employee is of paramount importance to us— it's in our DNA. Being recognized with a STEVIE® Award in the category of "Achievement in Human Resources" is a testament to our continuous efforts to improve our working environment. We strongly believe that our people are key to our success and to our mission of making the lives of the people of Myanmar better and simpler."
Winners will be celebrated during a gala banquet at the InterContinental London Park Lane Hotel, in London, England, on Saturday, 15 October – the first live IBA awards ceremony since 2019.