The Chinese Chambers of Commerce will not accept any new registration for the COVID-19 vaccine at 50,000 Kyats per person
It is known from one inquired person for vaccination that the Chinese Chamber of Commerce will not currently accept the new registration for Covid-19 Vaccination with 50,000 MMK per person.
Starting from 24th August, vaccination is started for the registered people at the self-funded Covid-19 Vaccination Centre led by that Association located at Thuwannabumi Event Park, Yangon.
" I went there as people could take vaccination with 50,000 MMK, but I could not do as I did not register. If somebody wants vaccination, it is required to ask the Chinese Chambers of Commerce, so I went there. Currently, the new registrations are not accepted. Now, they are vaccinating the people who registered for vaccination last June" said a person who inquired about vaccination on August 26.
Regarding the self-funded Covid-19 vaccination, the public interest is rising and more and more people are coming to Thuwannabumi Event Park for vaccination inquiry. The registered people are also queuing for getting vaccinated at that Event Park.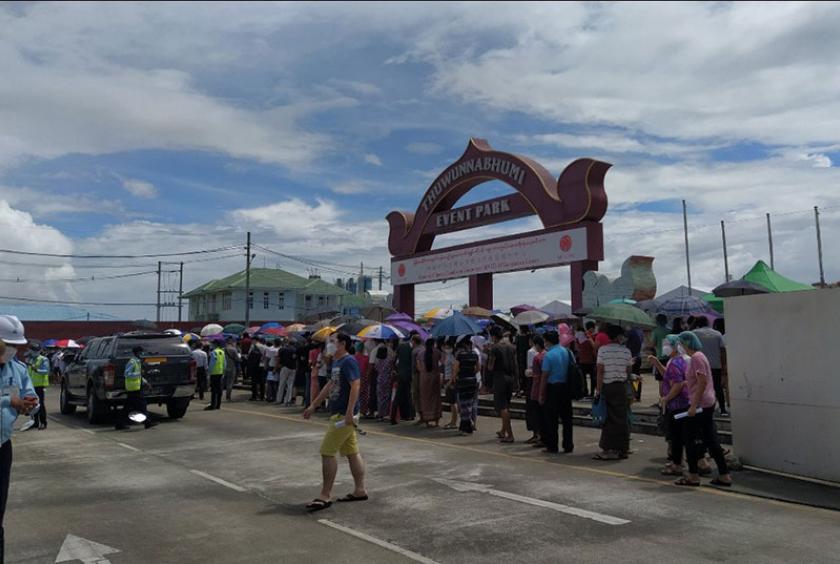 Photo Source https://bit.ly/3DtE5Jz
When we went and checked with the Myanmar Chinese Chamber of Commerce, an in-charge person from that office said, "the new registration is not allowed and we are now vaccinating the people who registered in June." That center was initiated by the Myanmar Chinese Chamber of Commerce (MCCOC) with the directions of the Ministry of Health and Yangon Covid-19 Management and Emergency Response Team.
The self-funded Covid-19 Vaccination Centre was opened on 24th August near Thuwanna Junction, Upper Pazundaung Road, Thingangyun Township and the pre-registered people got vaccination there. At that center, the registered people, organizations, and companies will get the vaccination regardless of religion. The MCCOC will use Sinopharm Vaccines imported from China at the rate of 50,000 MMK. According to the Statement of the Chinese Embassy in Myanmar, 700,000 doses of Sinopharm Covid-19 Vaccines arrived on 21st August evening.