An online job fair for Myanmar IT/Engineer in Japan for August 2021 will be held online
An online job fair and job application for Myanmar IT/Engineering Professionals in Japan who want to work and want to become a Career up will be held online.
Part-time job Times Co., Ltd, which provides one-on-one job opportunities for Burmese in Japan, is holding the event online for Myanmar people who want to get more jobs in Japanese companies and who want to gain work experience in Japan.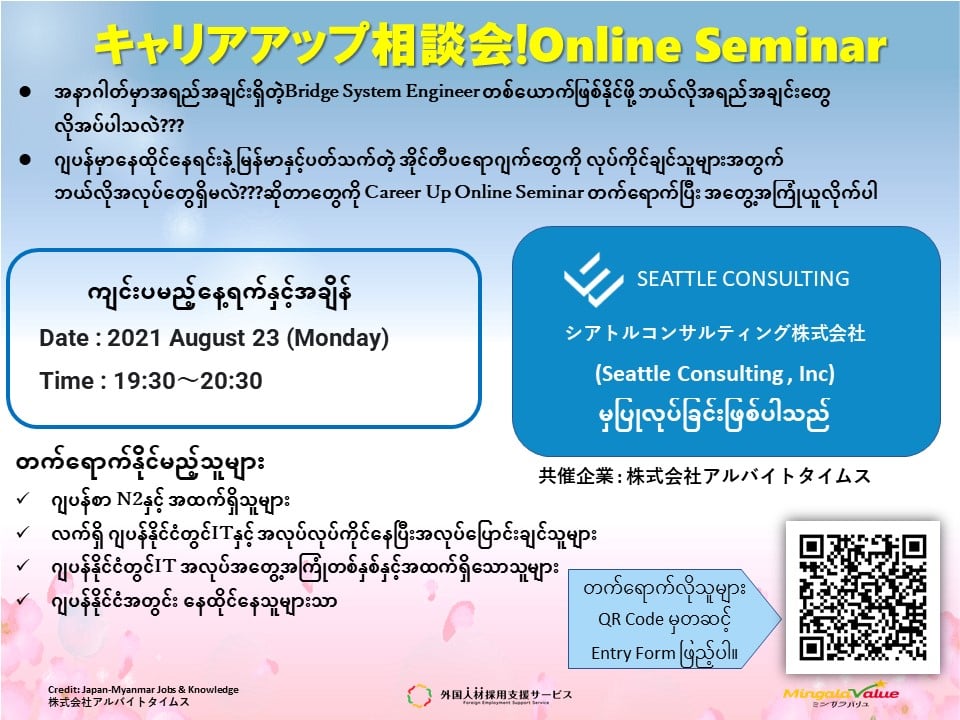 Photo Source https://web.facebook.com/Japan-Myanmar-Jobs-Knowledge-732800030159020/?ref=page_internal
Job information exhibition for human resources in Myanmar is also an online job application event for IT/Engineering job seekers in Japan who want to hire Myanmar people in Japan.
The event will be held on Monday, August 23, 2021, from 7:30 pm to 8:30 pm.
By attending this event, you can share job vacancies related to IT/Engineers in one place with just over 2 hours, choose your preferred job and apply for a job at once, and will also have the opportunity to freely ask questions about the company's choices.
Those who can attend the event are those who are currently living in Japan, have experience in IT/Engineering in Japan or Myanmar, must have at least Japanese N3 certification and only those who want career up can attend.
Anyone attending the online seminar will need to scan the Entry Form Link or the QR Code in the image below to register.
https://docs.google.com/…/1FAIpQLSeik9vCltJJaP…/viewform
The Online Seminar Link & Password will be sent via mail to those who register through the link.
ARBEIT TIMES CO., LTD has been established in Japan for 47 years and operates in accordance with Japanese laws listed on The Tokyo Stock Exchange JASDAQ.
Also, an HR Media company which hosts Myanmar Job Fair, IT/Engineer Seminar & Events, Seminars, Online events, Live Programs, SNS Programs systematically for Myanmar people in Japan to gain job opportunities and knowledge with free service.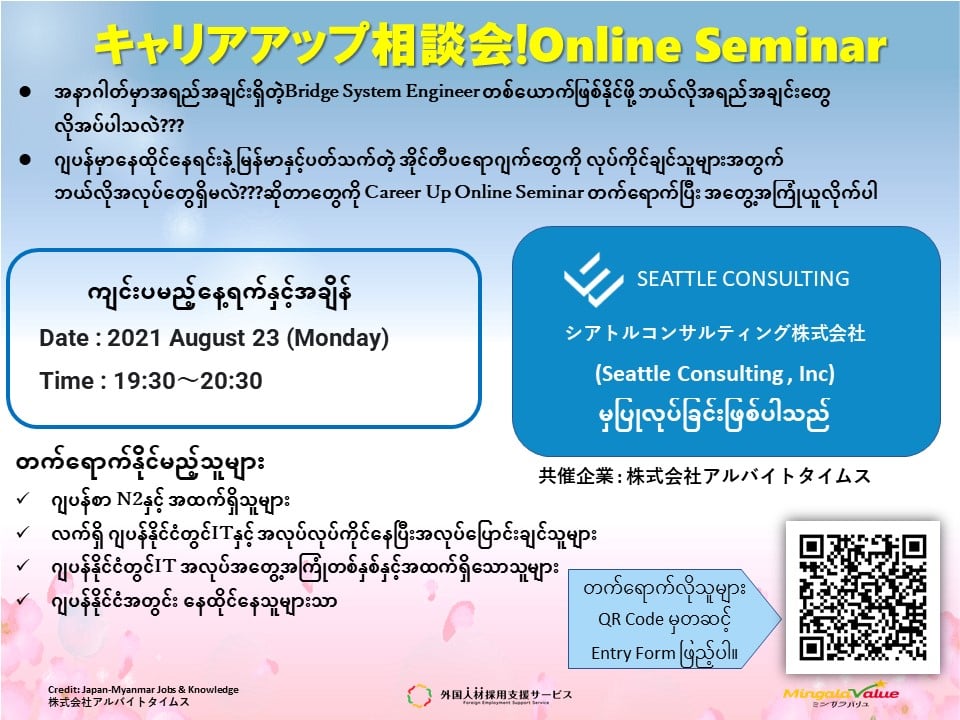 Photo Source https://web.facebook.com/Japan-Myanmar-Jobs-Knowledge-732800030159020/?ref=page_internal
In addition, foreigners are being offered jobs by keeping only Burmese nationals, fully confident in your work as being introduced to big companies in Japan, you will be able to consult with the person in charge of Myanmar people if you have any problems in the workplace, counseling about your problems form the time you start looking for a job to after your start working, and change of job.
JOB FAIR has been held seven times since May 31, 2015, to provide job opportunities for Myanmar in Japan, and a total of more than 100 Myanmar citizens have been employed at the event. It is learned that it will be held in the coming years as well.