An online job fair and job application Event for IT / Engineering in Japan will be held
A job fair and job application event from the best Jobs Vacancies in Japan will be held online for Myanmar IT/Engineering Professionals in Japan who have experiences and who want to career up. The event will be held on Saturday, April 24, 2021, from 9:30 am to 12:30 pm.
The purpose is that the event especially launches for Myanmar People to get job opportunities in Japanese Companies and to gain work experience in Japan for Myanmar People by ARBEIT TIMES CO., LTD that provides job opportunities for Myanmar People in Japan.
This is a Job Fair for Human Resources in Myanmar and this online job application event provides many IT/Engineering job vacancies in Japan that want to hire Myanmar People in Japan.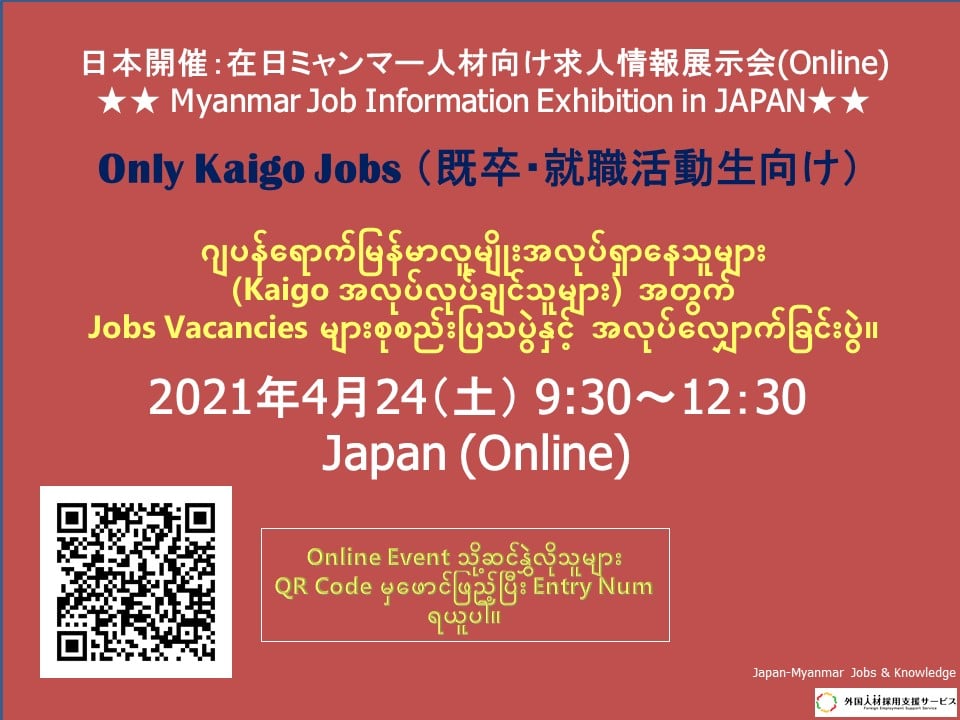 Photo Source https://www.facebook.com/Japan-Myanmar-Jobs-Knowledge-732800030159020/
All attendees will need to fill the Entry Form. Those who have work experience in Japan or Myanmar and want to change job, and those who want to career up should attend the event.
The required qualifications for those who want to attend the event are as follow.
ARBEIT TIMES CO., LTD has been established in Japan for 47 years and is a company that operates in accordance with Japanese law. Since May 31, 2015, JOB FAIR has been held seven times for job opportunities for Burmese in Japan, and a total of more than 100 Burmese have been employed. And it will be held in the coming years as well.
To register – https://docs.google.com/…/1FAIpQLSeYOlrCjR1CpV…/viewform
Only those who fill in the entry form will be notified by email with the link to attend with the business name.