Ooredoo and HOG signed Memorandum of Understanding to support the development of E-sports Sector in Myanmar
Image Credit: http://www.globalnewlightofmyanmar.com
Ooredoo Myanmar that is giving broad and stable 4G network service in Myanmar and the first E-sports Center HOG in Myanmar signed MOU on 3th May and they will cooperate to support for the development of E-sports among youth and for competition up to international level.
HOG E-sports Center, opened in 2017, is the first and biggest International LAN-Gaming E-sports Center in Myanmar and it is supporting for the development of Myanmar E-sports Sector that held one by one competition, group competitions and game competitions' plans.
HOG E-sports Center is a place that can hold International E-sports competitions and we can get all necessary services.
The corporation of Ooredoo and HOG E-sports Center will give services of Bandwidth and high rate Dedicated Fiber Internet with special rates depending on the need of the HOG E-sports Center.
Ooredoo Myanmar will support their best network for E-sports game interested persons and they announced that a shop will be opened at the HOG E-sports Center for giving services and products.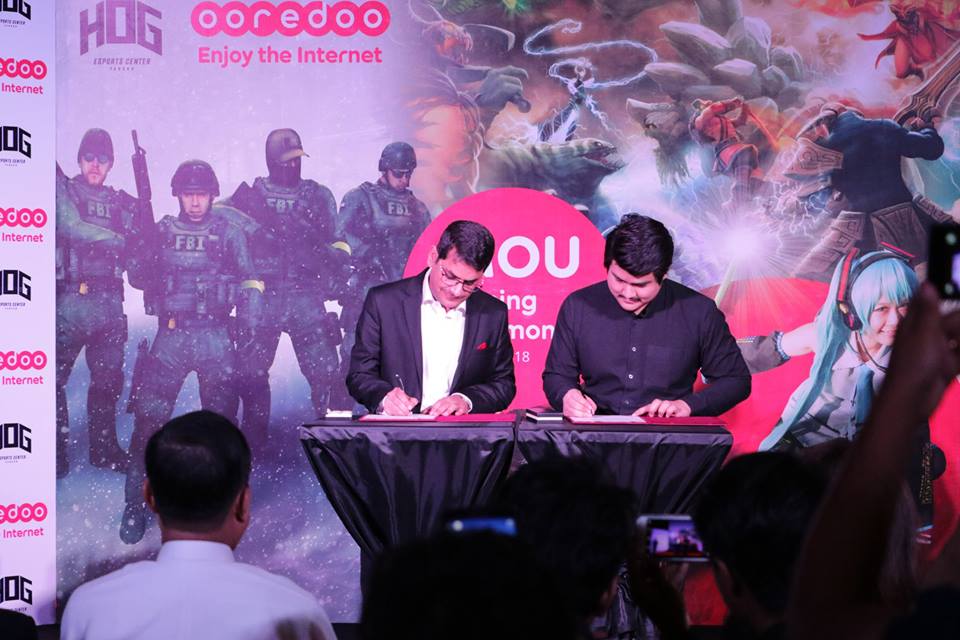 Image Credit: http://www.ooredoo.com.mm
Mr. Vikram Sinha, CEO of Ooredoo Myanmar said that "we are happy as we can support for the development of E-sports Sector among youth in Myanmar up to international level from the corporation with the HOG E-sports Center and stable high rate Internet that will give our Ooredoo Myanmar business use Dedicated Fiber Internet service, makes game interested youth to use the power of Internet satisfactorily and happily to get success".
And U Kaung Htet San, HOG E-sports Center's CEO and Founder said that "According to our motto Because You Deserve The Best, We want all E-sports game interested people to get believable and necessary training by using the high rate Internet Line.
So, we will corporate Ooredoo Myanmar that can give 24 hours, 7 days services for the best users by using stable and high rate Internet Line. 
In present E-sports game interested persons can enjoy the Internet power and get a game playing experiences to reach up to international level.
HOG E-sports Center in cooperation with Ooredoo Myanmar will hold an Online Games competition and will carry out Games interested persons all over the country to participate in this competition.
As kinds of Games, Dota 2 ၊ Mobile Legends and Online Games are included and the competition will held in June and will award over 100 lakhs kyats as a prize".
The first E-sports Courses and Competitions in the world were held at Stanford University, United State of America by using ICT and Computers in 1972 and now, E-sports becomes famous in the most countries all over the world and have developed in Myanmar. 
The Myanmar youth becomes interested in E-sports and it will be better if they have proper habits to be a proper World Games Group.
The HOG E-sports Center was opened in Yangon with the strong purpose of enhancing E-sports and Games education up to the international level with the permission of the Ministry of Transport and Communications, Ministry of Health and Sports and Ministry of Home Affairs.