MPT Launches New "DaVo" Packages, Bundling Data and Voice to Offer Amazing Value
MPT has launched a new DaVo bundle package combining 2x amount of any-data and any-net voice calls benefits (compared to normal package price), with 7 or 30-day validity options, which includes daily quota as data 1 GB and 15 minutes for any phone calls offering heavy data and voice customers even more flexibility in one package and no worry to do multiple recharges.
DaVo pack with 30-day validity (30GB any-data + 450 any-net minutes) can be purchased for an affordable price of 9,995 Ks only and the DaVo pack with 7-day validity (7GB all-data + 105 any-net minutes) can be purchased for 2,695Ks.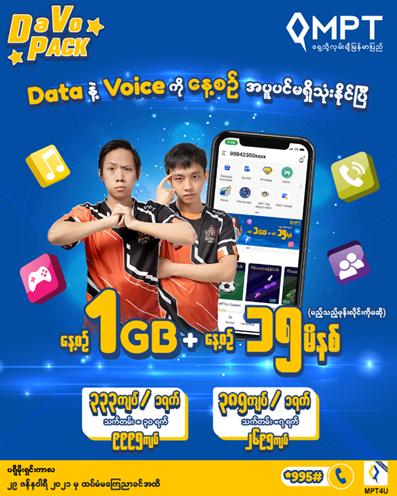 Photo Source https://web.facebook.com/mptofficialpage
By bundling all-purpose data with all-day access to Facebook, Messenger, Viber, JOOX, Mobile Legends, etc., with any-net voice calls, MPT aims to cover different needs and data usage habits of its younger customer base.
With the introduction of the affordable DaVo bundle packs, MPT is enriching the digital lives of its customers with great benefits, allowing them to stay connected with their loved ones through Facebook and Viber, etc. and phone call, enjoy a variety of entertainment options including music and gaming and have access to valuable news and information online while staying home.
Mr. Tetsunori Nagashima, Chief Commercial Officer of MPT-KSGM JO, said: "MPT continues to innovate and provide greater value for its customers with the first-of-its-kind integrated offering. With new DaVo packages, we are taking our flexible approach further by offering our customers even 450 minutes for any-net calls and 30GB of mobile data with 30-day validity. No doubts, it is one the most cost-effective mobile packs tailored to fit the connectivity needs that our customers face today and allow them to plan based on their budgets."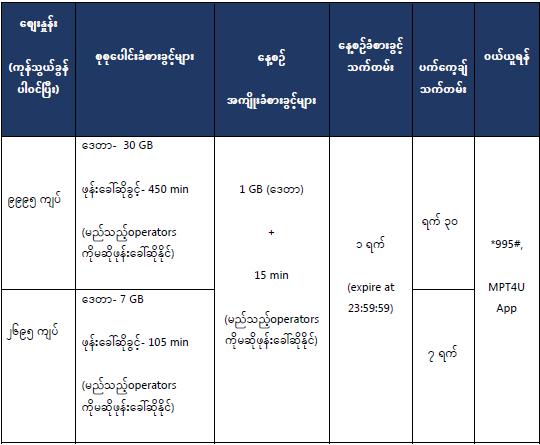 Photo Source https://web.facebook.com/mptofficialpage
After consumption of daily data and voice call benefits, Non-inclusive usage will be charged from respective data & voice packs, if available or standard pay-as-you-go (PAYG) rates of 1K/1 MB (Tax excl;) and 15K per minute (Tax excl;). Furthermore, customers are eligible for 1 time to play Hti Pauk chance and win the data prize in the MPT4U App by purchasing any DaVo Packs through any channels.
MPT has a long history of delivering service excellence, and money-saving offers for its customers with the promise of "Keeping Myanmar Connected". All MPT GSM/WCDMA Prepaid and Postpaid, active customers (Swe Thahar/Shal Pyaw/Shwe Zagar) can subscribe to the pack. The new DaVo packs can be subscribed via various channels. Multiple subscriptions are allowed. All voice minutes can apply to domestic on-net and off-net mobile usage. Customers can gift this pack to others via MPT4U (or) dial *995# and choose option 2.'Gift' and enter the mobile number they want to gift.
For more information call 106, visit the MPT official Facebook page at or MPT official website.