MPT Launches "Point Tan Tan" Promotion for Its Customers as Thank You Gift For Happy & Auspicious New Year
In celebrating of auspicious New Year, MPT, Myanmar's first and leading telecommunications operator now launched a Special "Point Tan Tan promotion to its customers nationwide. MPT users can participate to enjoy the exclusive benefits of this amazing promotional campaign.
The promotion period is from the 14th of January to the 26th of January 2023 and customers can have a chance to win up to 444 MPT Club points which they can redeem not only with existing redemptions items/rewards but also with Special Point Tan Tan redemption pack.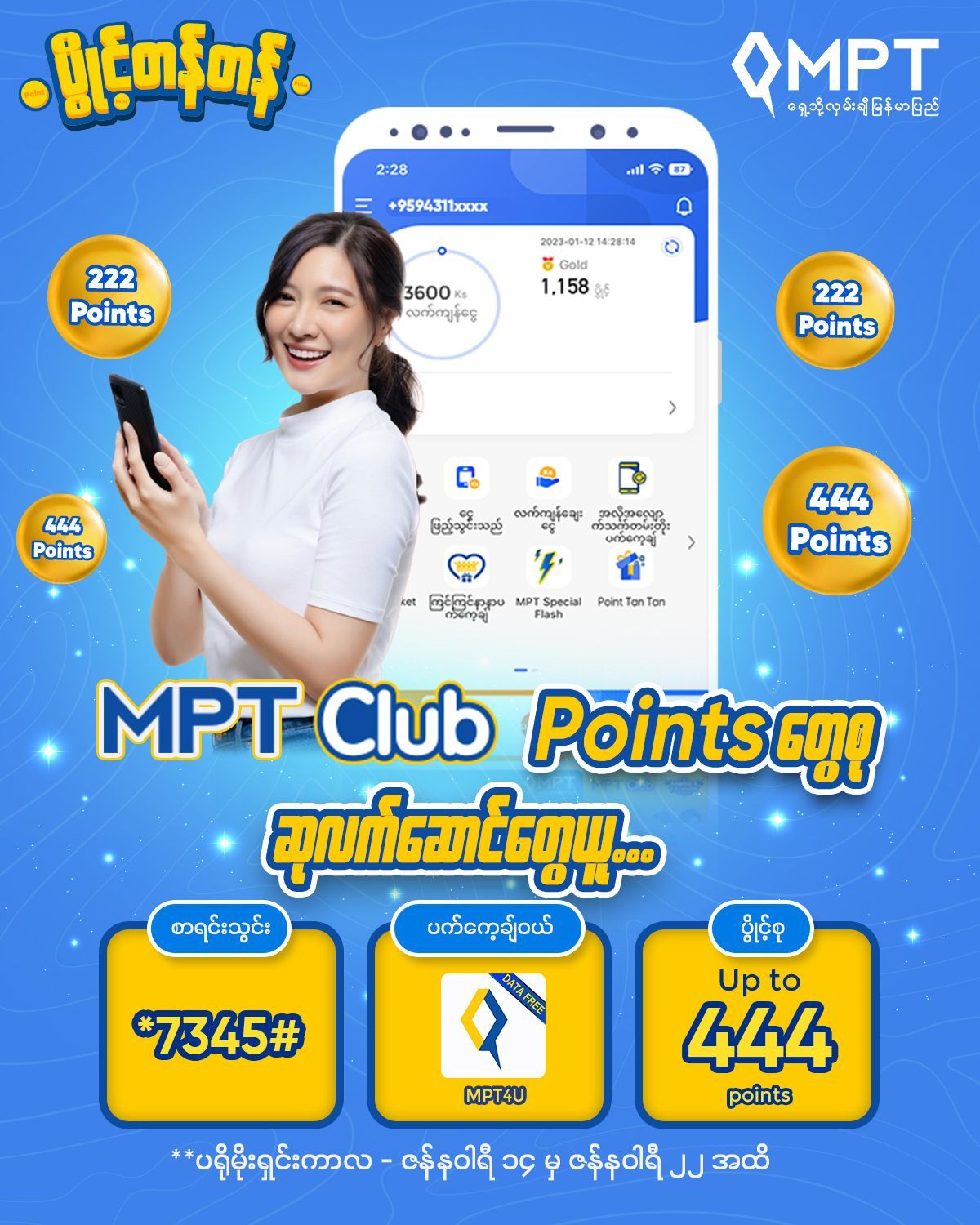 Image: MPT
Starting from 14th January 2023, customers can take part in this promotion by dialing *7345# and they can get one Special Hti Pauk chance when they purchase eligible packages in MPT4U till 22nd January. From 23rd January to 26th January, customers can redeem 444 MPT Club point with Special Point Tan Tan Pack. After purchasing packages, customer can get Point Tan Tan Hti Pauk chance in MPT4U and win MPT Club Points. When purchasing eligible packages within promotion period, customer can get one Point Tan Tan Hti Pauk chance for every purchase in MPT4U and win MPT Club Points.
All MPT GSM/WCDMA prepaid customers are eligible to participate in this promotion. Customers are required to purchase any packs on Data Carry Plus packs (AR), all in one 10X Htaw B (AR and Regular) and Kyin Kyin Nar Nar packs in MPT4U.
Following are the details of packages for promotion, its prices and possible winning Club points from Point Tan Tan Promotion.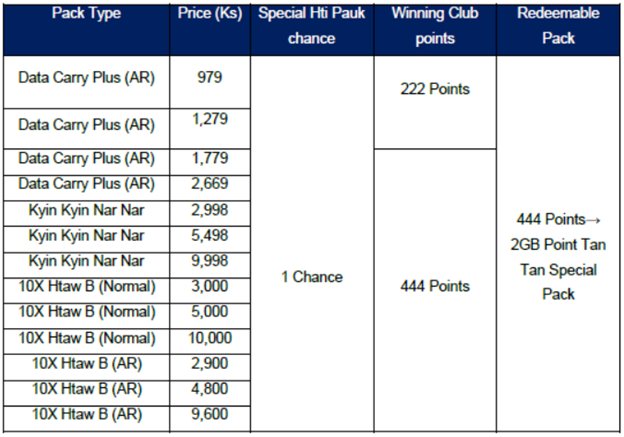 Image: MPT
There are many types of packs to choose, and customers can purchase any types that suit the best. Better still, multi-purchasing is allowed and they will get one Point Tan Tan Hti Pauk chance for every purchase no matter what pack they choose. Customers can play Point Tan Tan Hti Pauk till the end of the day they received.
Thank you everyone for using MPT services as always. MPT is consistently striving to provide innovative and convenient services to its customers and serve our customers better.