(10) Most download applications of 2022
Among the many newly released applications, here is a list of the 10 most downloaded application for both iOS and Android Platform of 2022. The TikTok application, which has been number one since 2022 Q2, has been able to take the number one spot eight times out of ten quarters. The remining two times of number one spot were taken by Zoom in Q2 2022 and Instagram in Q4 2021. Meta's applications such as Facebook, Messenger, Instagram and WhatsApp are still among the top 10 most downloaded applications.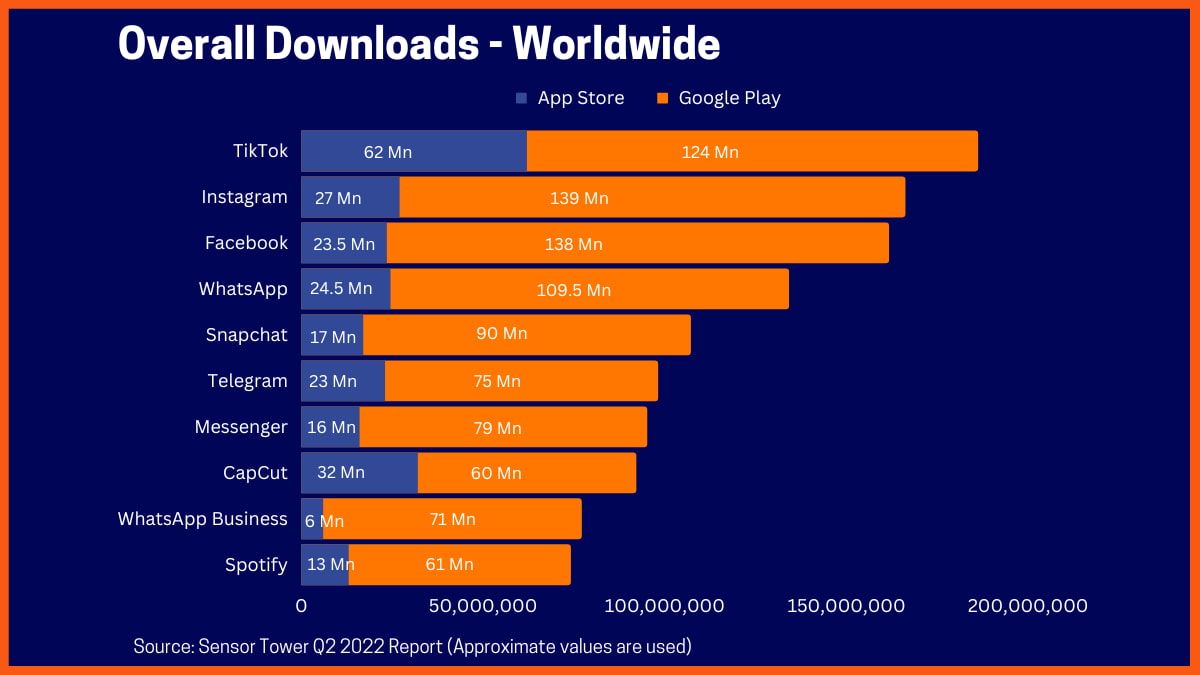 The top 10 most downloaded applications are –
TikTok, which can be said to be the main place where trends start on social media, is one of the most downloaded applications. Users can watch short videos from the application or the website. And can upload short videos by themselves as well. TikTok is a platform that can create various challenges and trends.
Instagram is a social media platform where users can share their photos and videos with their friends and families. The app is simple to use and it's not wrong to say that it's widely used for its built-in camera features along with its effects and filters which allow users to capture photos and videos through the app. Instagram is one of the app from Meta and an estimated 65% of the entire Asian continent has installed and one of the most popular app in India.
Facebook is one of the primary app of Meta and is a social networking application that installed in almost every phone. It's a very convenient app for both personal use, business and for marketing.
With 100+ billion downloaders, WhatsApp is one of the most popular chat applications. In addition to texting and chatting, the app also support international phone networks.
Snapchat, a social networking and messaging app, is the fifth most-downloaded application in 2022. Users can send photos, videos and emojis with friends or family.
Telegram, a cloud-based platform, is an app that is gradually becoming more popular for its encrypted system. In addition to texting, it is a very convenient app with the features of sending videos, images and various file types. From 500 million monthly users in January 2021 to 1 billion downloaders worldwide by the end of August. By 2022, it has reached over 700 million monthly users.
Another app from Meta, Messenger is also one of the most downloaded app, an instant messaging app that allows files, photograph video audio file An app that allows users to send stickers and media to each other. It is an app that can be used in conjunction with bots.
CapCut is one of the must-have applications for video editing. Basic video editing are available and users can also capture videos through the app. Typeface, effect, cutting-edge functions that can be used for free, as well as stabilization, chroma key, seamless slow-motion, keyframe animation, etc. are also included.
WhatsApp Business is an app mainly aimed at SME entrepreneurs. The app design is similar to the regular WhatsApp app but includes other functions. Businesses will also get Business Profiles that are verified.
Another application that almost installed in every smartphone is Spotify. It is a must-have app as users can listen to many international songs in one place and it also includes podcasts. Started in 2006, Spotify has more than 456 million monthly users, including 195 million subscribers as of September 2022.