MPT Collaborates With Viber to Celebrate These Holidays with Special Gift to its Customers
MPT further extends its partnership with Viber to offer its customers access to Viber branded paid stickers for free with the "A wonderful Christmas & New Year Treat" Campaign. Between 24, December 2020 and 31, January 2021, all MPT customers will be able to download selected premium stickers in the Viber Sticker Market without any charges for select branded stickers but applicable data charges are applied on download stickers.
Paid stickers pack offer as free to MPT customers include stickers with Viber characters about Positivity, Long Distance Relation, Cartoons (Natsumi & Lana the Sheep), Holiday Themes, Based on interests (Space & Movies).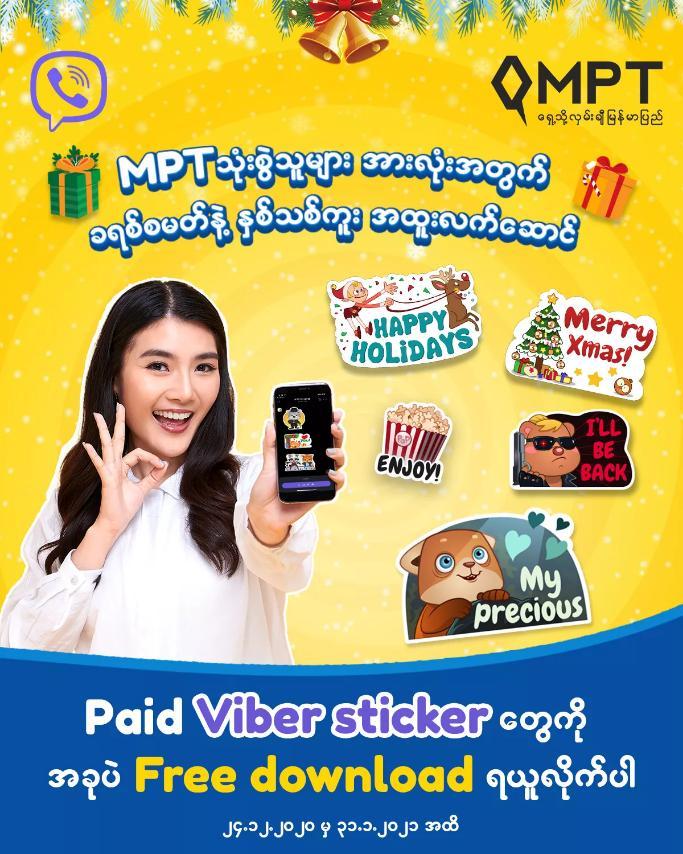 Photo Source https://www.facebook.com/mptofficialpage
"It is our special Christmas & New Year gift for our loyal customers to help them express emotions and share stickers with their loved ones", said Mr. Tetsunori Nagashima, Chief Commercial Officer of MPT-KSGM JO. "This year's festive season, we want to make messaging more personal. With stickers, everyone can easily express themselves in more creative, fun, and exciting ways. That is why we have partnered with Viber to open the Viber Sticker Market exclusively to MPT customers. Simply download sticker set with your favorite character and send greeting message with sticker now!" he added.
All MPT customers can take advantage of the "A wonderful Christmas & New Year Treat" campaign from 24th December to 31st January. MPT has collaborated with Viber since the first launch of the Sone Lin Lin package and as a result, customers who have subscribed to Sone Sone Lin Lin pack (Mini Pack and Maxi Packs) can enjoy unlimited access to Viber.
"We are very pleased with the significant growth through our partnership with MPT, as we see our users continue communicating and expressing themselves in the most secured messaging platform through stickers and in the communities. And during this coming holiday, it is a perfect time for us to celebrate with this special gift from us, for our users and partnership to cross this special milestone in 2020!" said Anna Znamenskaya, Chief Growth Officer of Rakuten Viber.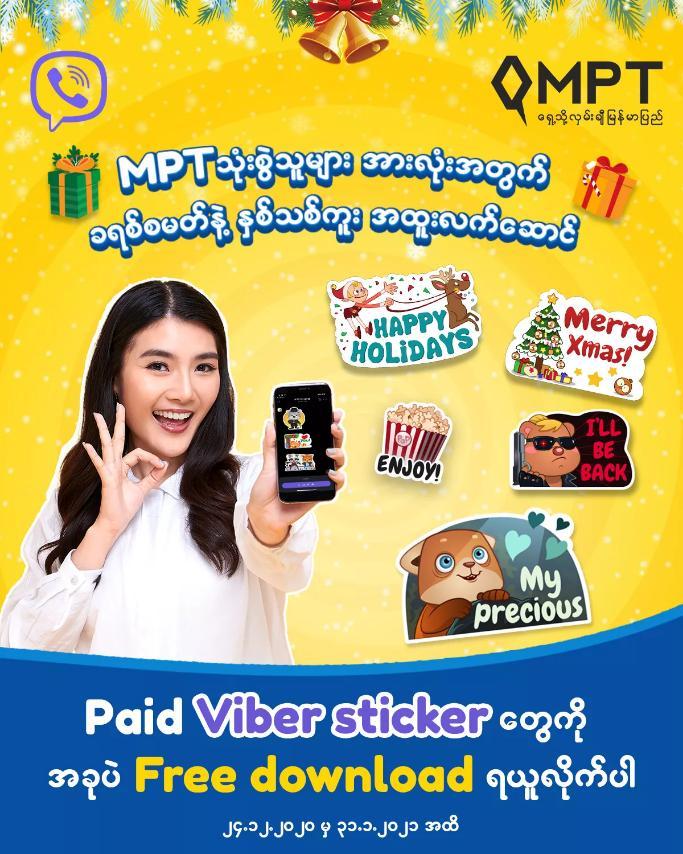 Photo Source https://www.facebook.com/mptofficialpage
Communication with the use of stickers is very popular on all messaging platforms. Viber is one of the most popular instant messaging apps in Myanmar. The average Viber user opens the app to check for new messages 12 times during a single day. The Viber Sticker Market offers hundreds of localized stickers with popular emoticons, catchphrases, and funny expressions. Some stickers are animated, while others include sound effects. By downloading premium stickers, users will auto-subscribe to MPT's Viber Community Group.
At Rakuten Viber, we connect people. No matter who they are, or where they are from. Our global user base has access to a range of features like one-on-one chats, video calls, group messaging, and updates and discussions with their favorite brands and celebrities. We ensure our users have a secure and free environment to share their emotions.
For more information about MPT, call 106, visit the MPT official Facebook page at www.facebook.com/mptofficialpage/ or MPT official website www.mpt.com.mm.