GoP Tour Platform, known for its various travel services from Startup stage
We can find information and buy things easily as technology in Myanmar is being developed and it is one of the benefits for all. Many Free Online platforms have emerged with online search habits. In addition, it is also the great opportunity of emerging platforms like technical, foods and travel information.
Among these platforms, the GoP Tour Platform is also the one that helps the tourism sector in Myanmar. GoP Tour Platform was launched in 2016 April as a Startup at first and there are many users currently and is also standing with the most beneficial platform for those who want to travel.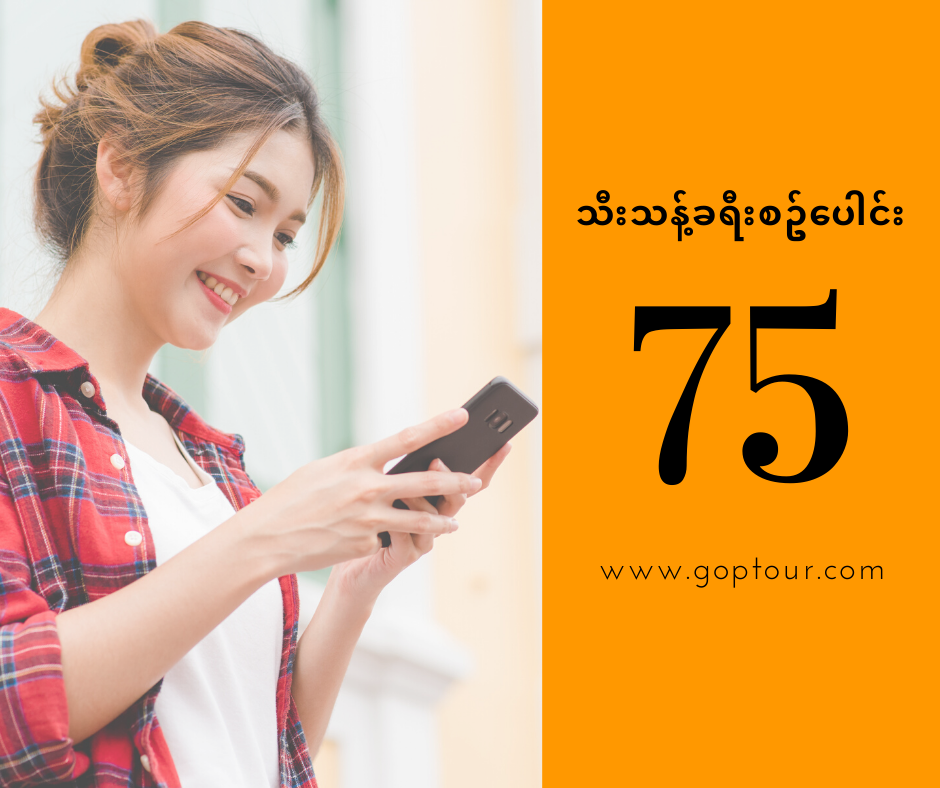 Photo Source –https://www.goptour.com/
CEO of GoP Tour Platform said "Getting started on the GoP Tour Platform is we got an idea with my friends. Finding a tour on Facebook wasn't satisfied at the time, 2016. We didn't get the result we want when finding on Facebook. Thus, we got the idea that it might be nice with something easy to find. Then, we start doing this. At that time, Phan Tee Yar made a competition for startups. When we applied, we and the other team were elected among 50 groups. We went to Bangkok and there we went for four months of Accelerator Training. We joined the Accelerator of Phan Tee Yar again after coming back. It took about six months. It started like this. Right now, we are running with 6 staff members."
He also mentioned how the startup GoP Tour Platform has faced many unexpected challenges and faced more than their talent when they start running the Startup.
"There are many difficulties for us. As we are developers, we just know how to write the codes. We don't know how to validate the idea. Validating the idea means thinking about whether the product will fit with this place or with the product market. In other words, we don't have startup knowledge. These are problems that we faced. The difficulty is we don't know how to make things safe."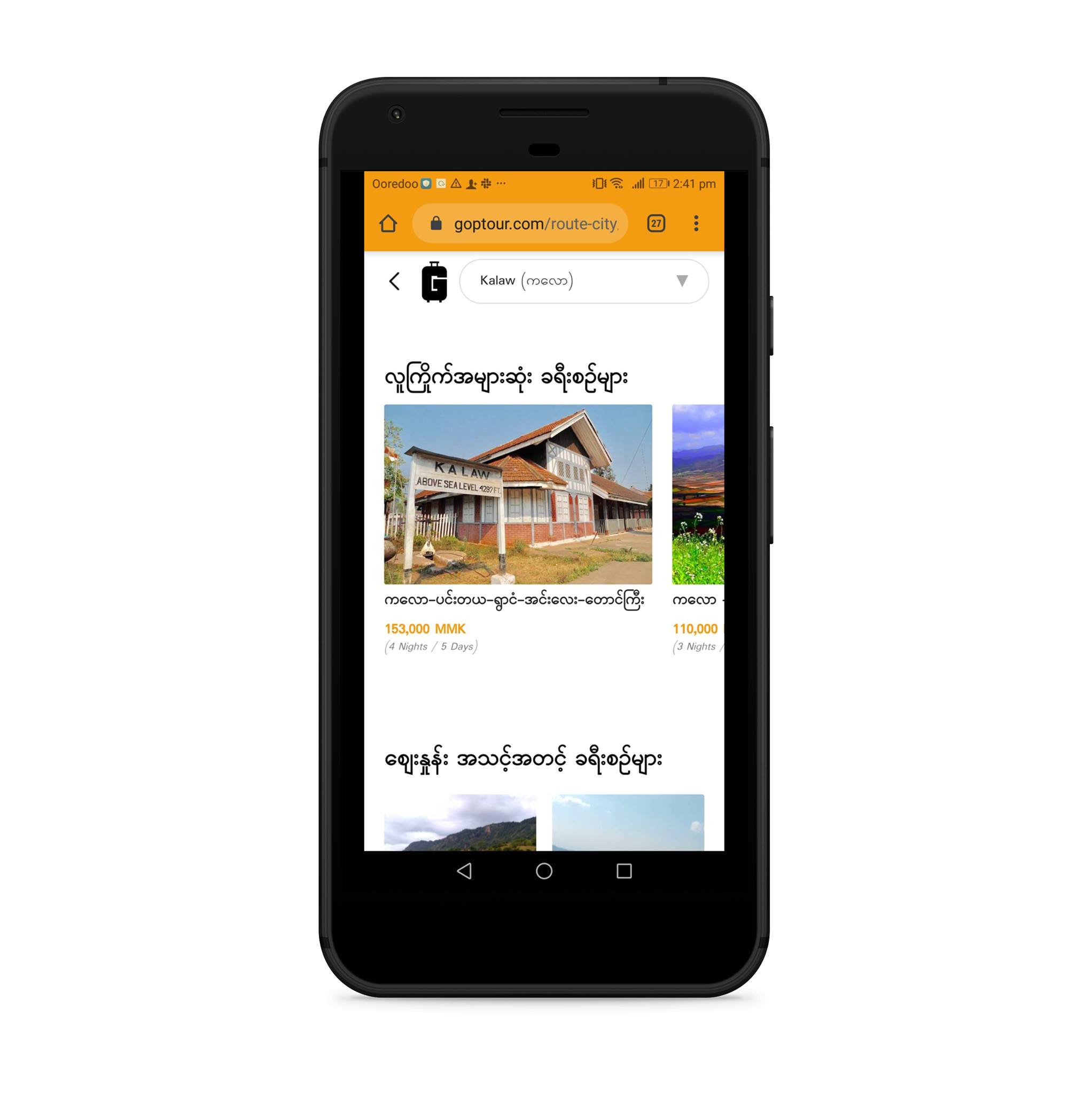 Photo Source –https://www.goptour.com/
There are over 300,000 visitors on GoP Tour Platform now and more than 2,000 customers are buying for the trips. GoP Tour Platform got the first prize in Mekong Innovation Startups in Tourism (MIST) about the travel competition among 4 countries, Myanmar, Lao, Cambodia, and Vietnam in 2017.
We connect with travel services around Myanmar to add the trips to the GoP Tour Platform and currently, we have already connected with Car Rental and Tour Guide services in the countryside.
About the full additional trips in Myanmar, CEO of GoP Tour Platform said that "we worked from Yangon City Guide and Facebook Page when we start running GoP Platform. We start connecting with the tourism industry. If we get a booking, how much we will charge for the commission. Some of the trips are not included in GoP Platform as we haven't switched to version 2.0 completely. The new version is starting now and all the trips on the old version haven't completely transferred yet. If there are sixty trips in the old version, the new one hasn't done yet. All the trips will be completed within one or two weeks. There is no Gornji trip now but it was already in the old version. It is because the technology has finished and the team that has put the content on the website is still busy.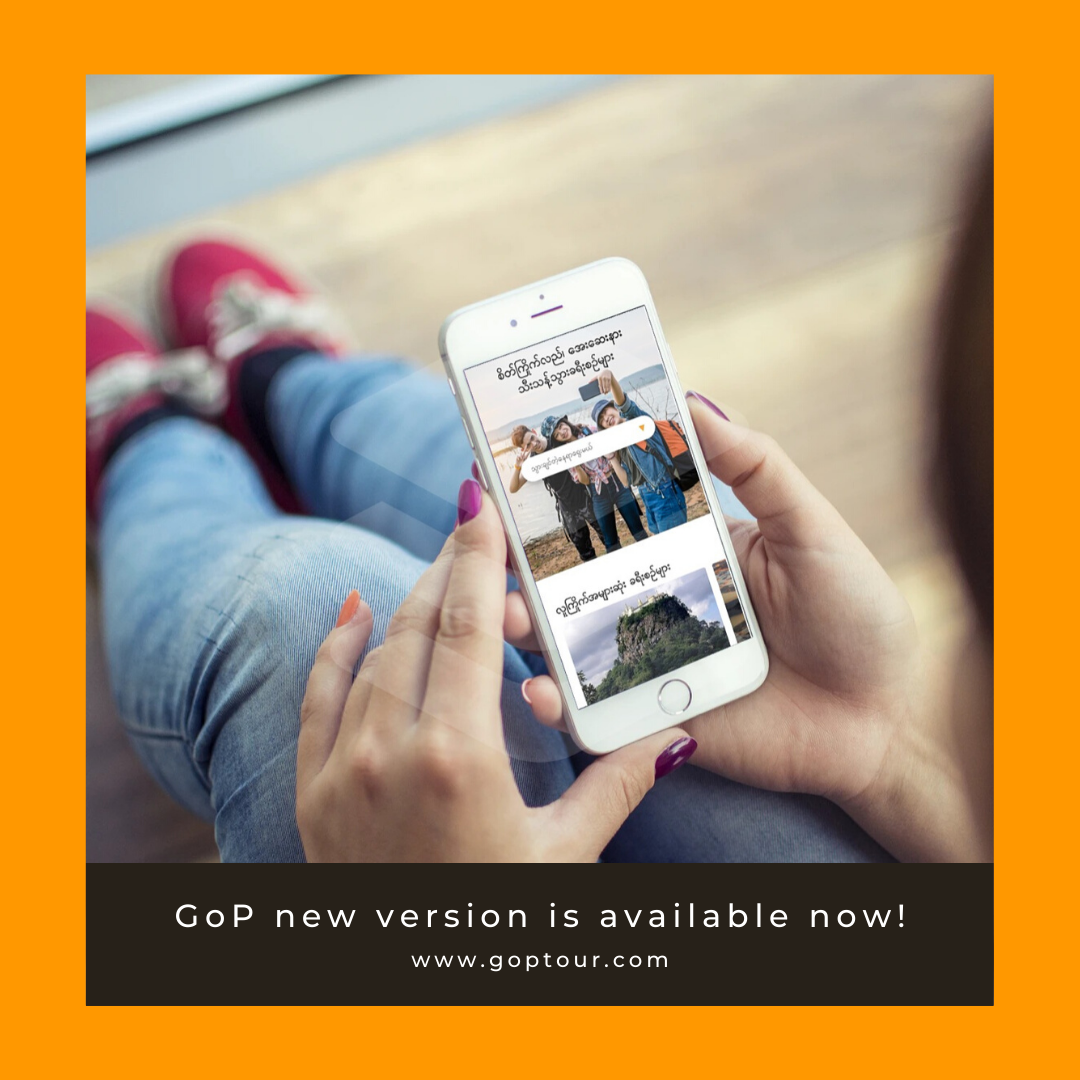 Photo Source –https://www.goptour.com/
He also mentioned the internet users in Myanmar having access to GoP Tour Platform that "we know the internet as Facebook. Because the time of good internet speed and getting the Sim Card easily is fixed with the time of start using Facebook. Thus, we don't have the habit of finding things on Google, Chrome, Browser, Firefox and another website. For example, there is very little knowledge about searching with the name. If so, there are only a few numbers. If we need something, open Facebook and find it all in one place. But there are weaknesses and advantages. The weakness is that it is difficult to get Facebook on everything. The advantage is that people have such kinds of knowledge only Facebook introduced. If Facebook isn't here, what would happen to the people? But there is one thing that people didn't check our website directly by searching www.goptour.com but from the Facebook Ads. Most of our customers are coming from Facebook.
For those who want to start a startup business, the CEO of GoP Tour Platform said his view that "Startup is like starting an uncertain job. It's like, if you open a Monhinkar Shop, people know Monhinkar and as they know its quality and this is possible. Take GoP Tour as a startup example, GoP started with a Tour Platform. When you run GoP, there is just little access to tour guides and options. This sounds like something new. Even in other countries, this is a new one in this country. Just like that, Travel and Tour is not new, buy it is a new option when selling and making options on the internet. It's not easy to run a new idea and there are many possible failures. If you've decided to do it, I'd like you to do it best. In addition, it is more beneficial to do carefully than without studying.  It also needs to study how to validate the idea and how to get to the market quickly. Another thing is it's good to do when we're young and it get a lot of experience. Because doing a job in a big company and starting a startup is different. If we are working in a company, we are a part of a company and we can't learn much beyond our area. But for the startup, it is not the branch of the big company although this is a small company and it's a small prototype of the big one. The point is that we will know how a company runs and we get a lot of experience.
You can check the GoP Tour Platform in the following link.