Using MPT's either FTTH or ADSL and mobile SIM will get you extra bonuses
Lately, as the use of the internet in Myanmar has been increased, the wider options of Mobile Date, Fiber Internet and Broadband are expanded in the market. Buyers also become picky in choosing as they want the faster internet with affordable prices. For MPT's FTTH/ADSL and SIM users, MPT's bundle service becomes a better choice since it offers the extra bonuses.
This bundled service is for those who are using MPT ADSL/FTTH service and mobile together. Some quota for mobile-usage will be pushed to MPT mobile for using MPT fixed services and mobile together. The bundled service contains two kinds of service; FTTH and ADSL. FTTH is the abbreviation of Fiber to Home (Fiber Internet) and it has stronger connectivity than ADSL (which is copper access) and it's more resistant to weather conditions.

What are the bundle benefits?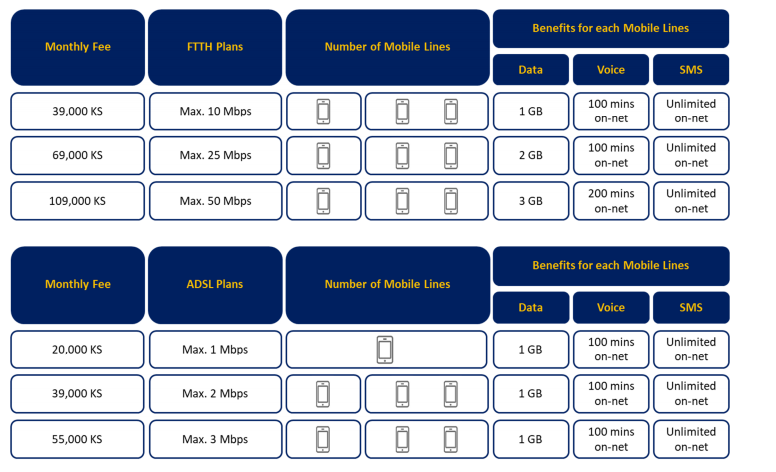 Photos Source- Screenshot By Myanmar Tech Press
The new mobile quota will be pushed (2 am) the 15th day of every month if customer's ADSL/FTTH lines are active.
If customer's ADSL/FTTH line is one-way block/temporary line close on 15th of the month, the bonus will be
pushed only when their line is active again.
Regardless of the day customer receive the mobile quota, the validity of them will be expired on the 14th day(11:59 pm) of every month.
How to Register Main Mobile Number?
Firstly, one MPT number needs to be registered as the main number, and the other sub numbers can be registered from the main number by the customer themselves.

Photos Source- Screenshot By Myanmar Tech Press
How to register Sub Mobile Numbers?
Sub numbers can be registered by customers themselves from their main mobile number through USSD code. from Main Number *6767#Dial.Through USSD, the number can

Photos Source- Screenshot By Myanmar Tech Press
What are the conditions to receive the bundle benefit?
ADSL/FTTH service needs to be Active to receive a mobile benefit. Customers who pay the monthly fee of
FTTH/ADSL later than the 15th of the month, the bundle benefit to the mobile number will not be received. Only when the payment is done and the ADSL/FTTH line is active again, the bundle benefit will be pushed to the mobile
numbers. One registered mobile number will receive only one time of bundle benefit in 30 days period (15th of the month to 14th of next month) for one ADSL/FTTH account. Depending on the ADSL/FTTH subscription plan, maximum 3 mobile numbers can receive the bundle benefit. The newly registered mobile number will get the bundle benefit from midnight (2 am) – notification SMS will be the next day morning. Benefit receiving numbers should be MPT numbers only. One-way block, two-way block, terminated SIMs are not eligible to receive the benefit. Those numbers will receive the benefit when they become active. Base tariff users will not get the data quota, but they will get the voice and SMS quota. To eligible to receive the data quota, the user needs to change to Swethahar, Shal Pyaw, or Shwe Zagar Plan.Terminated/One-way block/Suspended/Temporary Line Close of ADSL/FTTH service customers are not eligible to receive the benefit to mobile. Free subscription lines/uncharged lines such as MPT serviced lines are not eligible to subscribe to this bundled service.
How can customers register their mobile number under their subscribed Fixed Services?
Customer can register their mobile number under their fixed services at some MPT shops and through Call
Center 106. Customer needs to provide their DSL number and NRC number which is used to subscribe toe ADSL/FTTH to register their main mobile number. Only the mobile number can be registered through Call Centers and MPT shops. The other mobile numbers can be registered by the number calling to USSD number (*6767#). Customer cannot change their main numbers through USSD menu. If the omer wants to change, they need to call center or visit MPT shops for change requests (need to provide their customer code/ account
code/ circuit ID and their existing main mobile number.)Customers will receive the benefit as long as they subscribe toe MPT fixed service and they are still ACTIVE.