vivo V20, emphasize the lifestyle of young fans
vivo will launch the latest V20 smartphone of the premium flagship V series to the market on 2020, November 5.  vivo's V20, which introduces the customer-centric innovation and new design, incorporates innovative camera features to enhance the user's visual experience, to completely change the experience. 2.5D Body, the ultra-sleek 7.38mm design, and the lightweight 171g body of V20 combined with unique AG Glass Technology represent the vibrant lifestyle of young people.
vivo has set many milestones by combining the latest innovations with unique styles to create a smartphone. vivo V20 is also designed to be a stylish new accessory for customers with its lightweight compact design. The sleek new design combines a simple triangular Dual Tone Step with a camera arrangement that makes it unique. The V20 uses AG glass technology for the back cover, giving it a premium look and a non-slip grip. AG glass technology is also integrated into a rugged handset to create a soft touch experience.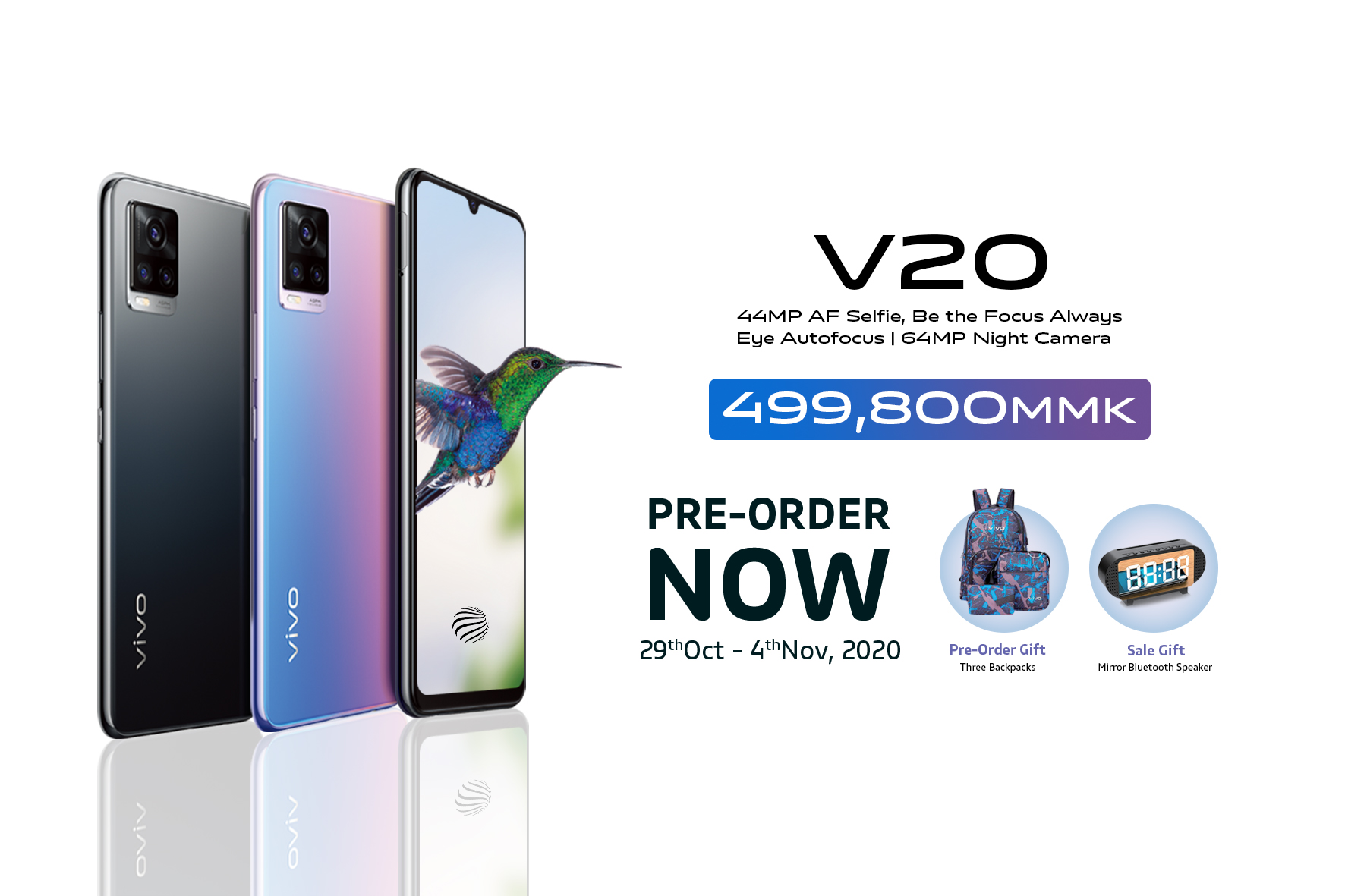 Photo Source https://www.vivo.com 
V20 will be available in 2 colors, simple and fashionable design based on the beauty of nature and the simplicity of nature, Midnight Jazz, and Sunset Melody. These colors are youthful and specially designed to match your fashion sense. vivo has introduced the V20 with advanced camera capabilities that can be used as endless canvases for selfie lovers and photography enthusiasts on the market.
The vivo V20 features the market-leading 44MP Eye Autofocus front camera, which will open up a whole new world of selfies for users. The V20 includes a number of unique photography features and modes, including the Steadiface Selfie Video feature, Slo-Mo Selfie Video, 4K Selfie Video, and Super Night Selfie and these features can increase the quality of selfies many times over and allow users to better record life's memorable moments.
it is built with the 64MP Main Camera, 8MP Multi-Function Camera (Super Wide Angle/Bokeh/Super Macro), and 2MP Mono Camera for the rear camera with Super Night Mode function in Main Lens and provide Tripod Night Mode, Super Wide Angle Night Mode and other Camera functions like AI noise cancellation algorithm as well as Sky Divider algorithm. The camera technology is specially designed to capture the dreams of photography enthusiasts who want to capture beautiful low-light scenes and peaceful evening beauty.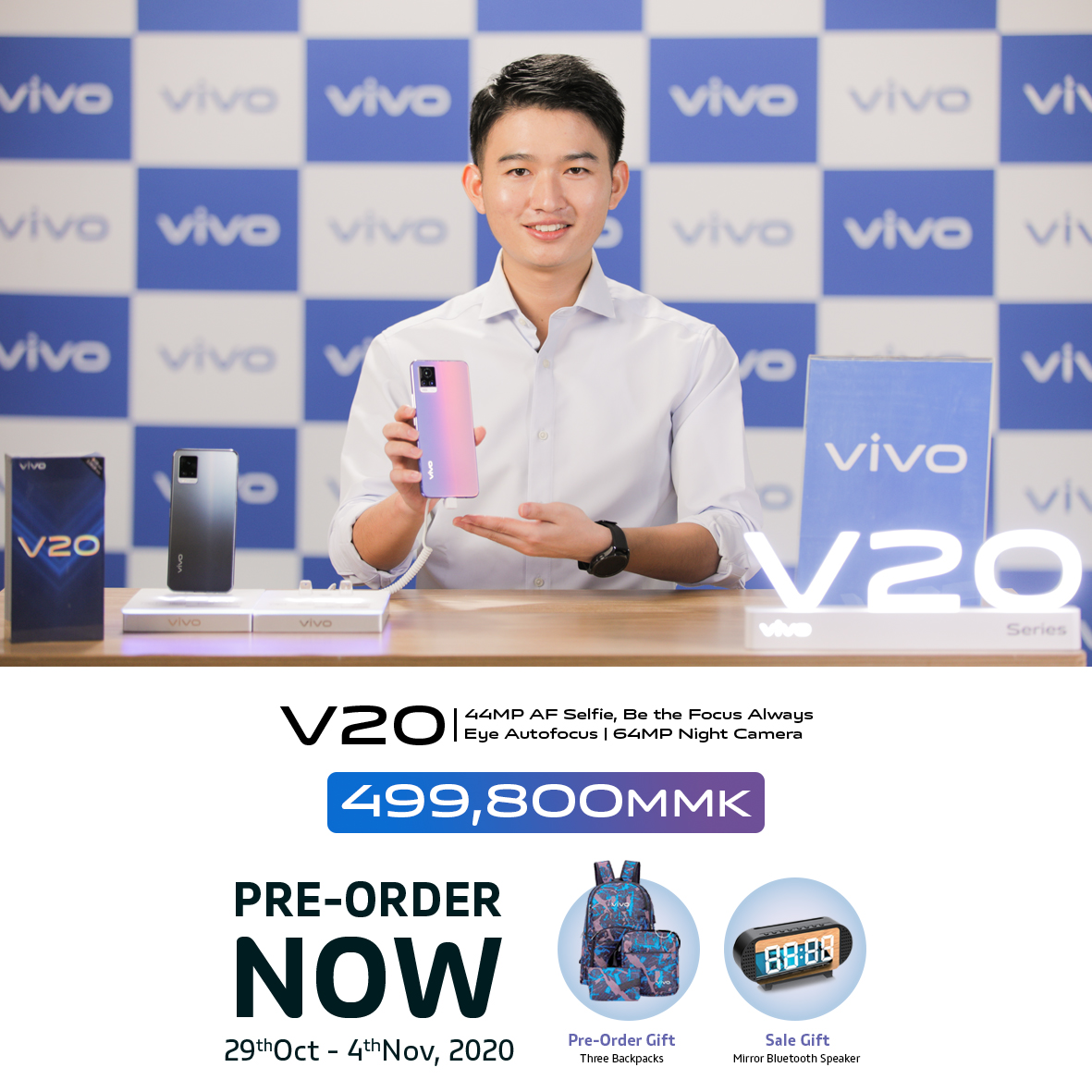 Photo Source https://www.vivo.com 
The V20 is designed as a powerful computing tool for mobile accessory and fast-moving users with easy-to-use access to everyday tasks with a mobile phone. The phone is powered by a Qualcomm® Snapdragon ™ 720G processor, making it easy to run applications and games. It can fully provide a modern lifestyle that can quickly and effectively meet the needs of its users with a 4,000 mAh battery and vivo's famous 33W Flash Charge Technology for solid durability and fast charging time.