Launching new Directory-style Website which can customize the business services in real-time
Internet Journal has launched a Directory-style Website on which the clients can customize their business services in real-time.
At this time, social-economic sectors like Departmental Matters, Businesses, Media and Health, Education, are moving to Digitalization at a high pace. In that Digitalization Revolution, for each respective Department, Business Owners, respective organizations, and the public which have to use information and communication technology (ICT) without fail, it is required to find out ICT, mobile, educational products, and services in one place altogether, to fulfill that need, Internet Journal has launched the new platform IJ Marketplace (https://ijmarketplace.com), a directory, which includes ICT, Mobile, and Educational Products and Services by cooperating with the partner's organizations and ICT industries.

Photo Source https://ijmarketplace.com
As for the business, they can deliver to the consumers in a short time about the services offered, to get aware of the products from one place, and to send the accurate information efficiently in real-time.
"IJ Marketplace service is the new Directory-style service introduced by Internet Journal. It is the service created to provide the user-friendly experience to assess the information of Software Companies, Website Content Writing Services Companies, Training Schools, Computer and Mobile Shops, Local Universities, Mobile Phones, and Computer Services Centres, the address of other respective sectors, services, imported products and about the training subjects" said by U Thaung Su Nyein, CEO of Information Matrix Co., Ltd.
IJ Marketplace is divided into three sectors; Free Service, Premium service and Branded service and Free service is the service that the users do not need to pay any service charges, and only if the users get Premium service and Branded service, the monthly subscription fees need to be paid. "The business included in IJ Marketplace can have the chance to publish the content and information about their business like their own personal website, but also through the services from IJ Marketplace, information related with your business can be sent in real-time to CEO, CIO, HR Manager, Sales, and Marketing Managers and Decision Makers who are from various fields. As for the business, they do not need to send the information and can log in by themselves and submit the information. So, they do not even need to wait to change whenever they want to and can edit easily and quickly" added U Thaung Su Nyein.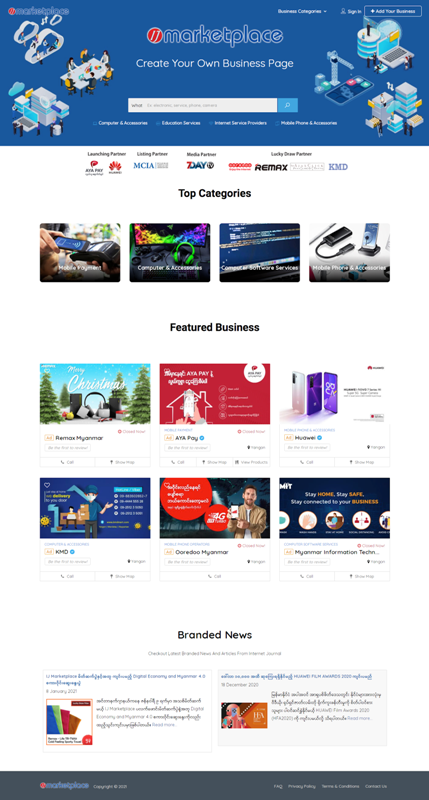 Photo Source https://ijmarketplace.com
If there are any inquiries regarding the newly launched services, please call 09-4430 32928 and 09-420105300. Internet Journal is an IT and Mobile Journal and it has been 20 years that it has been published. Internet Journal provides not only the latest international and local technology, education, mobile and other interesting news, Hardware, and Software review, but also other interesting information in Digital Platforms channels like YouTube, Facebook, Instagram, Viber. Moreover, IJ Daily Newsletter and Mini Newspaper are published daily.