Forty Winners of Tech Age Girls Myanmar Program 2022-2023 Announced
After the first two phases of ICT, leadership, project management trainings and project presentations, Tech Age Girls Myanmar Program 2022-2023, supported by Ooredoo Myanmar, announced 40 winners of its final projects which were designed for community development based on the needs in their communities.
Ooredoo Myanmar awarded all the winners with brand new laptops and financial aid (12 Million Kyats) that they can utilize during the project's implementation in their respective areas.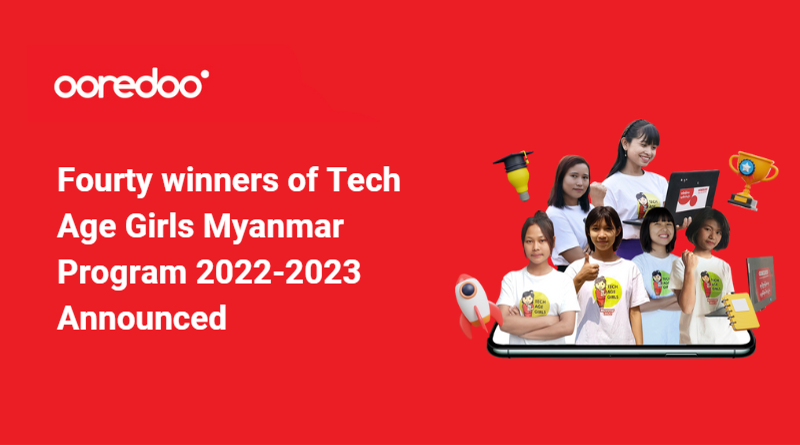 Tech Age Girls is a year-long program equipping young women, aged 16-20, with technology skills as a tool for leadership and community development. The program is divided into three phases; Phase I focuses on ICT skills, Phase II focuses on leadership, job skills and project management, women's rights and Phase III includes leadership summit, project implementation, reporting and evaluation.
Tech Age Girls Myanmar Program 2022-2023 launched in March 2022 and will end in March 2023. 220 girls from different locations across Myanmar, especially from rural communities, participated in the TAG 2022 – 2023. After providing required trainings in the first two phases, Tech Age Girls trainees were empowered to generate their project ideas based on their community's needs. All the participants had to present their projects ideas and 40 winners were selected based on 5 main criteria –
addressing the community needs,
partnership with responsible persons/ organizations,
utilization of digital technology,
innovation and creativity in project ideas and,
presentation skills
The winning projects focused on the improvement of various sectors for the societies, including ICT Development, Digital Literacy, Health knowledge, Educational Opportunities, Entrepreneurship, Environmental Awareness, Women Rights Awareness, Vocational Trainings, Art Program, Gender Equity Knowledge Sharing etc.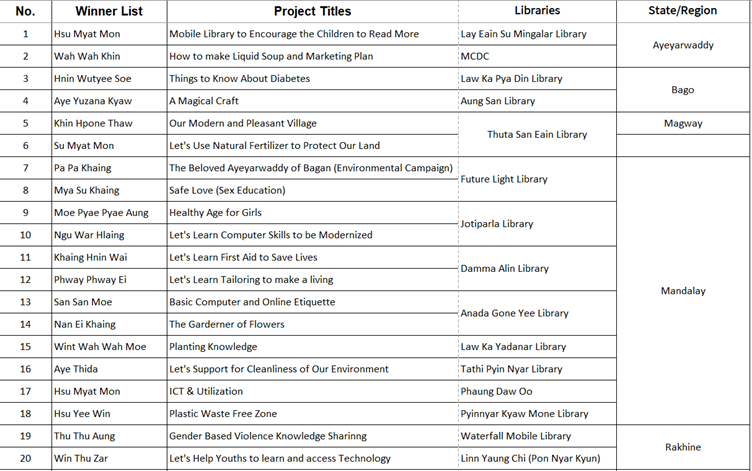 Each winning project will be implemented in the respective communities after the Leadership Summit which has been virtually holding from 22nd Feb to 4th March. The leadership summit provides 40 winners with required coaching programs where they will receive necessary mentorship, knowledge, and technical assistance to carry out their suggested projects in their respective communities.  The Leadership Summit features the expert talks about Leadership Competency Skills, Grab and Grow Your Opportunities, How to Start-Up a Business, knowledge sharing for study abroad, advanced training of effective presentation and creative tools, effective CV writing and interview Skills, and Resilience for Youth Leaders Program which is specially designed to provide resources and an environment that inspires and empowers young women to make better life decisions, and educate them on issues which affect their social, emotional, spiritual, and physical well-being.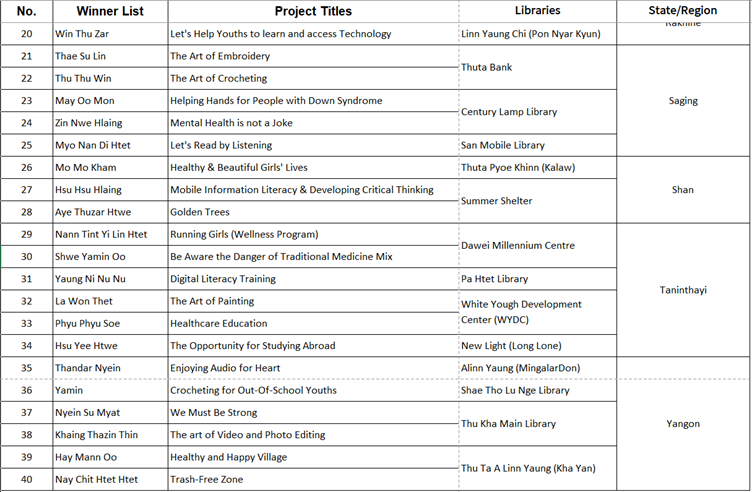 Ooredoo Myanmar has been supporting the Tech Age Girls program since 2016 by providing connectivity and digital devices. Seeing the effectiveness of the program, Ooredoo Myanmar became the main sponsor in 2019 and widened its support in 2020 to expand the number of participants to double so that over 200 girls got a chance to participate in Tech Age Girls Myanmar Program 2020-2021 and in Tech Age Girls Myanmar Program 2022-2023.