HUAWEI Nova Y Series: the smart attraction of youths
In this digital era, a long-lasting battery is one of the most important features of mobile phones. The basic features of smartphones such as using social media, watching videos, sending SMS, and using the internet are essential for all ages of users, especially teenagers.
Huawei has introduced the latest Huawei Nova 9 series recently. Huawei Nova Y70 is designed with 6.75 inch Huawei full view display, 6000 mAh battery, 22.5 W SuperCharge solution, 128 Gb large storage, and EMUI 12. The 6000 mAh battery (typical value) makes your phone battery long-lasting. It only needs to be charged twice per week and is better than those with less mAh battery, said Head of Marketing Ma Khin Yadanar Win.
Besides, even if your phone battery has 5 percent left, you can still use it for another 12 hours if you switch to low battery mode. Huawei Nova Y70 is also supported with Huawei smartwatches, bands, and wired reverse charging with output 5V/1A. Screen to body ratio is 90.26% and the narrowed notch also allows you to experience wider views in watching photos, and videos and in playing games.
Huawei Nova Y70 comes equipped with EMUI 12 and 8 Mp front camera which allows you to capture clear and high-quality selfies. The front camera supports the bokeh effect and its AI beauty algorithm could create bespoke beauty effects according to users' age and sex. At the same time, HDR backlight imaging technology in Huawei Nova Y70 allows you to capture your portraits and landscapes at the finest, said Head of Marketing Ma Khin Yadanar Win.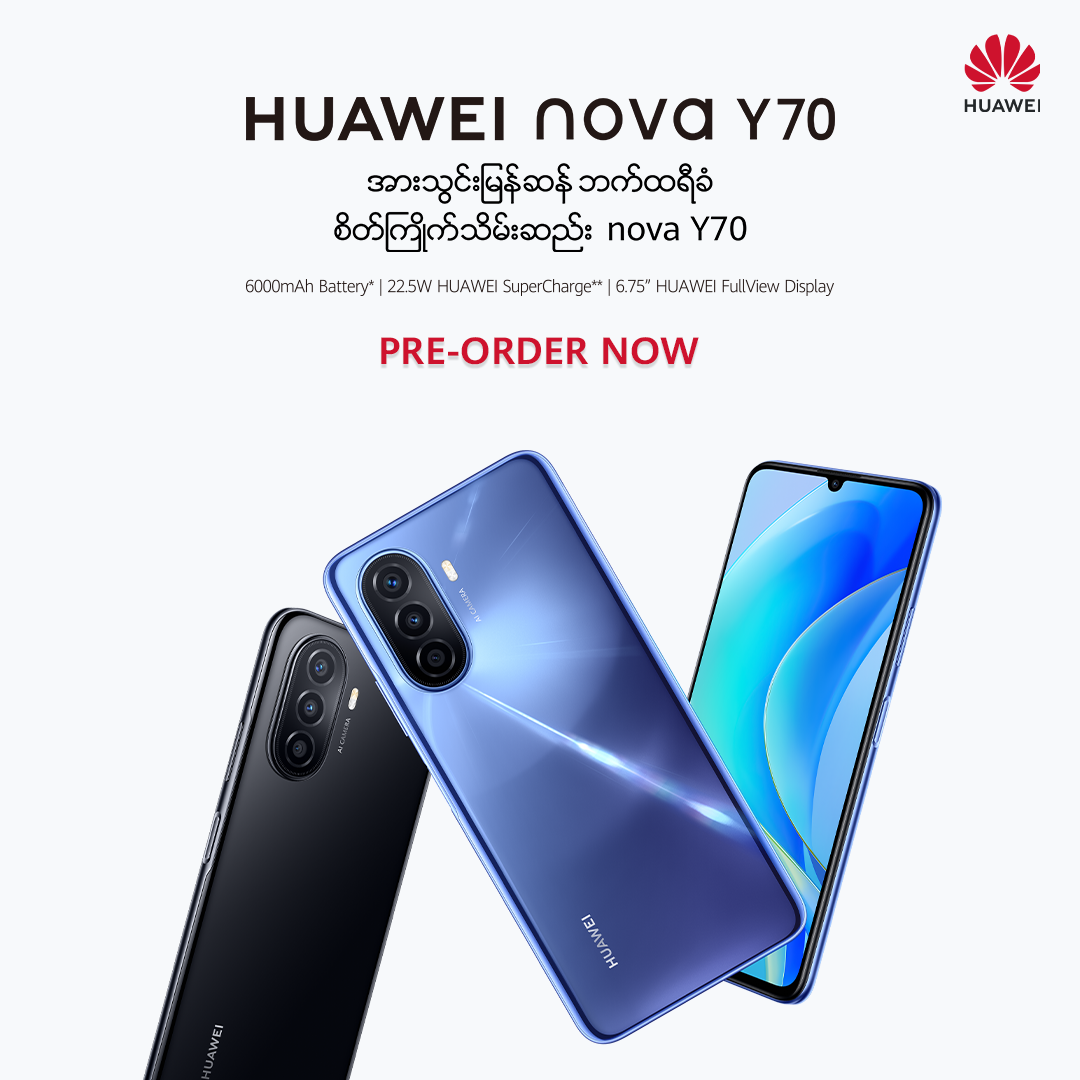 Photo Source https://www.facebook.com/HuaweimobileMM
Moreover, the back camera of the Huawei Nova Y70 has 48 MP (f/1.8 aperture), High res Main camera, 120 degrees 5Mp ultra-wide-angle camera, a 2Mp depth camera, and AI triple camera. Huawei algorithms and a high-resolution main camera reduce the noise and increase in dynamic range.
Huawei nova Y79 which is featured 6.75 inch Huawei FullView Display, 6000mAh battery, 22.5 W Huawei SuperCharge solution, 128 Gb large storage, and high-performance EMUI 12 is only sold at 350,000 MMK which is a perfect choice for the users looking for large storage and space and long-lasting battery.
More specification about Huawei Nova Y70 is RAM 4 GB + 128 HB storage and comes in Crystal Blue, Pearl White, and Midnight Black. You can preorder this sweet deal at 350,000 MMK and soon to be available in Myanmar.
Huawei Nova Y70 has better performance and its 6000 mAh battery and 128 GB storage space is the main asset to its users.
The Head of Marketing also said Huawei Nova Y70 is now available as a preorder in Myanmar and becoming one of the most popular products.
Huawei Nova Y70 is first introduced in China and Myanmar is the second country to get a preorder. Huawei Service Carnival will be held from March 21 to June 31. If you buy any spare parts, you'll get a 20% discount at that event and a 60% discount for back and froth stickers. Last but not least, you can get free 50GB of cloud storage just by dropping it at a service center.
The monthly service day will be on May 7 and 8 and Huawei users can get cleaning services, free screen protector services, free software, and EMUI update. Even if your phone is no longer warranty, you can get a discount of 7000 kyats for any services.