HUAWEI Y6p is now available to Pre-Order with 179,000 Kyats
When buying a mid-range Power Bank and Bluetooth Speaker, the estimated cost of these two items will be around 80,000 to 150,000 and 200,000 Kyats depending on its quality. It would be such interesting news that a smartphone can be used as a Power Bank in its mid-range quality with less than 200,000 Kyats. HUAWEI Y6p, published by HUAWEI shortly, will bring the best experiences of entertainment for the users in daily life at a suitable price.
Huawei Y Series smartphone has already well known for their excellent camera function and suitable for durability and versatility in Myanmar mobile market. Huawei Y6p was launched with 4GB RAM + 64 ROM Storage, and 5000 mAh battery which is more than some of the smartphones that are currently under 200,000 Kyats. This smartphone is suitable for users who use smartphones all day, and those who love playing mobile games and can also be used as a Power Bank. In addition, the best quality images can also be captured with 13 MP Triple Camera.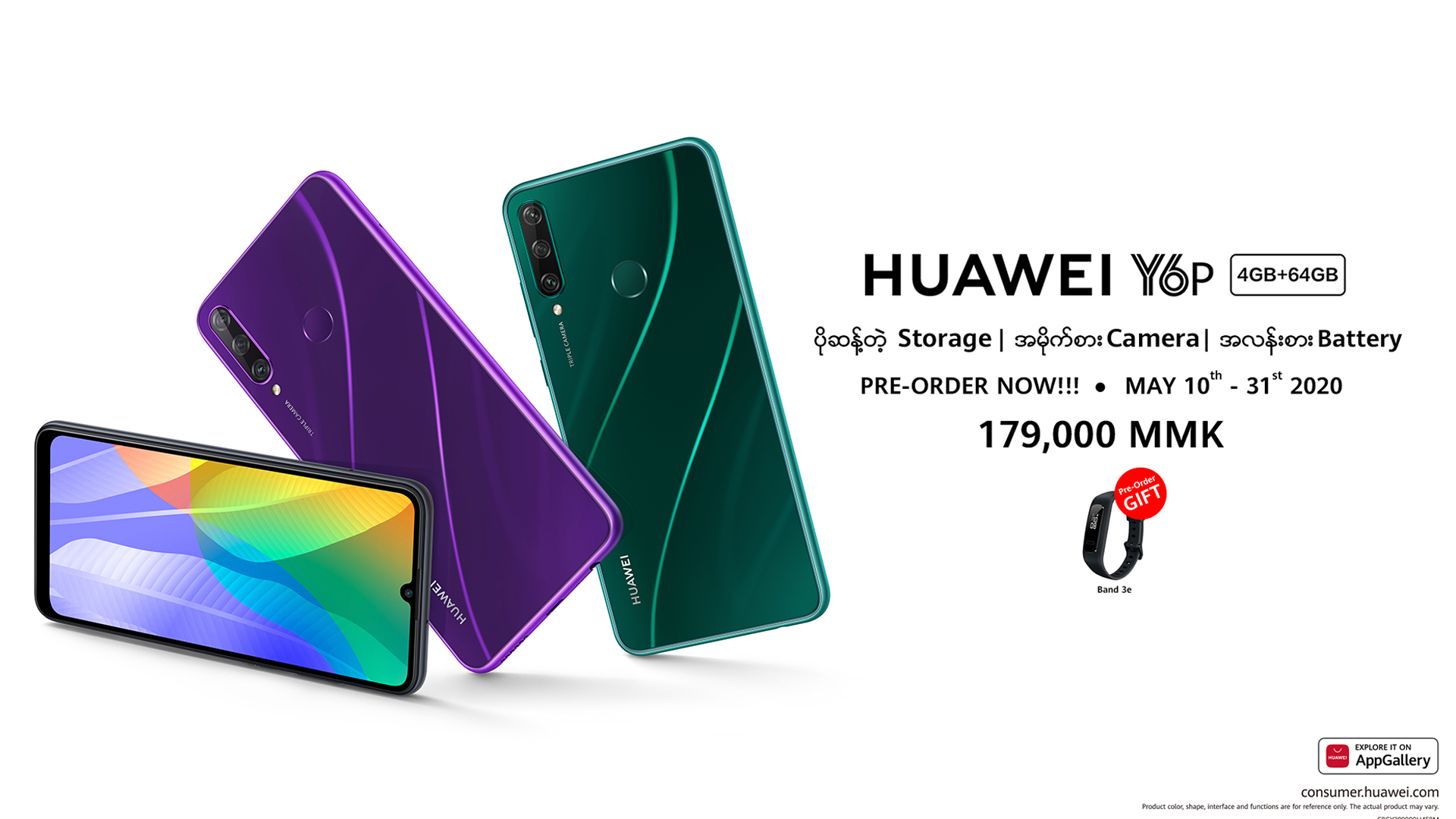 Photo Source https://web.facebook.com/HuaweimobileMM/
Huawei Y6p used 5000 mAh battery which was enough to use the whole day, and also enabled to make 6W reverse charging through OTG Cable. This smartphone can be used as a power bank which can recharge other smartphone and devices with 5V/1.2A output. There's also a powerful speaker for entertainment purposes, and the bass sounds even clearer. The Huawei Y6p speaker packs up with 88db (a noise measurement unit) offers a significantly better experience than traditional phone models in the market, and will also be used as a Bluetooth speaker.
Most of the models that cost below 200,000 Kyats are available with 32 GB of internal storage. As the system uses 7GB of storage and the actual amount for the user is only around 20GB left. The average size of a 10MB high-quality audio file and around 1.5 GB or 2 GB HD quality movies are no longer compatible with today's smartphones. The Huawei Y6p offers a 64 GB of storage space, with up to 50 GB of actual storage capacity, allowing the users to store more movies, and music files.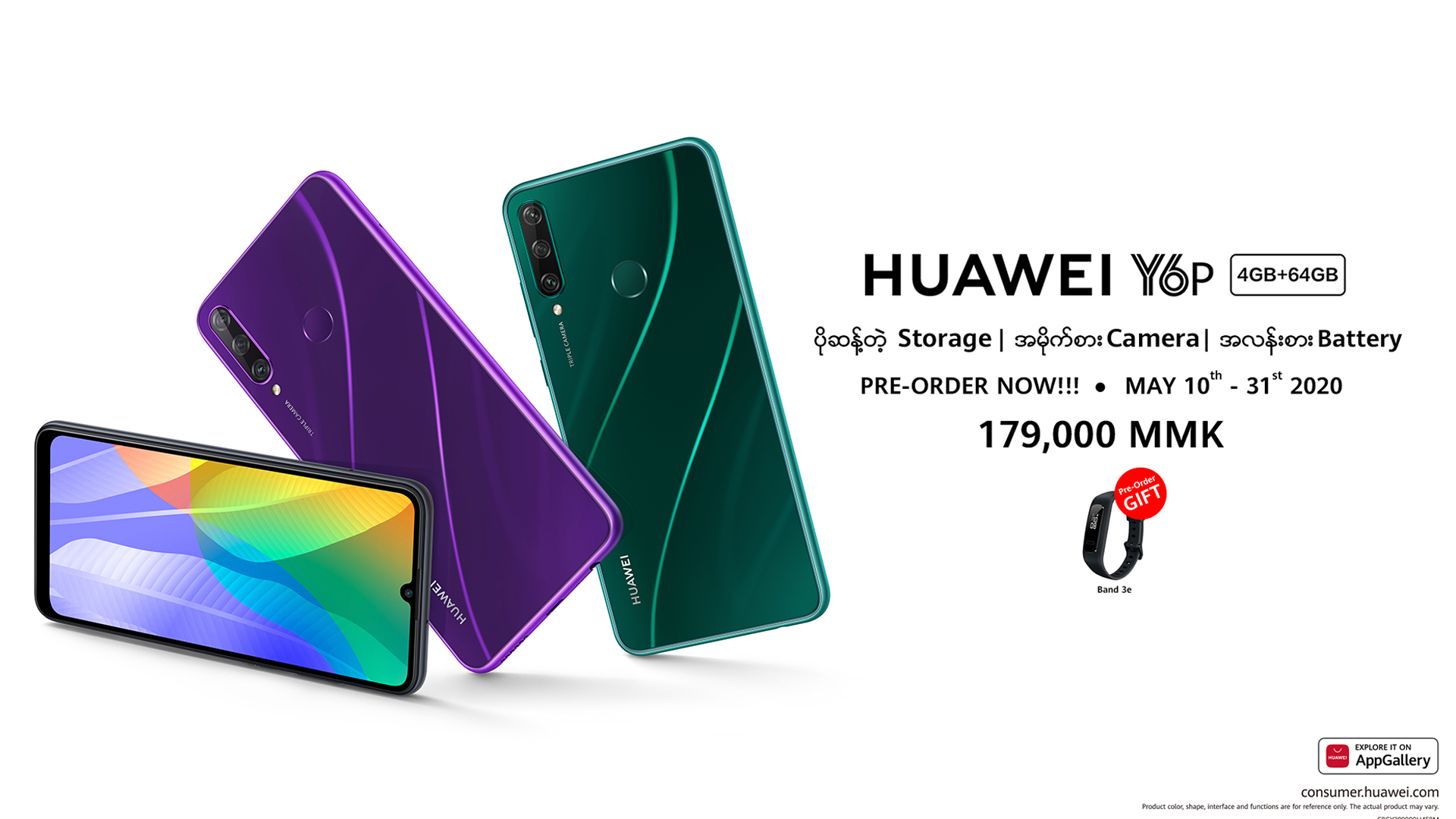 Photo Source https://web.facebook.com/HuaweimobileMM/
Huawei Y6p is equipped with three cameras, the main camera with a 13MP sensor, 5MP Ultra-wide angle lens which can capture images 120 degrees, and 2 MP depth camera. These will offer the best portrait and landscape mode when capturing photos. There's also an 8MP selfie camera that will also be used by beautification algorithms (HUAWEI's own technology) to create popular snap beauty selfies among young people.
Huawei Y6p is an entry-level smartphone with a compact and visually striking design. It used 6.3 inches Huawei Dewdrop screen. The front-facing camera is also made smaller with an 88.4% screen-to-body ratio, giving the user a more immersive viewing experience. There will be three color options, purple (Phantom purple), Emerald Green and Midnight Black, and pre-order for May 31st at 179,000 kyats and a Huawei band 3e for pre-order.