HUAWEI P40 Pro Pre-Order Open from 20 April 2020
Pre-Order is open for HUAWEI P40 Pro, a HUAWEI P40 Series model that has been drawing tremendous attention among Huawei fans since its launch on 26 March due to the superb camera performance. HUAWEI P40 Pro is priced at Myanmar Kyats 1,599,000 along with a gift item of popular HUAWEI x Gentle Monster Eyewear.
Huawei constantly brings up new technologies and HUAWEI P Series was also a hit among users. P40 Series will be available on the market soon because of the favorable feedbacks on the quality of the camera. The exceptional camera performance, ten technologies, and a preliminary schedule of pre-order are indicated in the following.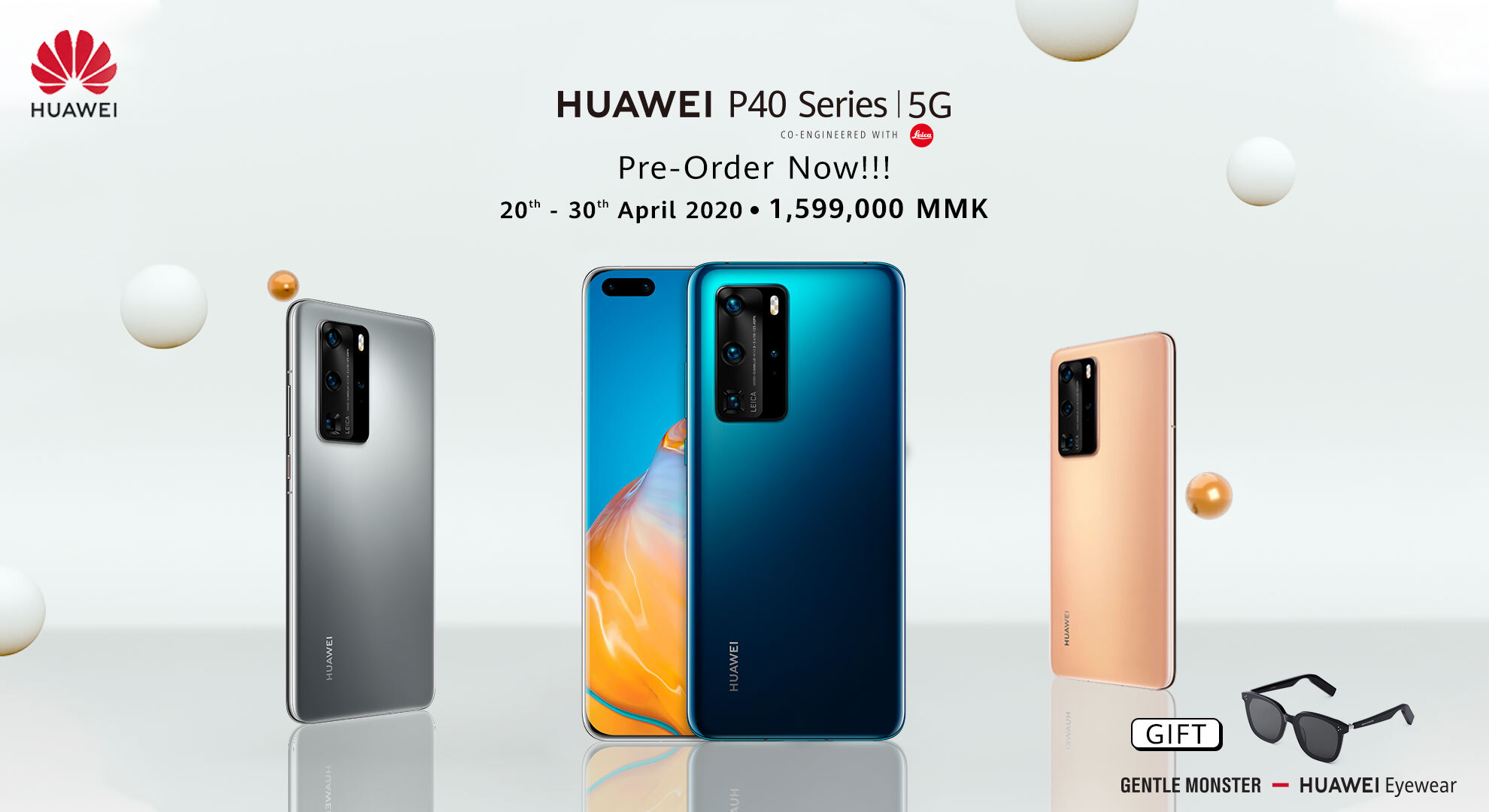 Photo Source https://web.facebook.com/HuaweimobileMM/
Application of largest CMOS Sensor
HUAWEI P40 Series uses Ultra Vision Sensor and equipped with 1/1.28" sensor which is the largest of all the smartphones at present. The optical design is meticulously structured to achieve brilliant camera quality with a sensor and contributes to a high-quality output with a good dynamic range in low light.
It contains 50MP camera and the Ultra Vision Sensor that applies Pixel-binning technology secures 2.44 Supersize Pixel, meaning it can intensively absorb the electrons pertaining to Photoelectric Effect (color and light). As a result, Signal-to-noise, that is, noise reduction works well while taking a photo in low light or in the dark. To accomplish this kind of Low-light Performance, Green Pixels from RGGB CFA Pixel Group was replaced by Yellow Pixel, and the light collection capacity is enhanced by 40%.
Employment of Full Pixel Octa PD Autofocus for AF ability
Each pixel of 50MP Ultra Vision Sensor contains 2 Photodiodes for Dual Pixel Diode Autofocus. It will produce 12.5MP image output in normal condition and each pixel contains 8 AF Photodiodes by using 4-in-1 Pixel Binning technology. Becoming Octa Autofocus in this way, better focus speed and accuracy can be achieved even when capturing small objects in the dark condition.
Function of Ultra-wide Cine Camera
Another important fact is the Ultra-wide angle Lens used in HUAWEI P40 Pro and Pro+. This accounts for a 1/1.54" sensor and supported by a 3:2 aspect ratio. It is a sensor that promotes ISO 512,00 and Ultra-Slow Motion at the rate of 7,680 fps to record Low-light video. As for the technology aspect, SedecimPixel Fusion is used producing 4.48 equivalent Binned Pixels. The larger pixel size allows greater light collection power and can record low-light videos at high quality.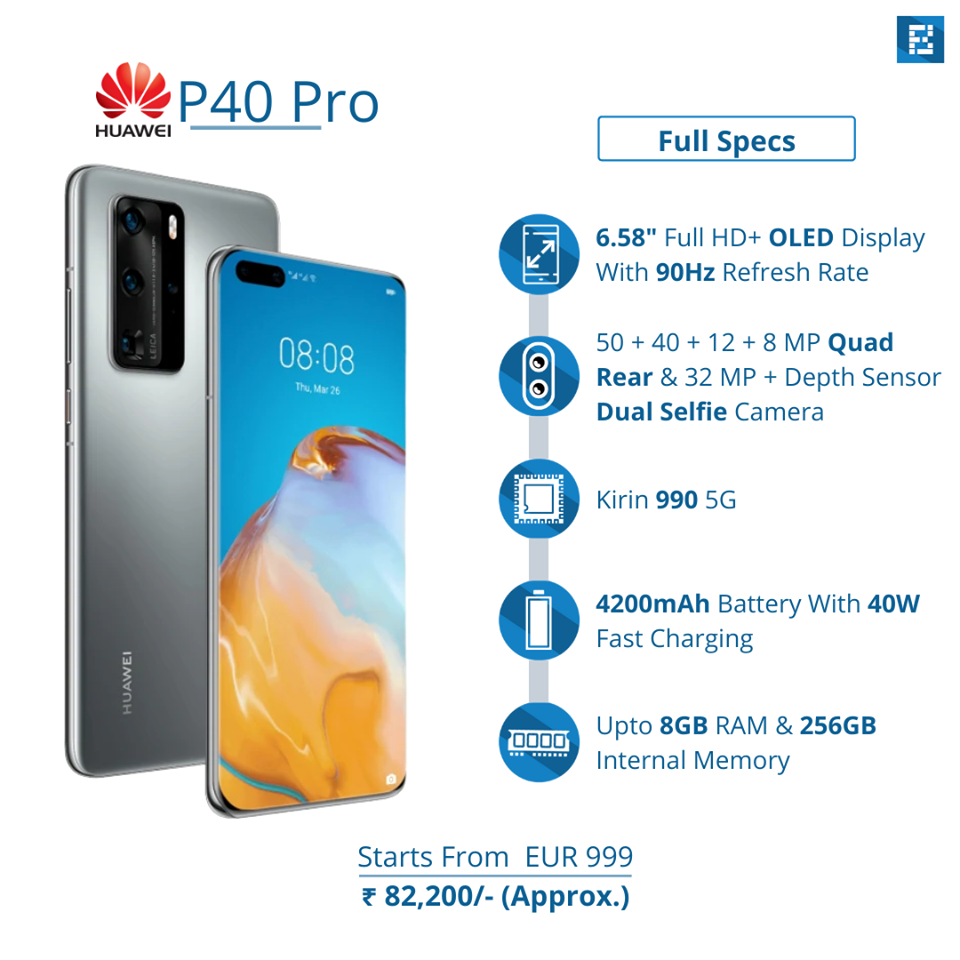 Photo Source https://web.facebook.com/HuaweimobileMM/
Audio Zoom
Adding up to the camera function is the fact that Omnidirectional Microphones are used for Audio Zoom. Directional microphones that can grasp the audio directionally from above, below and behind the smartphone make focus of Camera Zoom function and amplify for clear cut audio source. Background noise can also be filtered with this directional zoom in.
Powerful Front Cameras
32MP AI Selfie Camera constructed into the back camera function in HUAWEI P40 Series possesses a unique ability. IR Camera, Proximity Sensor and Ambient Sensor are also comprised of P40 Pro and Pro+ offering a variety of features to users. Autofocus performance and face detection are also improved when 4K UHD video can be recorded. IR Camera guarantees a difference when recording Pro-grade Bokeh. The above-mentioned camera features and advantages of the P40 Series are the initial technologies of photography and videography. That is to say, it is a masterpiece of researchers, scientists, photographers, and arts worldwide and a positive outcome of striving for quality shots using the HUAWEI smartphone. HUAWEI P40 Pro will be imported to Myanmar with three color options: Brush Gold, Deep Sea Blue, and Silver Frost. Pre-order can be made at the price of Ks 1,599,000 and each customer will win a gift of Ks 500,000 worth HUAWEI x Gentle Monster Eyewear.