MPT Launches Lucky Data; Offering the Myanmar People Can Get a Chance to win up to 200GB
MPT, the first and leading telecommunications operator in Myanmar, unveils today the Lucky Data Promotion open to all MPT customers.
In this promotion, users can get data package that can use in many apps from MPT's Lucky Data Promotion and users can also get not only Happy Friday Promotion and additional data packages that can be used in other days.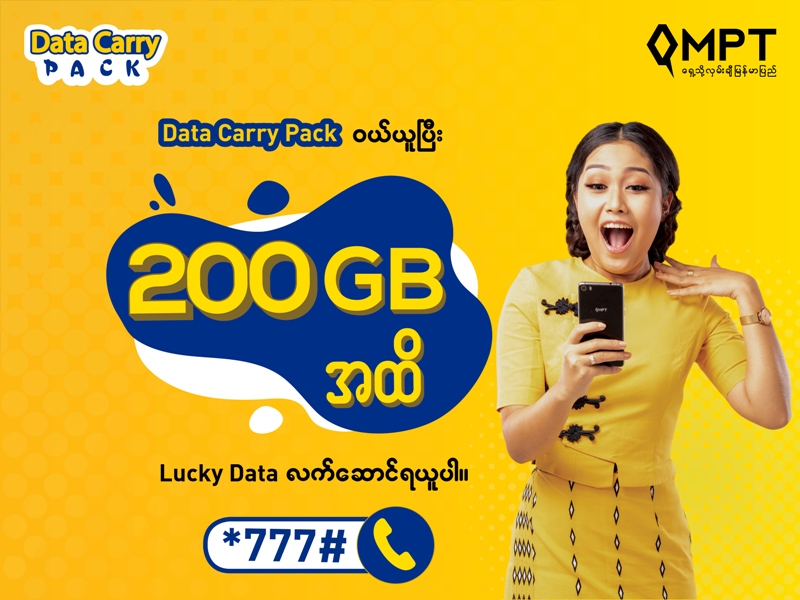 Photo Source – https://www.mpt.com.mm
The simple mechanics of this promotion is, every Data Carry Pack purchased during the promotion period, which starts from 18th July until further notice, gets a chance to win data prizes in random up to 200GB. All GSM/WCDMA users have the chances to win attractive data prizes. To buy Data Carry Pack, customer has to dial *777# and choose the pack he prefers and enjoy the Lucky Data Promotion with standard 30 days validity and carry over benefit. Customers may also opt to use MPT4U app to avail of the packages they need.
MPT users can also gift this to friends and loved ones by following these simple steps: Dial *777# or *106*2#, choose Data Pack you want to share and choose option 2.'Gift', enter mobile number of the recipient. Customers are allowed to buy as many packages as they need (multi-subscription) to get more chances to win.  The package data quota and validity of Data allowances will be merged. Validity and quota of lucky data will not be merged. Validity of lucky data is 7 days.
Customers who buy the Data Carry Pack on every Friday get extra free data (MBs) because of the Happy Friday promotion, and also can get a chance to win data prizes in random up to 200GB as Lucky Data Promotion on other days.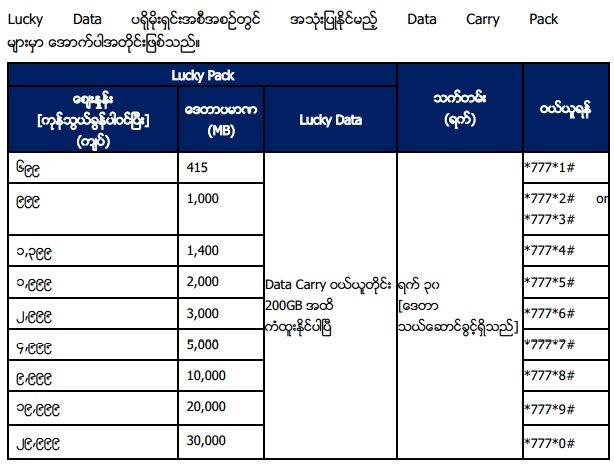 Photo Source – https://www.mpt.com.mm
Mr. Reizo Umeda, Chief Commercial Officer of MPT-KSGM Joint Operations enjoins the customers to avail of these promotions as he says : "Data packages are the important windows to our access of internet especially for today Myanmar's people who required heavy usage. It has become the lifeblood of our daily existence, from home, school, work, business and every aspect of our life today is powered by data.  To this end, MPT would like to give its customers the utmost satisfaction for choosing us, by way of adding more values to their hard-earned money through promotions that maximizes enjoyment of their digital life.  The new Lucky Data promotion is the special promotion that can get extra data, thereby exponentially increasing the benefits the consumer obtains. I would like to invite all MPT customers to avail of this Lucky Data & Happy Friday promotions and maximize their digital life experience through the power of MPT."
For more information on Lucky Data and other on-going promos, please call 106. Users may also visit the MPT official Facebook page at https://www.facebook.com/ mptofficialpage/ or MPT official website www.mpt.com.mm for further details on MPT's products and service.