MPT Launches "Sone Sone Lin Lin" Promotion with Amazing All-In-One Benefits
MPT continues to offer special data packages for its customers no need to purchase various requirements and get them in one package with a very cheap price and announced an amazing, All-In-One data package aptly named "Sone Sone Lin Lin" (All-In-One Benefits) package, which is one of the most comprehensive and rewarding packages to express gratitude to its loyal customers as MPT celebrates a special milestone of reaching 7th years. With this package, customers can enjoy unlimited data for Facebook, Mobile Legends & JOOX, and 2GB for All Data usage and MPT-MPT calls with the cheapest price 5 Ks per min only and Main Balance 1,000 Ks with 30 days validity without time limitation.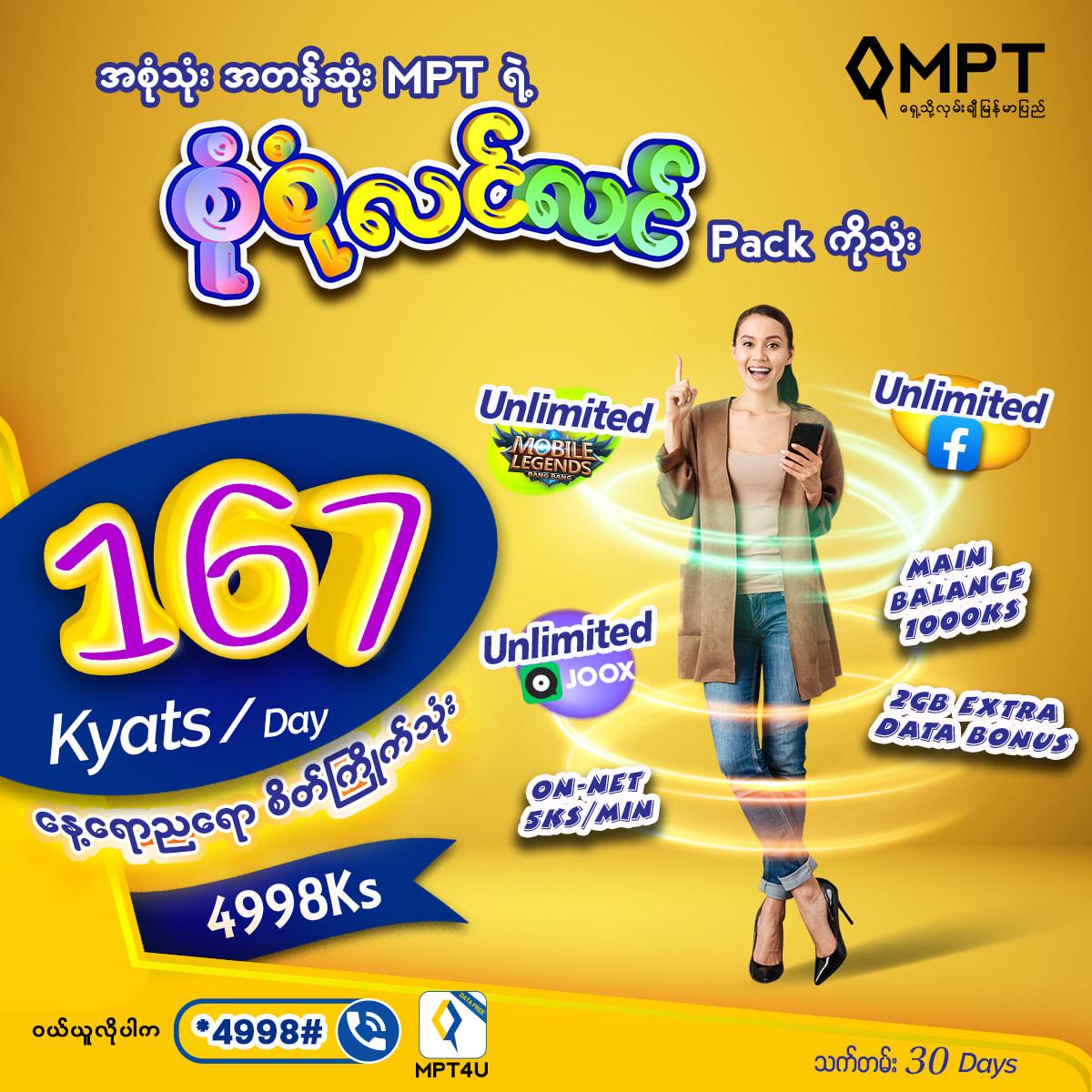 Photo Source https://www.facebook.com/mptofficialpage/
While more people choose to stay home due to the current COVID-19 situation, the "Sone Sone Lin Lin" Pack will allow MPT customers to stay connected with their loved ones, have access to valuable news and information online, and enjoy entertainment.
Moreover, customers will benefit from taking advantage of this promotion by receiving 50% discount to 9,996 Ks (original amount) and pay only 4,998 Ks with a validity of 30 days. The "Sone Sone Lin Lin" Pack is a great option for customers allowing great savings with more benefits.
Mr. Tetsunori Nagashima, Chief Commercial Officer of MPT-KSGM JO, said: "With our new promotional package, we are renewing our commitment to Keep Myanmar Connected, especially during these challenging times. This amazing package offers all-in-one benefits with great value for our customers, allowing them to stay connected with their loved ones and have access to news, information, and  entertainment, during the period we are required to stay home due to Covid-19 situation."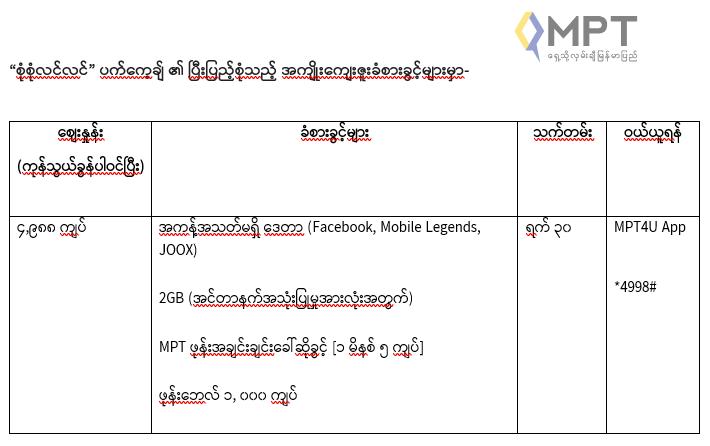 Photo Source https://www.facebook.com/mptofficialpage/
Subscribers will have unlimited access to Facebook (excluding external links), Facebook Messenger (excluding voice and video calls), enjoy playing Mobile Legends (excluding streaming, watching streaming videos, and voice communication), or listen to the latest hits on JOOX music. Any other usage of data can be used in a 2GB data allowance. On top of that, users can enjoy 1000Ks Main Balance and make MPT-MPT calls freely to beloved ones. Non-inclusive usage will be charged from respective data packs if available or standard pay-as-you-go (PAYG) rates.
MPT GSM/WCDMA Prepaid customers (Swe Thahar/Shal Pyaw/Shwe Zagar) can subscribe to the "Sone Sone Lin Lin" Pack. Customers can take advantage of this promotion, which begins on 21st September, via MPT4U App or by dialing *4998#.
All MPT customers can also seamlessly use the MPT4U applications to manage their accounts on mobile devices from the convenience of their own homes. For more information, please call 106 or visit the official MPT Facebook page at https://www.facebook.com/mptofficialpage/ or MPT official website www.mpt.com.mm for further details on MPT's products and services.