An online job fair and job application for Myanmar IT / Engineering in Japan for September 2021 will be held online
A job fair and job application for Myanmar IT / Engineering in Japan for September 2021 will be held online. Part-time job Times Co., Ltd provides one-way job opportunities for Burmese in Japan. The event is being held online to provide more jobs for Japanese companies and for Myanmar people who want to gain work experience in Japan.
Those who have worked in IT / Engineering, those who want to change jobs, those who want to work up more skills are more likely to be in the same job, for those who want to work harder than they can, for those who want to challenge for a new job, a new environment, a career in Japan for IT / Engineers, a great job vacancy exhibition in Japan and a job fair.
The advantages of this exhibition are that you can choose the job that suits you online and view job vacancies all at once. It is an event that has many advantages such as you can apply for a job at once if you find a job that suits you.
It will be held on September 26, 2021, from 9 am to 12 pm. The benefits of attending this event are you can choose a group of  IT / Engineering job applications at the same time.  If you have a company you want to apply for, you can apply for a job online at once. Jobs Vacancies that can benefit  IT / Engineers with just over 2 hours of travel time and cost savings.
Attendees must have at least a Japanese N3 certificate. Must have IT / Engineering experience in Japan or Myanmar.  Must be currently living in Japan.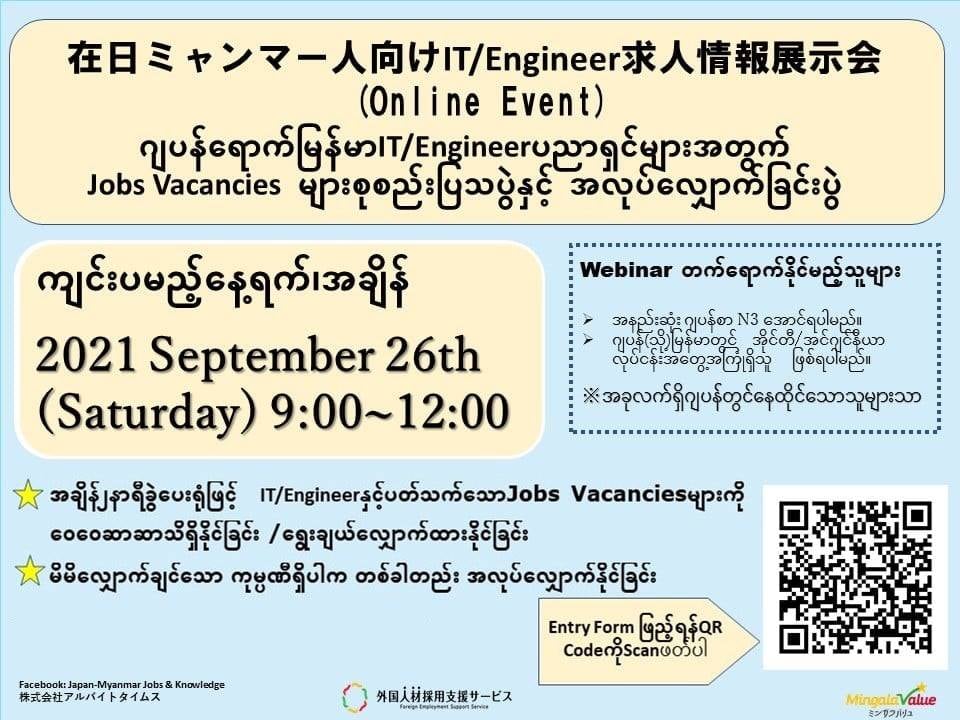 Photo Source https://web.facebook.com/Japan-Myanmar-Jobs-Knowledge-732800030159020/?ref=page_internal
Anyone attending the online seminar should scan the Entry Form Link or QR Code in the image below and register.
You will need to do this.
https://docs.google.com/…/1FAIpQLSeYOlrCjR1CpV…/viewform
Online Seminar Link & Password will be sent to those who have registered through the link by mail.
The entry form must be completed no later than 12:00 pm on Friday, September 24th.
For more information, please visit MingalaValue Web below.
https://mingalavalue.jp/contents/onlineevent1
The company that organized the event, which has been established in Japan for 47 years, is listed in accordance with Japanese law listed on The Tokyo Stock Exchange JASDAQ.
HR Media is a company that systematically conducts many Myanmar Job fairs, Seminars, Online events, Live Programs, SNS Programs, Tokuteigino Kaigo Exam Programs, to provide many job opportunities and knowledge to Myanmar people in Japan through free services from job seekers.
JOB FAIR has been held seven times since May 31, 2015, for job opportunities for Myanmar people in Japan. A total of more than 100 Burmese have been employed at the event.