Ooredoo offers daily Motorcycle and more in the Winning Wheel Mega Promo Program
As Ooredoo Myanmar introduced the Winning Wheel Mega Promo Program, Ooredoo users can win Motorcycle and more daily by purchasing a digital service of any top 5.
In collaboration with top digital service partners such as Star Talk, Vuclip, Game dom, Top Doctors Online (TDO), Nazara, sign up for one of these services and enjoy the Winning Wheel free of charge and win (1) KAMAX Dream Motorcycle, Mi Band, and 7 free trial day for Ooredoo Music, Mobile data and top up bills.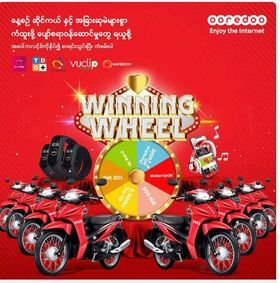 Photo Source https://www.facebook.com/OoredooMyanmar
For more information about the service, please visit https://ooredoo.com.mm/portal/mm/gamification and services can be accessed through My Ooredoo App and Website.
Ooredoo customers will be able to win a daily raffle with each of these motorcycles until now before the announcement. Ooredoo Myanmar was licensed in June 2013 to provide telecommunications services in Myanmar. Ooredoo Myanmar is leading the way in providing telecommunication services in the Myanmar Telecommunications sector with the goal of brightening the social life of the people through digital living.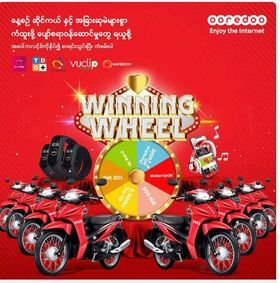 Photo Source https://www.facebook.com/OoredooMyanmar
Ooredoo Myanmar is now available not only for individual users but also for businesses, we also provide a wide range of services for government departments and small and medium enterprises to improve their business. These services focus on social development and empowerment, which will empower people and enable them to run their businesses more smoothly. Ooredoo Myanmar launches its products and services to make people's lives brighter through services and social services.
Check the link below for more information