Ooredoo Myanmar and UNDP handed over IT equipment to Ministry of Agriculture, Livestock and Irrigation and Ministry of Transport and Communications for ICT Enabled Extension Services to Farmers
Ooredoo Myanmar and the United Nations Development Programme (UNDP) handed over IT equipment to the Department of Agriculture (DOA), Department of Agricultural Research (DAR), and Livestock Breeding and Veterinary Department (LBVD) under the Ministry of Agriculture, Livestock, and Irrigation and Department of Meteorology and Hydrology under Ministry of Transport and Communications for providing ICT enabled extension services to farmers.
Around 50 different IT equipment, such as desktops, laptops, projectors, tablets, cameras, printers, recorders and mobile rechargeable speakers, were provided as a part of the Sustainable Enterprises and Agricultural Development (SEAD) Project jointly supported by Ooredoo and UNDP.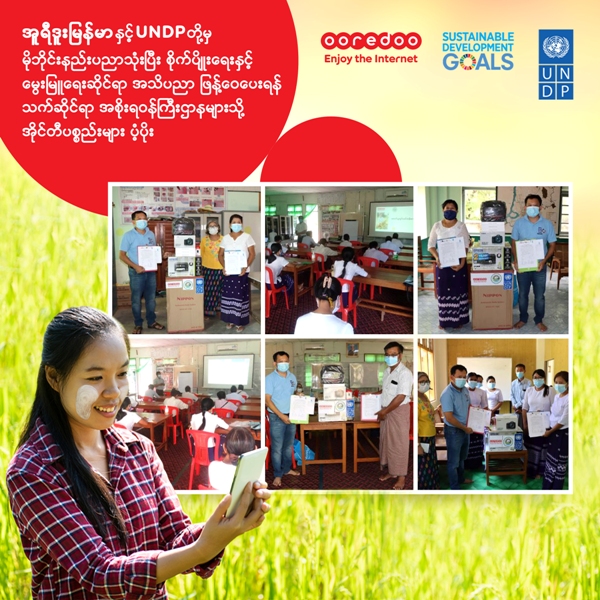 Photo Source https://www.facebook.com/OoredooMyanmar
The SEAD project aims to establish an inclusive and sustainable rural development model in Myanmar's Dry Zone region, leveraging Ooredoo's advanced mobile technology and UNDP's experience in promoting climate-resilient farming practices in the Dry Zone region of Myanmar.
These devices will be used for creating the agriculture and livestock advisories as well as weather forecast information, disseminating to farmers and breeders in the Dry Zone region through a mobile application and digital channels.
"We partnered with UNDP for SEAD Project in line with our vision of enriching people's digital lives. Since the launch of the project, we have been taking initial steps to shape the intended sustainable rural development model. By supporting the required IT equipment to the responsible government departments, we expect to leverage on mobile technology to provide mobile ICT enabled extension services for the farmers and scale up their knowledge and efficiency according to the future digital trend" explained U Tint Naing Htut, Head of Corporate Communications of Ooredoo Myanmar.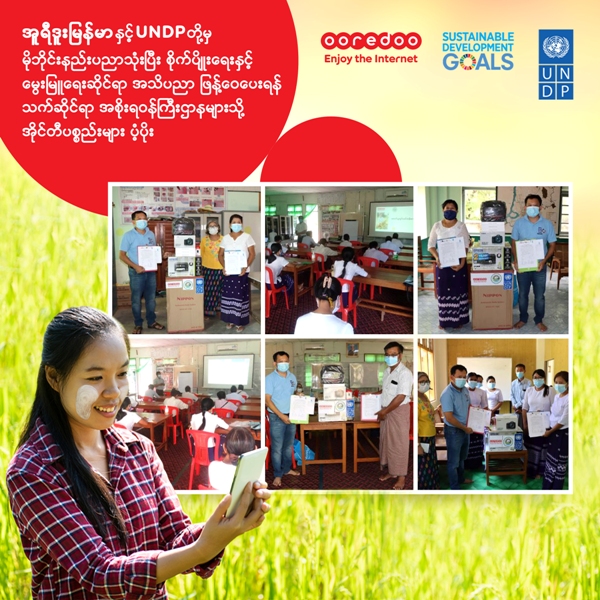 Photo Source https://www.facebook.com/OoredooMyanmar
Farmers will have access to quality extension advisories throughout the year and will benefit from a package of virtual services comprising good agricultural practices, good livestock husbandry practices, and timely weather forecasts. Training and resource materials will also be disseminated through webinars, podcasts, and short demonstration videos via YouTube and social media channels.
Following the outbreak of COVID-19, the project undertook a needs assessment to better understand the impact of the pandemic on farmers in the project locations and assess their extension support and advisory needs. The findings of the assessment have been integrated into the design and content of the virtual advisories. The project also provided COVID19 affected farmers' essential agricultural inputs.
As a next step, the project now intends to train key government departments' staff in the use and management of the software included in the design and creation of advisories, production of webinars, and online training programs. They will also be trained in the maintenance of the equipment.
The project will help match supply with the demand for sustainable farming and connect farmers to markets, and credit through the use of mobile money.
The project aims to benefit 130 villages in the Dry Zone Region of Myanmar, boosting the livelihoods of farmers.