Synapse Original reveals 10 tips to make a savage campaign on TikTok – a free virtual training to support local community amid the second wave of COVID19
Synapse Original, Yangon's leading advertising agency launched a 30 min training program – Synapse Sessions – as their creative response to movement restrictions caused by COVID-19 aiming to support the local community by sharing knowledge and relevant expertise.
In just 30 min, firms' senior management shares their take on various business areas such as marketing, advertising, team management, HR, finance, and creativity enabling all interested parties to upgrade their professional skills. A link to a free live presentation is provided to the interested attendants every Tuesday at 4:30 pm.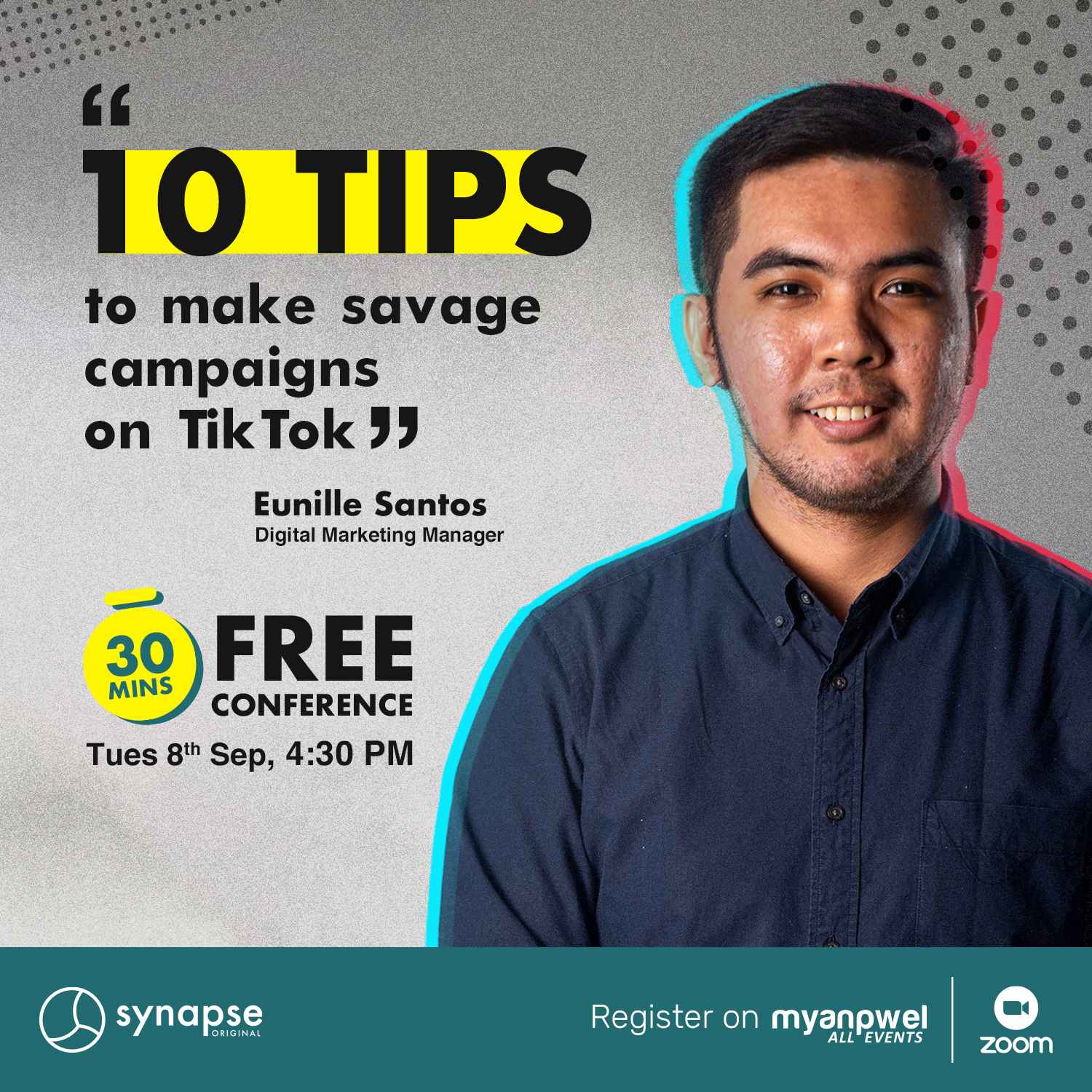 Photo Source http://bit.ly/SynapseSessions2
This week's session conducted by Digital Marketing Manager, Eunille Santos, will air on 8th September. Mr. Santos will focus on TikTok, a new exciting social media, by sharing examples relevant to Myanmar, the platform's 2nd highest penetration market in Asia. A quick and practical training will focus on real-life examples from successful campaigns run on Tik Tok for both international and local brands. Attendees will find out how to create engaging content, optimize metrics, and drive performance based on case studies from the latest campaigns Synapse Original provided for NIVEA and Samsung in Myanmar.
"TikTok holds a great opportunity for advertising, be it personal branding for those who wish to become the platform's influencers or companies and organizations. Thanks to its popularity in Myanmar, virtually everyone who wants to engage with the young and vibrant GenerationZ should be on it. At the same time, it is crucial to understand how it works prior to spending effort on it, and Myanmar's market has its unique features, hence proper localizing your campaign is essential for success" said Mr. Santos.
With its free Sessions, Synapse Original hopes to provide cutting edge knowledge and relevant expertise for everyone willing to elevate their professional skills. With a looming economic downturn, the firm hopes to support everyone seeking to gain command in the field of advertising and beyond.  

Photo Source http://bit.ly/SynapseSessions2
"In Synapse Original we believe that only constant pursuit for improvement can ensure success. This is the mindset we nurture not only within our organization but also want to promote beyond it. At the same time, living and operating in an emerging market we know that it is essential to keep things both simple and engaging hence we came up with an innovative concept of crispy half an hour training where our management team shares real-life experiences hoping to help everyone achieve more both professionally and privately".
All sessions will be delivered in English and topics will be revealed on a weekly basis on Synapse Original's Facebook page.
Established in 2013, Synapse Original is a 360° Advertising Agency that fuses the best in creative and technical thinking, harnessing the in-depth knowledge and intuition for Myanmar and its people from a team of local and international talent.
Register here: http://bit.ly/SynapseSessions2 to grab the chance and upgrade your skills.