MPT Launches New "Kyite Yar Khaw" Any-Net Voice Packages with Carry-Over Function
MPT continues to offer exciting packages for its customers as a special milestone of reaching the 7th year anniversary of Joint Operations (JO) and the operator announced a new "Kyike Yar Khaw" any-net voice packages with a carry-over function to allow its customers unrestricted voice calls across all carrier networks during these challenging times.
The new "Kyite Yar Khaw" packs include 92 or 190 minutes to make calls across any local carrier network. The packs are valid for 15 or 30 days and cost MMK 997 and MMK 1997 respectively.
By the introduction of those flexible packages, MPT puts its customers in control of their expenses for any-net calls. All MPT GSM/WCDMA prepaid and postpaid customers as well as base tariff users are eligible to purchase and enjoy the new voice packs.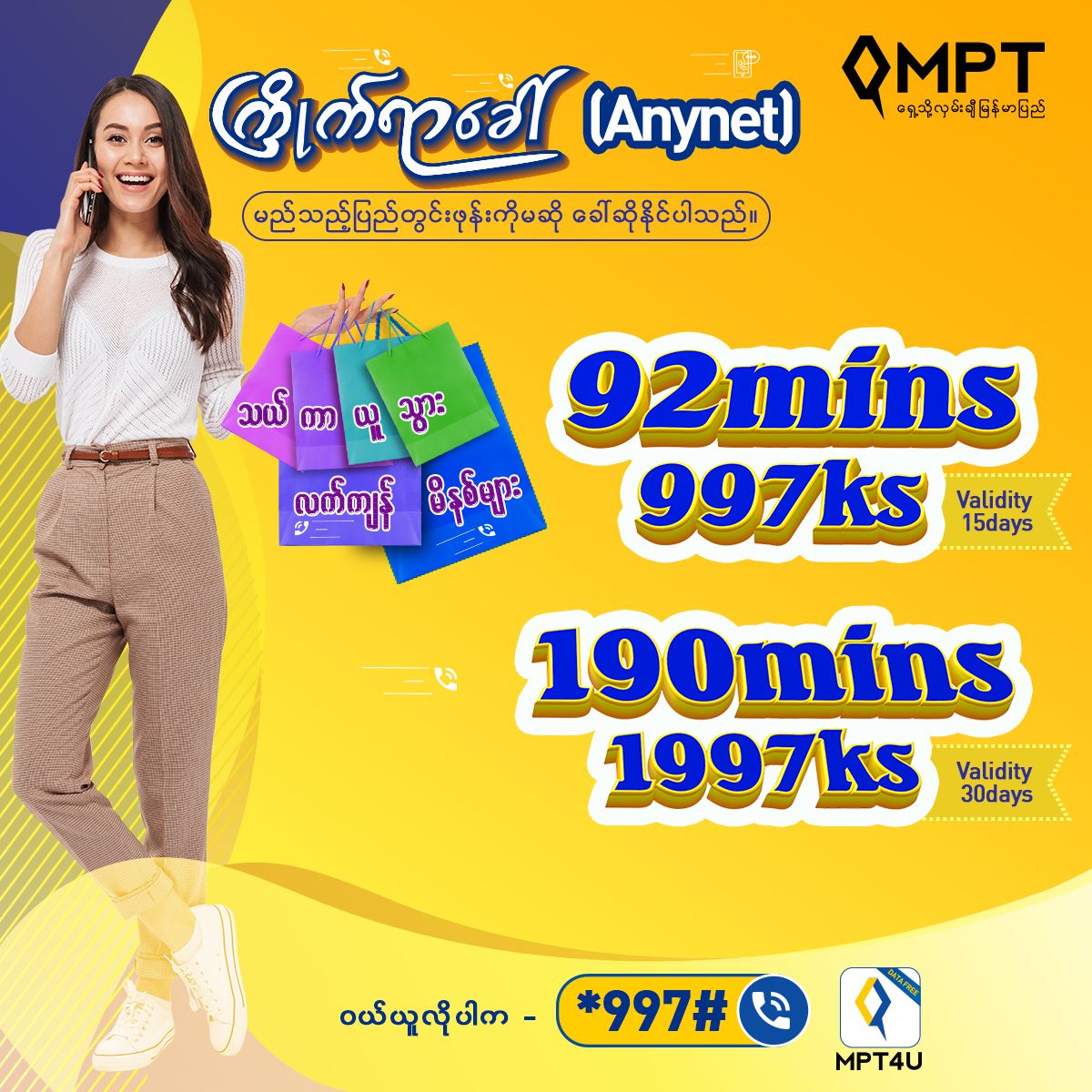 Photo Source https://www.facebook.com/mptofficialpage/
Thanks to the carry-over function, customers can carry the unused "Kyike Yar Khaw" voice minutes 7 days after the expiry of the original pack purchased. Customers are required to purchase a new "Kyike Yar Khaw" pack within the 7-day carry-over period to carry over the unused minutes. Multi-subscription is also allowed where voice minutes will be merged up to the validity of the latest purchase pack.
Mr. Tetsunori Nagashima, Chief Commercial Officer of MPT-KSGM JO, said: "With our unique any-net voice packages, we're taking our flexible approach even further by offering customers carry over function. This is the most cost-effective voice pack with amazing value as we strive to provide a superior customer experience with great value for our customers especially during the period where people are required to stay home due to COVID-19."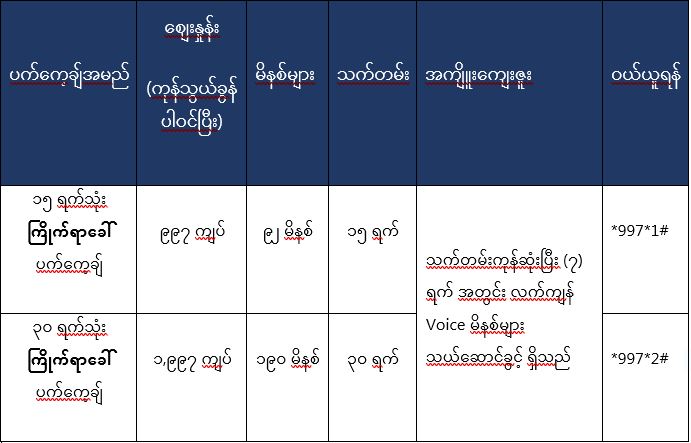 Photo Source https://www.facebook.com/mptofficialpage/
To take advantage of "Kyite Yar Khaw" voice packs and stay in touch with loved ones, customers can check for the subscribe to "Kyite Yar Khaw" voice packs by dialing *997# or through MPT4U application. Customers can get 1 time to play Hti Pauk chance in MPT4U by purchasing of Kyite Yar Khaw Packs through any channels.
MPT has a long history of delivering excellence in service, and availability of customized offers for its customers' requirements with the promise of "Keeping Myanmar Connected" as a provider of essential communications products and services during critical periods without any interruptions in customer service.
All MPT customers can seamlessly use MPT4U application to manage their accounts on mobile devices from the convenience of their own homes. For more information, please call 106 or visit the official MPT Facebook page at https://www.facebook.com/mptofficialpage/ or MPT official website www.mpt.com.mm for further details on MPT's products and services.