ooredoo Myanmar continues to Empower Young Women with Digital and Leadership Skills through Tech Age Girls Myanmar Program 2022-2023
ooredoo Myanmar announced that it is continuing to support the Tech Age Girls (TAG) Myanmar Program in 2022-2023 with the goal of empowering young women via digital technology by bridging the digital gender divide. 220 girls will be participating in the TAG 2022-2023.
Tech Age Girls (TAG) is a year-long program equipping young women, aged 16-20, with technology skills as a tool for leadership and community development. It maximizes females' productive use of technology for leadership and community development so that it can benefit not only the participating females but also their communities.
U Tint Naing Htut, Head of Corporate Communications of Ooredoo Myanmar said, "Ooredoo Myanmar is committed to assisting communities in building a better digital future and optimizing the socioeconomic value of our presence, particularly in our core CSR pillars of education and health, by utilizing the technology as enabler. Through our Corporate Social Responsibility (CSR) programs, we strive to support for the development of local communities and empower people to achieve their full potential. We are very proud to continue the support of this great program which empower young women with technology."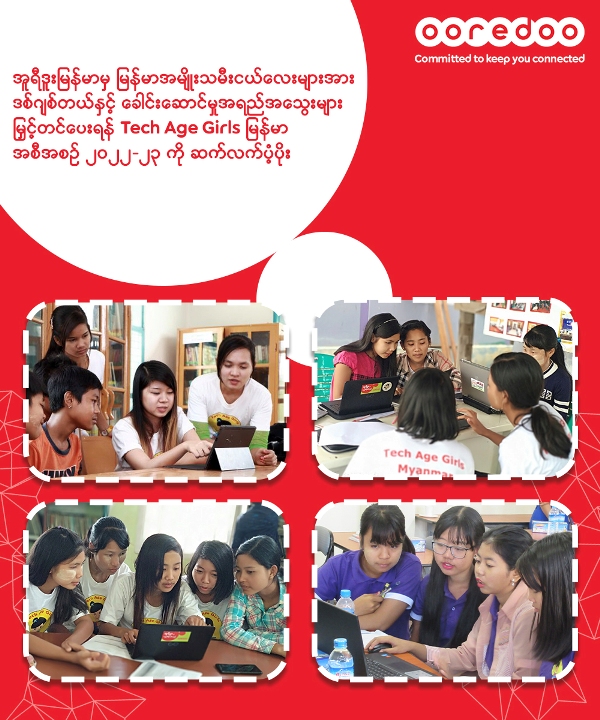 Photo Source https://www.facebook.com/OoredooMyanmar
Partnering with Myanmar Book Aid and Preservation Foundation (MBAPF), Ooredoo Myanmar has been supporting the TAG program since 2016 by providing connectivity and digital devices. Seeing the effectiveness of the program, Ooredoo Myanmar became the main sponsor in 2019 and widened its support in 2020-2021 to expand the number of participants to double.
TAG program is divided into three phases that last around a year; Phase I focuses on ICT skills, Phase II focuses on leadership, job skills and project management, and Phase III includes leadership summit, project implementation, reporting and evaluation.  This year, phase 2 will include an updated topic on women's rights.
The Tech Age Girls participants will acquire new soft skills, technical and professional skills through well-designed trainings. Finally, participants are expected to develop the confidence and inspiration to serve as community leaders.