MoodzHub App, the Best for Those Seeking an Escape from Stress
Everyone sometimes looks for a way out when stressed. And, of course, there has to be a good solution to ease up stress. That's why, everybody, when stressed, has got to have a door of emotional escape.
Nowadays, since everyone has a smartphone, it is easy to install and use health apps and other apps. Out of these apps, an uncommon app that focuses on people's emotional escape has emerged. This is the MoodzHub App and its beginning also has an interesting story for everyone.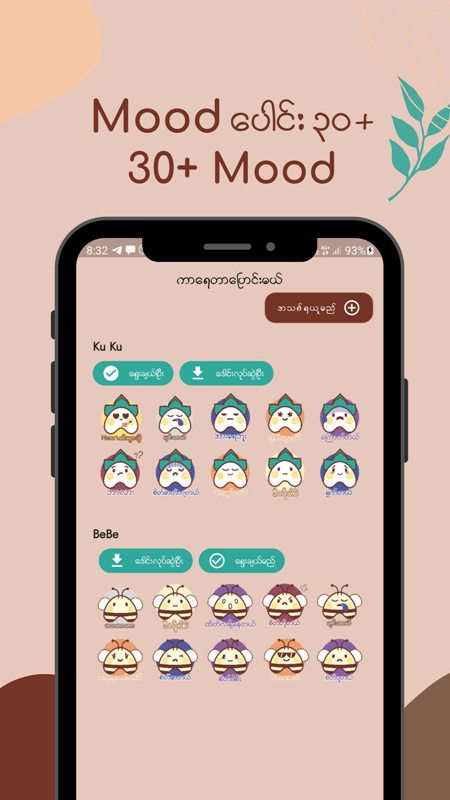 Photo Source https://www.facebook.com/MoodzHubMM
About the creation of the MoodzHub App, Ma Nwe Oo Wai said, "I had an idea of making an app about health. When I looked into health apps available in Burmese, I found that most of them focused more on physical wellness. That's how I started thinking that it would be nice to have an app focused on mental wellness. It took about a year of research. There were a lot of apps for mental wellness but they were only in English. There were many mood tracker apps in English, but I could not find any in Burmese. That's why I started to create the MoodzHub mood tracker/ mood diary app for people to use in Burmese. Mental wellness is also important for health. Emotions happen to everyone every day every second, so it has to do with everybody. It was created intending to be an everyday app focused on the lifestyle."
In fact, MoodzHub App is beneficial for almost everyone. Physical injuries are visible, but traumas are not. Moodz Hub app can help you see the emotions running inside.
This app allows you to keep a diary of the things going on in your mind every time, everywhere, helping you to find out your memories and the reasons behind your emotions. As emotions are shown in daily, weekly and monthly charts, you can clearly see if good emotions are taking up or bad emotions are piling up. In this way, you can understand your feelings better, become more mature, and manage your emotions better.
Regular use of MoodzHub will also give you a good habit of keeping a record. How to use the app is simple and easy. There are more than 30 moods in the MoodzHub app, so you can just pick the mood you're in. Next is to pick the reason behind it. You can just save the mood only if you don't want to choose the reason. Then you can put your memories and events in the diary space. You can look up the saved data in the Records section. And in the History section, you can find a summary of feelings saved daily, weekly, and monthly.
The app categorizes moods into 4 types: Good, Bad, Average, and Other. If you save a happy mood, it will be described as Good. If you save an angry mood, it will show as Bad.
Another unique feature is the Customize Mood Character. Moods are created as youthful kawaii Japanese-style mood characters. As you enter the app, you will see KuKu, a mood character, as well as the Moodz hub logo and mascot, with Burmese Thanakha on the cheeks and a Kumudra water lily which represents wellness.
When saving the moods, you can choose your favorite mood character from KuKu's friends such as BeBe, OuOu, and Boba. In simple words, it is nice to choose the mood character you want just like sending a sticker you like in chats. Currently, since there is a larger number of Android users in Myanmar, the app has reached over 5,000 Android users on Google Playstore. Moreover, it is encrypted just like the social chat apps currently being used, so you can use it with confidence since the data saved in your account cannot be seen by anyone else.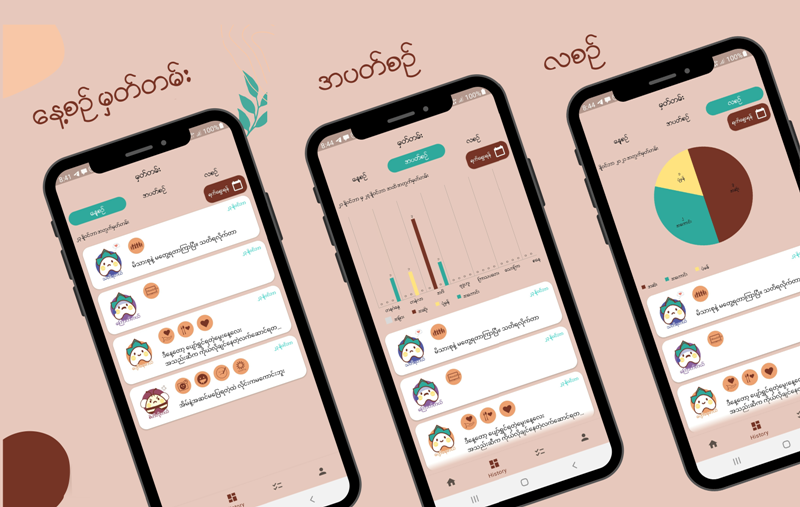 Photo Source https://www.facebook.com/MoodzHubMM
In addition to KuKu, BeBe, OuOu, and BoBa, new characters will also be released later on. Many new features will also be added too.
For the time being, app users can only log in with their Facebook accounts. Features such as Google login and logging in by registering a Moodz Hub account will be added soon. Furthermore, features such as deactivating Facebook and deleting accounts on Instagram will also be added to enable users to manage their own data as they wish.
Currently, there is a MoodzHub Facebook Group for those who would like to open up their feelings to join and do so. It is a small community where you can share and help out each other with your emotions. It has been intended to create a safe space for anyone.
Once you have downloaded and logged in to the MoodzHub app, you will be able to use all the features offline. You will need the internet to back up or restore your saved data and to download the new mood characters.
And last, users can also take the MoodzHub App as one more place to open up as well as a self-care app to better understand their own emotions. Visit the Facebook page through the link below.
https://www.facebook.com/MoodzHubMM