A Public Sustainable Startup Recycle Myanmar Platform
In Myanmar, youths are trying to do startup businesses that can get benefit according to the improvement of technology. There are so many business platforms that related to sectors such as Direct sustain public sectors, Educational supporting sectors, Travelling sectors, Health sustain sectors, although this technological business was created.
Among them, a startup called Recycle Myanmar is emerging to support the human community and the preservation of the environment in one way. Recycle Myanmar is one of the mobile applications that can turn waste materials like empty drinking water bottles, empty glass bottles, cool drink bottles, unused newspapers, and unused journals into money. This is a Platform that connects waste dealers and buyers easily.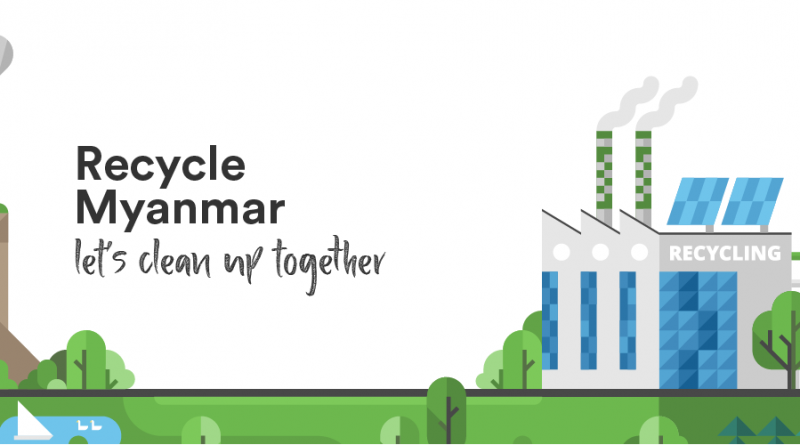 Photo Source By Myanmar Tech Press
U Ponya, the founder of startup Recycle Myanmar platform said that "I founded startup as Recycle Myanmar. Before I founded this platform, I worked as a volunteer for social duties. This is one of the charity organizations that support children who cannot attend school and go around the streets. I teach them at this organization. Feed them. This organization wants me to try to search for funds for this organization. So, I try for funds by using anther way that I request to donate waste materials from the owners. I accept just waste materials from them like empty glass bottles, cool drink bottles, unused newspapers, and journals instead of money. So, many people donated to us. We sold these waste materials to the buyers in the markets. I used this way to get funds. In doing so, I am more interested in waste materials. I like to extend this business.
Ko Ponya said "It will be difficult to work as a charity organization. I funded this like a social enterprise. I don't like to do my social duty as a small business. But, if I do so, it will be difficult to extend all around Myanmar. And will be difficult to be bigger. So, I decide to do as a startup. We can collect all kinds of waste materials in one place. It is also difficult to collect waste from other cities. It will need many workers. The investment will be very high. So, I thought that very wisely. For the technological-based platform, we just to support technology for sellers and buyers. I thought like that and I founded this platform."
He also said "there are many challenges for the requirements of investment money including mental power to implement this recycle Myanmar Platform and many difficulties. He explained that the Recycle Myanmar social startup become popular after two years and I have got many problems while implementation of this platform."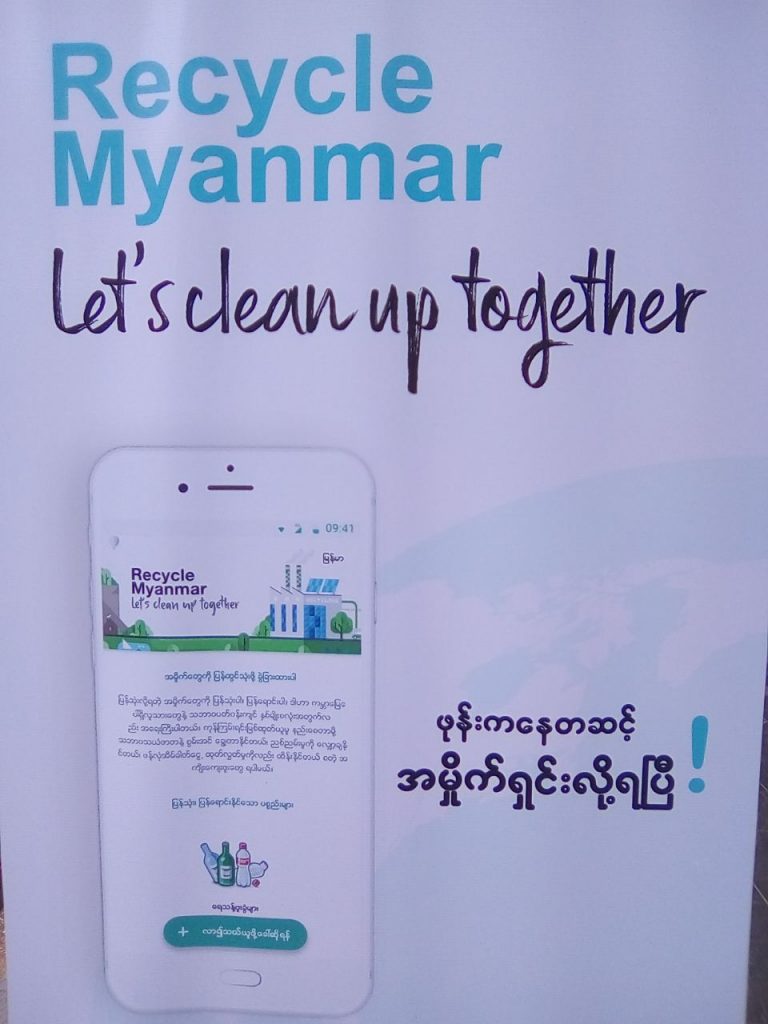 Photo Source By Myanmar Tech Press
"There are many problems because we are not running this business as directly forward with financial matters. Our goal is to get good results for our environment. For that reason, we have many difficulties with investment money. As it is difficult to get income, it is not easy to invest. We have to think so much to invest in our capital. This is a difficulty. Another one that we have to take into account is that there is no sample before to copy to create this business as it is unusual and not have the same one because it is the newest. So, we do it with so much thinking. For that, we feel worried often. Shall we continue or stop? Just like that.
There are two categories of Recycle Myanmar App like seller app, buyer app, and Business app. Now, there are over 1200 sellers, and over 300 buyers using Recycle Myanmar app in Naypyidaw and Mandalay cities. And over 20 users use as business market. There will have a problem in using like that not match with smartphone and not enough training and so now the number of users is less but later will be increased" Said Ko Ponya.
He also explained that "For the public, they normally throw away empty drinking water bottles and cool drink bottles that can sell back and will not block wastewater channels. It is very dangerous because these recycle waste cannot break down easily and will live a long time. Recycle Myanmar app can reduce these problems. People will not throw away these waste materials. And then, for the housewife, can get income from them. Also for the coffee shops and restaurants can get income. And companies and industries also can get income."
We will try this Recycle Myanmar to be used in Yangon at the end of this year 2019 and if it is convenient for customers, we will perform to extend in other cities.
Photo Source By Myanmar Tech Press
"Our network is only basic business design. So, we will extend to another place only if it gets accustomed to moving from place to place, it will get many difficulties for the customers and founder of this platform like us. For that, we have to take enough time. Now, working in Mandalay. Trying to enter Yangon. It is sure to move Yangon at the end of this year. It is very important to get to the target place in time. After extending our platform to Yangon, we will continue to other cities. And then, we will extend to small cities gradually. We will do gradually implement this goal on time. We are responsible to explain and teach to the app users and waste materials keepers to get on this platform and to understand. Sometimes, we have to make a promotion in the market area. This matter also needs to take time for each. So, we can do gradually to extend. Some persons use to ask when we get to Yangon. It is just taking time to get one point of condition and so cannot do immediately."
He also said "Responsible Business Fund (RBF) supports some part of business by investment money for our Recycle app to get success. The most difficult part while founding our business is a money investment problems. If we invest 100%, it is a very large amount. If we think from the business side, it is so less profit. So, I have thought so much. At this time of difficulties, the Responsible Business Fund (RBF) takes responsible and recommends us. They share some part of their funds in our business. So, the Recycle Myanmar app got success.
" Now, customers can get free download our app from play store. Taking of charges will be different depending on the kind of platform. If the customer uses two apps, one app will get FOC. Another one has to give charges to run our business. So, our app will take a suitable amount of charges to run our business."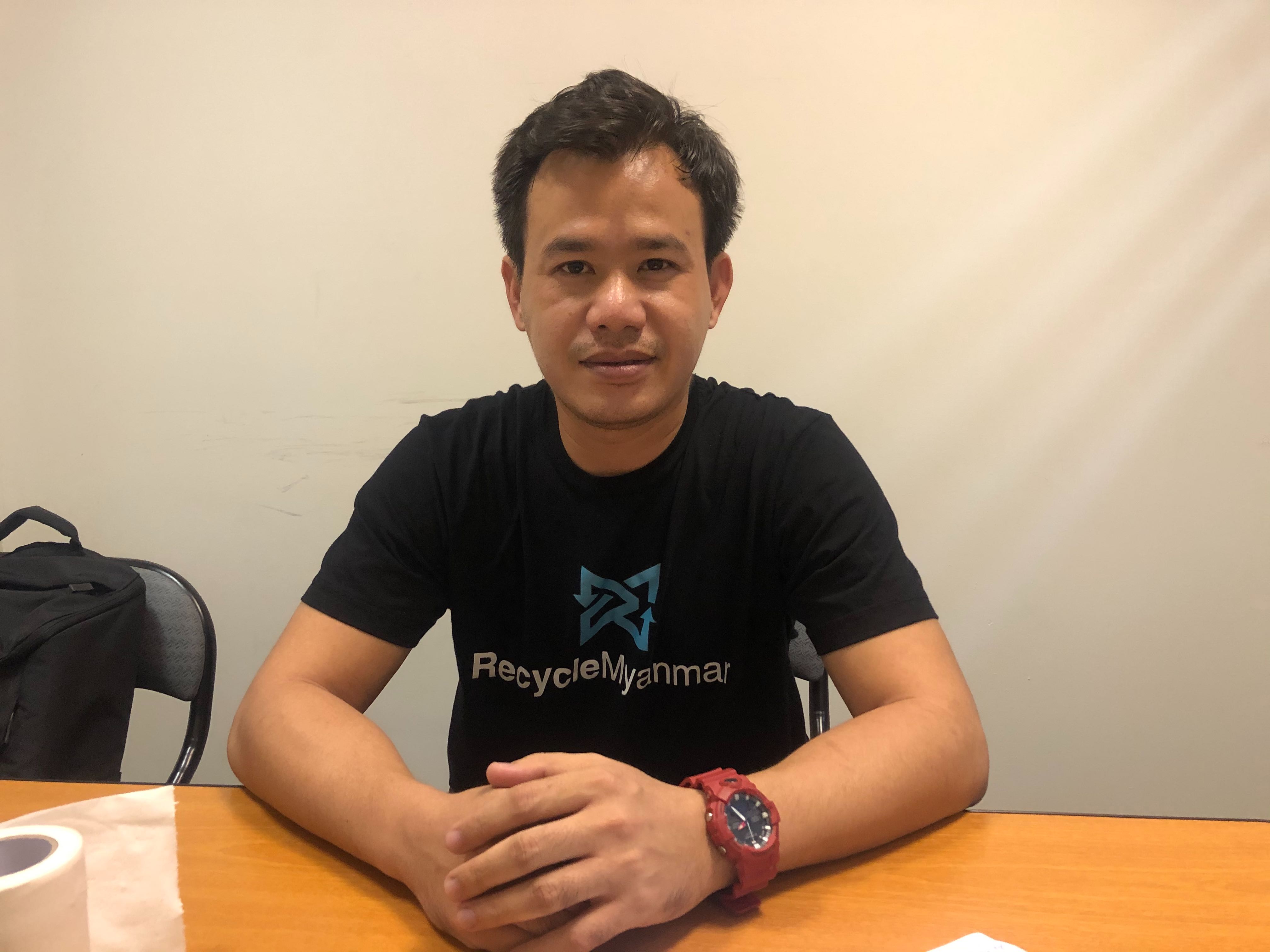 Photo Source By Myanmar Tech Press
U Ponya, the founder of Recycle Myanmar was awarded two prizes of Sustain Entrepreneur and Business Entrepreneur. The second winner prize at Sustainable Entrepreneur was awarded in 2017 by the Myanmar Youth Entrepreneur Organization. This prize was awarded to me because I worked for recycling as a business to help children and founded Myanmar Recycle that is different from others. Another one is the best Entrepreneur prize for the civil technology sector at startup Challenge 2019. I got the power to continue this business according to the awards. I have got confident. Improve social networking communities. These are so many supports for me to do these businesses.
Please download the Recycle Myanmar app in the below link and install it.
https://play.google.com/store/apps/details?id=com.recyclemm.user
https://play.google.com/store/apps/details?id=com.recyclemm.picker
https://play.google.com/store/apps/details?id=com.recyclemm.business