5BB Broadband starting to sell a Eco Plan with Affordable Price
5BB, which installs high speed fiber connection, is starting to sell a Eco Plan with affordable price in May, 2019.
In this Eco Plan, the price of the most stable and high speed fiber internet 5Mbps will be 25,000MMK and this plan can be bought in these townships as mentioned on 5BB Broadband Facebook Page such as North Oakkalapa Township, Botahtaung Township, Kyauktada Township, Pazundaung Township, Kyee Myint Daing Township, Latha Township, Pabaedan Township, Mingalardon Township, Dawbon Township, East Dagon Township, South Dagon Township, Shwepyithar Township and Thanlyin Township.

Photo Source – https://www.facebook.com/5BBbroadband/
There is no need to pay installation charge and deposit fees by giving prepayment of 3 months fees or 6 months fees and as an opportunity to get one month free charge.
Other plans are severed in whole Yangon areas and can start using within three days after plans have been purchased or installed.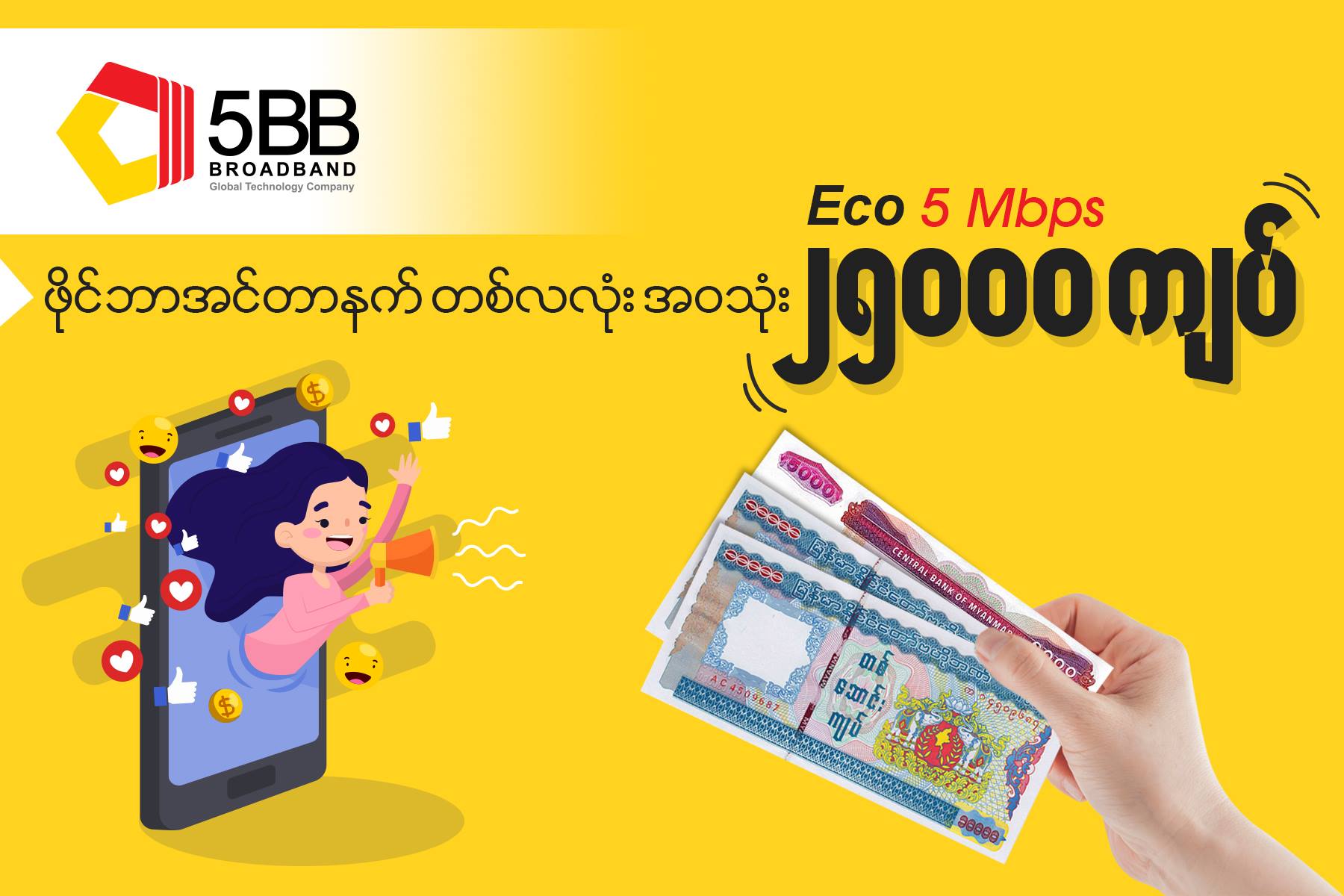 Photo Source – https://www.facebook.com/5BBbroadband/
People who would like purchase six months advance payment will get free installation charge and one month free .Price will be as following;
Eco Plan                     5Mbps                                    25,000 MMK
XXS+                          10Mbps                                  40,000 MMK
XS                                16Mbps                                  49,500 MMK
XS+                             26Mbps                                  72,000 MMK
S                                  45Mbps                                  99,500 MMK
M                                 70Mbps                                  149,500 MMK
L                                 100Mbps                                 249,500 MMK
XL                              200Mbps                                 449,500 MMK
People who would like purchase three months advance payment will get free installation charge. Price will be as following;
Eco                                          5Mbps                                             25,000 MMK
XXS+                                      10Mbps                                           40,000 MMK
XS                                            16Mbps                                           49,500 MMK
XS+                                         26Mbps                                           72,000 MMK
S                                              45Mbps                                             99,500 MMK
M                                             70Mbps                                            149,500 MMK
L                                              100Mbps                                          249,500 MMK
XL                                           200Mbps                                         449,500 MMK   and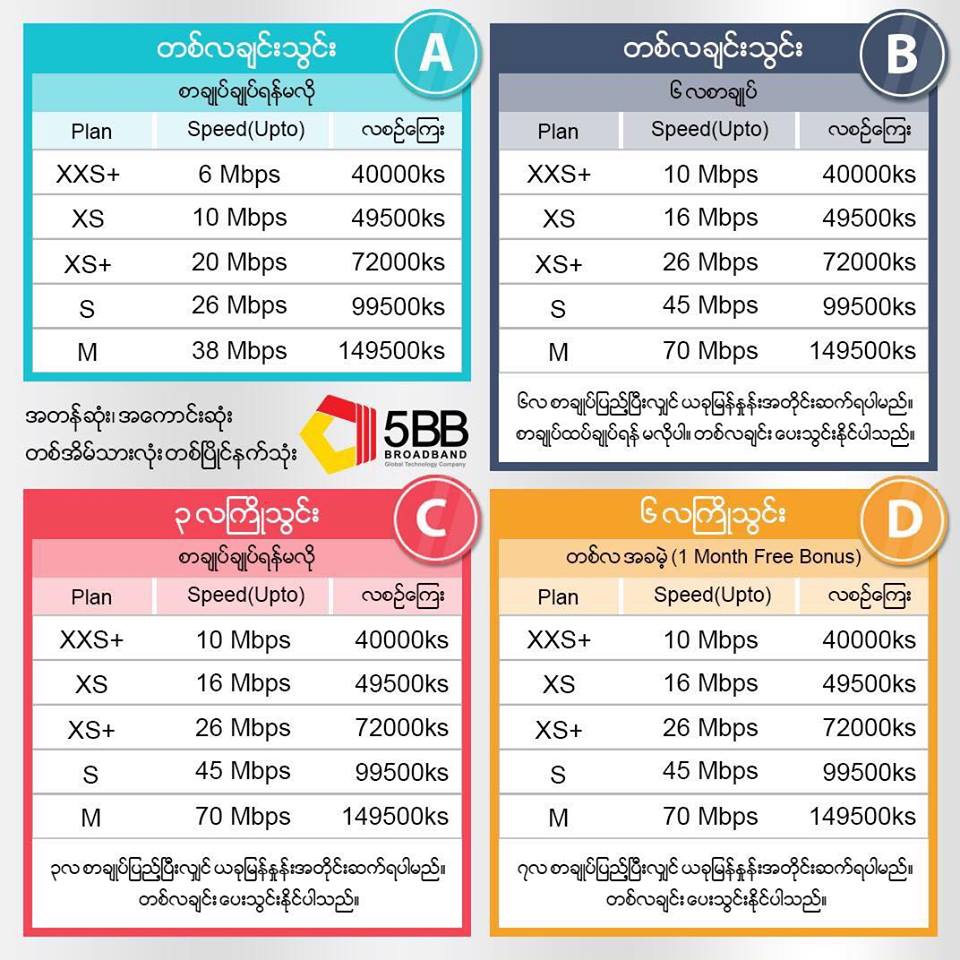 Photo Source – https://www.facebook.com/5BBbroadband/
People who would like to purchase with monthly payment (6 months agreement) will need to pay initial installation charge and one month deposit. Price will be as following;
Eco                                                    5Mbps                                   25,000 MMK
XXS+                                               10Mbps                                 40,000 MMK
XS                                                    16Mbps                                  49,500 MMK
XS+                                                 26Mbps                                  72,000 MMK
S                                                      45Mbps                                   99,500 MMK
M                                                     70Mbps                                  149,500 MMK
L                                                     100Mbps                                 249,500 MMK
XL                                                   200Mbps                                449,500 MMK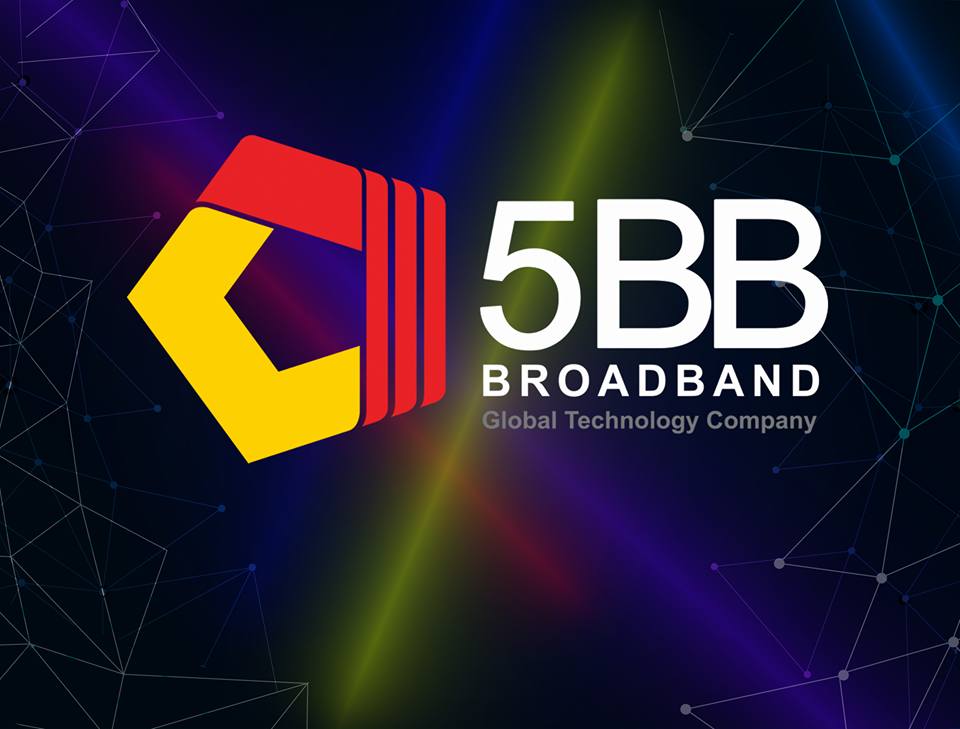 Photo Source – https://www.facebook.com/5BBbroadband/
For more information, you can directly contact to No.471, Pyay Road, Near Novotel Hotel, Kamaryut Township and phone numbers are 01-524978, 09-422686977, 09 422686988, 09-424170941. You can visit the following links too;
https://www.5bb.com.mm
https://www.globalnet.com.mm
https://www.facebook.com/5BBbroadband/