Best Internet Services Provider in Myanmar
For the development of information and technology in Myanmar, we are trying our best with the new concepts of communication services under the standard of International telecommunication rules. The development of an information and communication society is essential for the development of human resources and educations. So, we try to provide best internet services to our citizens with appropriate costs the entire country. We continue sharing the knowledge of ICT technologies across the country to safety use of Data ID card System, Digital Government Strategy, e-Government System.

Global Technology Group established in 2002 and started to provide the communication services. In 2015, Network Facilities Services (Individual) license enacted. In March 2017, provided FTTX (Fiber Network) services on Yangon and expanded the services to Mandalay and Pago. In 23th January 2018, Global Technology Company officially started the Internal Gateway Services (IGW) as a public company owned by citizens. Global Technology provided best network services by using high quality goods such as Global Net, 5BB Broadband. By using 5BB Broadband FTTX, there was a benefit not only less costs, but also high internet speed. It was a best choice for family usage because of Unlimited Data Download that even provided less costs in watching YouTube video on Mobile, Tablet, Laptop and also Smart TV. At least XS Plan (3Mbps) line speed can support perfectly for one family. And lifetime warranty for FTTH Wi-Fi Router, if you have any problem, we can repair or change with a new one for free. We can set our products at least within two weeks around the downtown, but setting time can change depends on locations. Surely, a lot of places will have a free 5BB Wi-Fi service. The following link have detailed information of Line Speed and Internet Plan.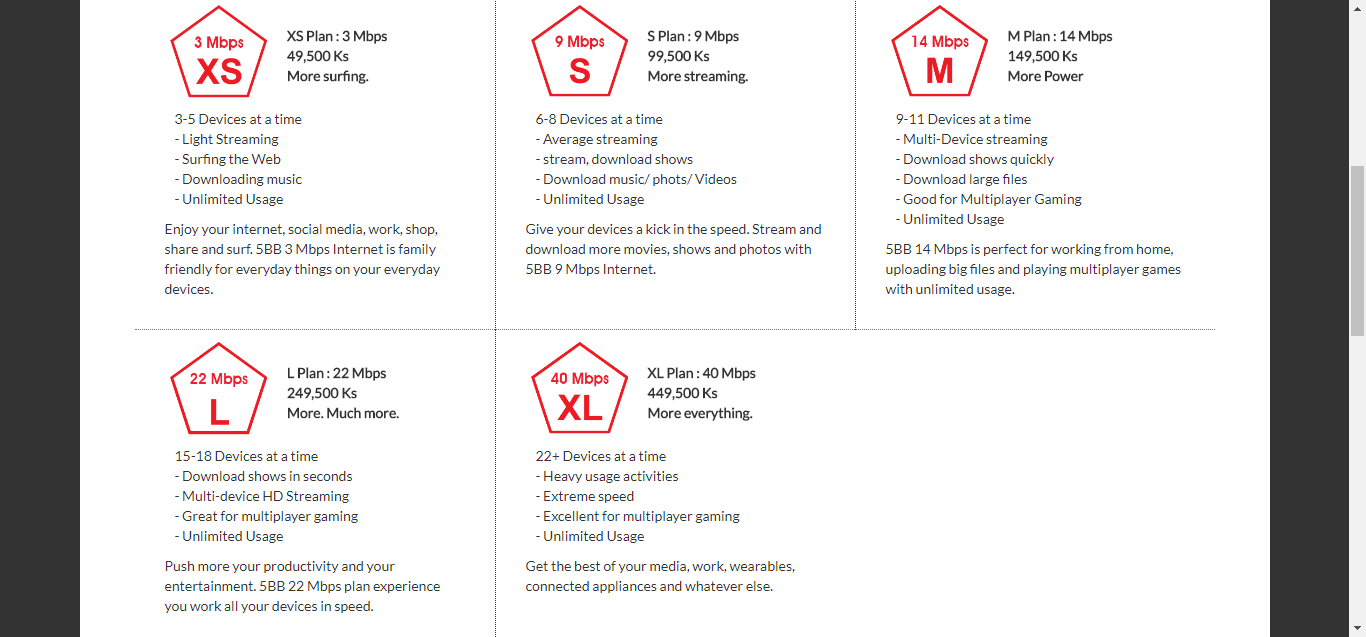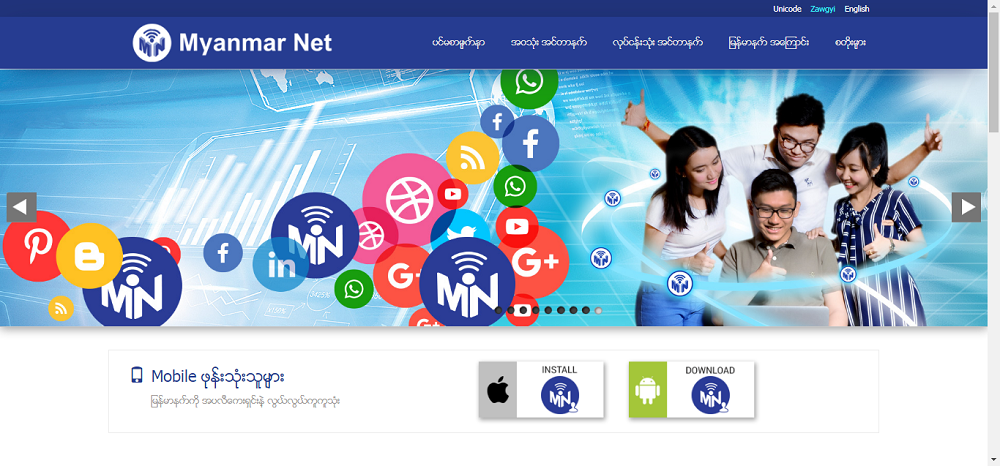 Myanmar Net supports High Speed Internet Service for home use and office use with appropriate cost. Nowadays, More than 100,000 users safely used our internet services. Myanmar Net's special internet service plan (a wa thone) has been provided around 13 townships in Yangon and a lot of condominium and home in 19 townships in Yangon. Myanmar Net's Office use internet service plan has been provided around Yangon region. And Myanmar Net's monthly internet service plan has been provided anywhere in the range of Myanmar Net Network.
There are details of Myanmar Net's special internet service plan (a wa thone) as follows:
– 5000kyats for 3 days as Demo
– 35000 for initial service
– CPE is free rent
| | | |
| --- | --- | --- |
| Monthly Charges   (Kyats) | Speed | No of Account |
| 8,500 | 500 Kbps | 1 |
| 16,000 | 1M bps | 1 |
| 24,000 | 1.5 Mbps | 2 |
| 44,000 | 2.75 Mbps | 2 |
| 64,000 | 4 Mbps | 3 |
| 83,000 | 5.2 Mbps | 3 |
| 158,000 | 9.75 Mbps | 4 |
| 225,000 | 14 Mbps | 4 |
– 3000kyats for initial service
– No include CPE
– Free mobile account needed
| | | |
| --- | --- | --- |
| Monthly Charges   (Kyats) | Speed | No of Account |
| 7,500 | 500 Kbps | 1 |
| 14,500 | 1M bps | 1 |
| 22,500 | 1.5 Mbps | 2 |
| 42,500 | 2.75 Mbps | 2 |
| 62,500 | 4 Mbps | 3 |
| 81,500 | 5.2 Mbps | 3 |
| 156,500 | 9.75 Mbps | 4 |
| 223,500 | 14 Mbps | 4 |
For Daily use plan, firstly need to buy 1000kyats filled account card and start the internet by connecting Myanmar Net Wi-Fi. CPE supposed to high connection speed. There are details of Myanmar Net's daily use internet service plan as follows:
| | | |
| --- | --- | --- |
| Daily Charges(Kyats) | High Speed | Free Speed |
| 300 | 150 MB | 350 Kbps |
| 600 | 300 MB | 700 Kbps |
| 2,400 | 1200 MB | 2.8 Mbps |
| | | |
| --- | --- | --- |
| Daily Charges(Kyats) | High Speed | Free Speed |
| 6,600 | 150 MB | 350 Kbps |
| 12,000 | 300 MB | 700 Kbps |
| | |
| --- | --- |
| Data (MB) | Charges(Kyats) |
| 1,500MB | 1,900 |
| 10,000MB | 9,500 |
For Office use plan, provide high speed internet connection and also highly protect privacy. The following link have detail information of Office Use Internet Plan. http://www.myanmarnet.com/product/my-zawgyi