New Mobile Applications and New Mobile Game Applications of MPT
Image Credit: http://mpt.com.mm
MPT, Myanmar Posts and Telecommunications, has been championing the development of the telecommunications industry for over 130 years and is the first and leading telecommunications in Myanmar. It provides both fixed and mobile telecommunication services to people and enterprises, including nationwide largest 3G network, ADSL, FAX and FTTH for over 23 million users. It is a widest network telecommunication which covers 96% mobile network throughout Myanmar and aims to improve for more accessible telecommunication services by using its wide network of retail outlets and points of sale. MPT carries out to continually by driving the development of the telecommunications sector and moving Myanmar forward together with KDDI Sumitomo and over 8,000 employees. Among of the 42 key brands, MPT was ranked as the first of the most popular brand in Myanmar on June 30, 2016 according to the survey of "Spotlight on Myanmar" which was held by BrandZ that was conducted by WPP, a world leader in advertising and marketing services, and Mill ward Brown, a British multinational market research firm. MPT also invests in nationwide network infrastructure for the latest 4G network and a quality technologically services for the users in order to make access to mobile telecommunication, to extend network coverage in hard-to-reach areas.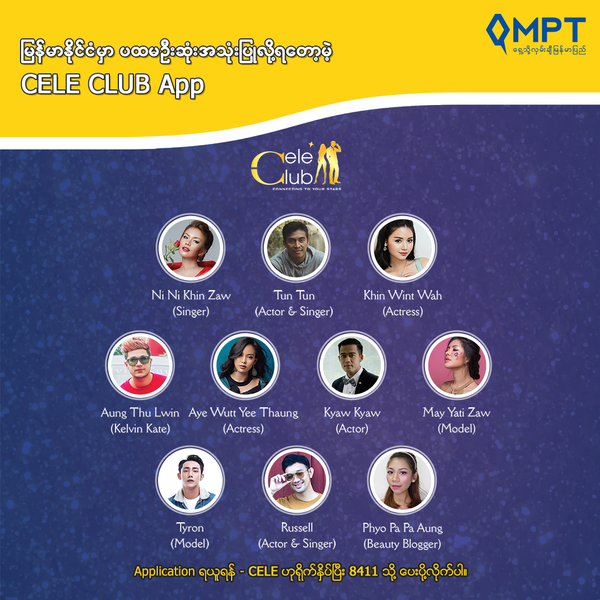 Image Credit: http://mpt.com.mm
On March 16, 2018, MPT has introduced "Cele Club" application that is a new application for the update and hottest news about celebrities. In that application which cooperates with the Content Hub Services Co., Ltd, the users can watch about the daily activities of Myanmar celebrities, blogs, concerts and celebrity-life activities as a photo and video news without limit in every day. For MPT users, the audience can friendly interact with their favorite celebrities and can also continuously watch the update news of the fashion models and other celebrities. In now, the users can start by watching the update news and celebrity life activities of 10 popular celebrities included Ni Ni Khin Zaw, Khin Wint Wah, Aye Wutt Yee Thaung, Tun Tun, Kyaw Kyaw, Aung Thu Lwin, May Yati Zaw, Phyo Pa Pa, Tyron and Russell and then, more celebrities will be included in the later. For MPT users, you have to send "CELE" to 8441 and get the download link for the application. You can also download the application for free on http://cc.lotayamm.com and Google Play Store.  The "Cele Club" application users will charge 99 Kyats for each celebrity you choose and 158 Kyats (with tax) for Live Streaming Videos. Within March 16 to March 29, the new users can use free of charge for the application for 1 week as the launching of the application and all users who register during this period will be included in a lucky draw program and the prizes include iPhone X, Samsung Galaxy S9+, 3,000 Kyats prepaid top-up cards and 1,000 Kyats prepaid top-up cards. For more details, you can call to 106, MPT call center.

Image Credit: http://mpt.com.mm
MPT has launched a new application named "APPBOX" that offers unlimited access to mobile games through daily subscription for the users. The application features a lot of licensed downloadable games and entertainments for the android mobile devices. The users can play the most in-demand games such as Cut the Rope 2, Tag the Frog, 3D Tower Box, Snake.io and Garfield Kart. These games can be downloaded from the secure app store "APPBOX" and easily searched by app title, category and thematic keyword sections. The users will also search a huge cataloger of games because of the addition of the new update games in each and every month.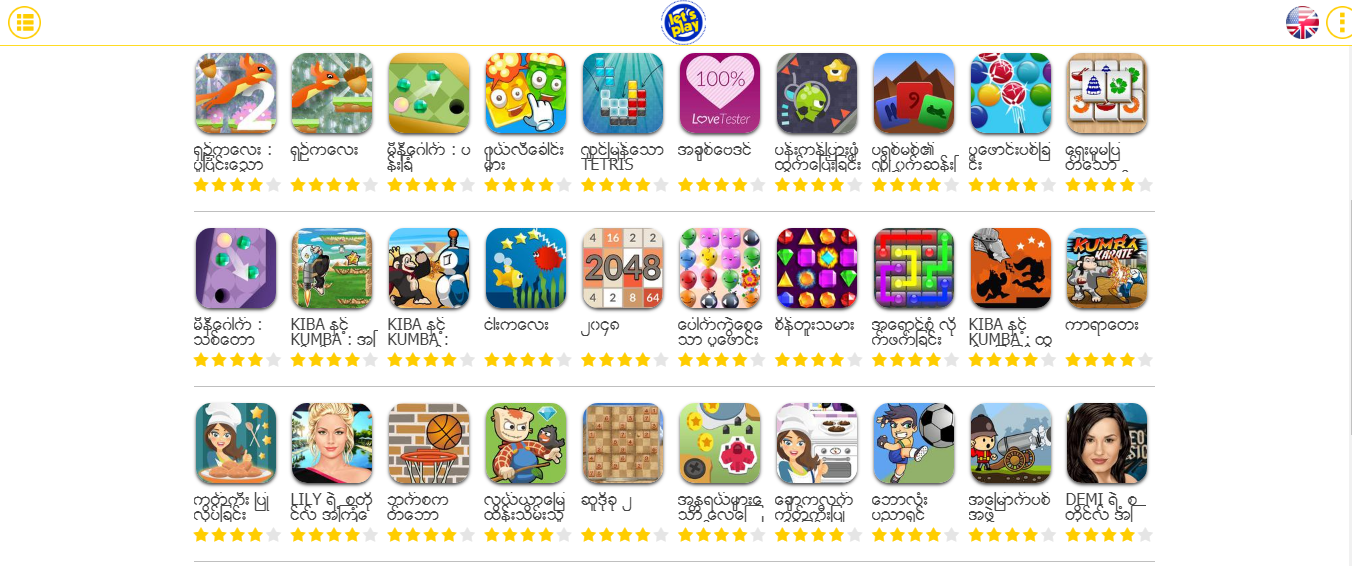 Image Credit: http://mpt.com.mm
This highly interested application can be used in Myanmar language with a content cataloger that is constantly being refreshed on the users' interest. The new users can use this app for their first week of subscription free of charge as the launching of app. After the week of FOC, the users can use with 250 Kyats (including tax) of the daily subscription. Postpaid  users can also enjoy this application and will be charged per usage at the end of the month. After completion of the sign up, subscribers can play their choice of games online and offline at any time. The users have to upgrade their android devices to 4.2 Android Version for downloading the games. You can download the APPBOX application on Google Play Stores and also on http://xrink.me/BOEoi.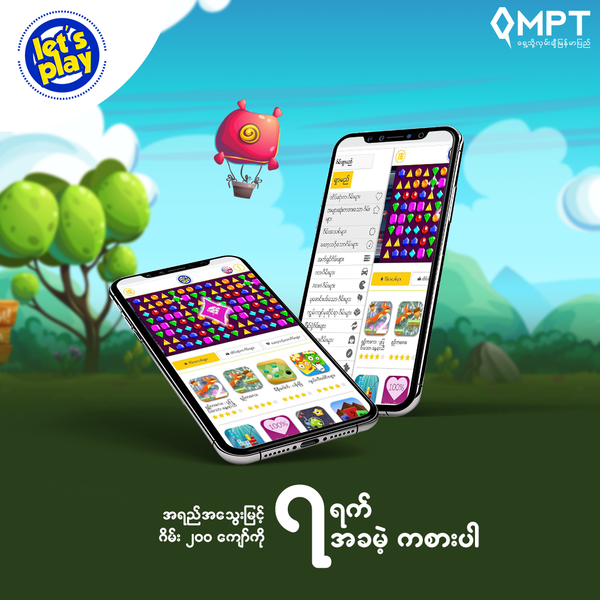 Image Credit: http://mpt.com.mm
"Let's Play" service and its' all related articles copyrighted by TIMWE will be used only by the MPT users. Let's Play is a high-quality online game portal which can be played on both IOS and Android. The users can play action-sports competitions and other types of games among the numerous games and entertainments.  The users who subscribe to this service will get for a 1 week free of charge, and after 1 week trial, the users will charge a rate of 200 Kyats per day. There are more than 200 online games in "Let's Play" service and the users can play their favorite games without limitation. The service payment will be collected directly from the pre-paid users and for the post-paid users, the payment will be charged per usage at the end of the month. If you want to play this unlimited "Let's Play" service, you have to send "GAME" to 8765 for registration and you must enter your phone number on the portal of http://letsplay.com.mm/ on your browser. After that, you will receive a PIN number message. Once you have entered this Pin Number on the Let's Play Portal, you will start to play the games.