The best Polarstar X GPS with Black Box that can help to travel conveniently around the Myanmar
Image Source: http://www.technomation.asia/polarstar/
Nowadays, it is the most travelling season in Myanmar. When travelling, some travel with the travel service and some travel with families by own Car. When travel to the region where we have never been, it is difficult if we don't know the roads, restaurants and hotels. So that, Polar Star X GPS with Black Box with the maps of highways, details of cities and restaurants, coffee shops, hotels, hospitals, pagodas, Patrol stations, banks, 24 hours stores, supermarkets and so on around the Myanmar which can fix the problem is a guided star. Polar Star X is a good material that should be in your car because it has not only GPS but also Black Box. Polar Star X is manufactured by Technomotion Co.Ltd, which manufactured first Myanmar's GPS Tracker that can use  two languages: Myanmar and English.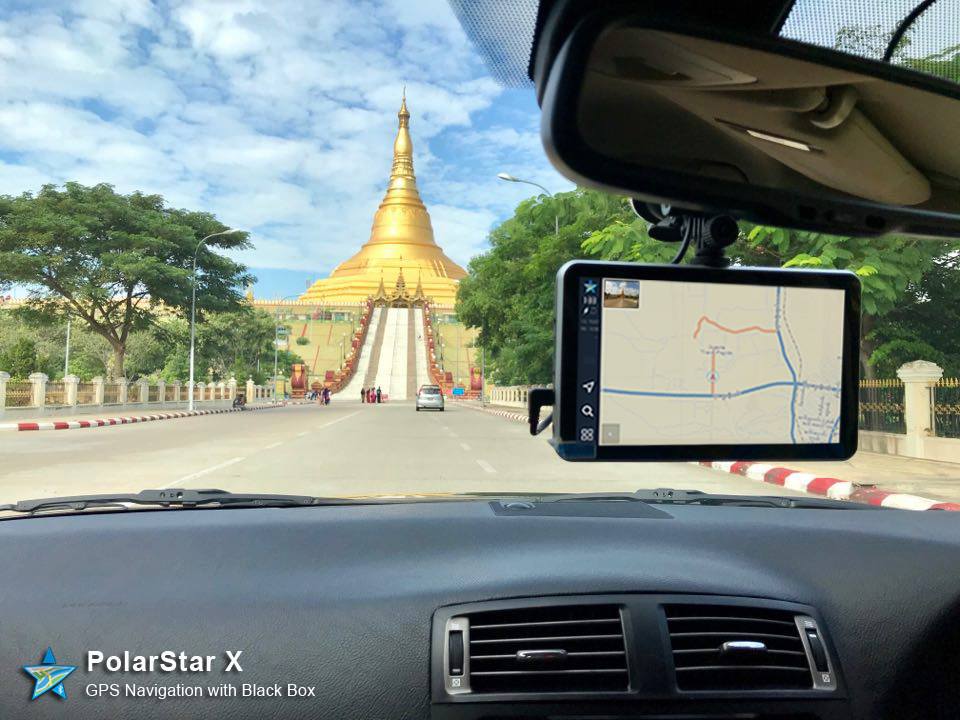 Cities that can use PolarStarX GPS are Yangon, Mandalay, NayPyiThaw, TaungGyi, Pyae, Bago, Magwe, Bagan, PyinOo Lwin, MawLaMyine, Thahton, Pha-An, Pathein, Sagaing, Shewbeo,MyinChan, Pa-Kuyk-Ku, MyitKyiNa and Dawe. It is a useful material for travelling because it has all highway roads from all over the Myanmar and tour Places that can travel. It contains maps at least from a street in details as offline. We can search the name of road by typing and can go there as the guideline. It can tell you by voicing system when you open it.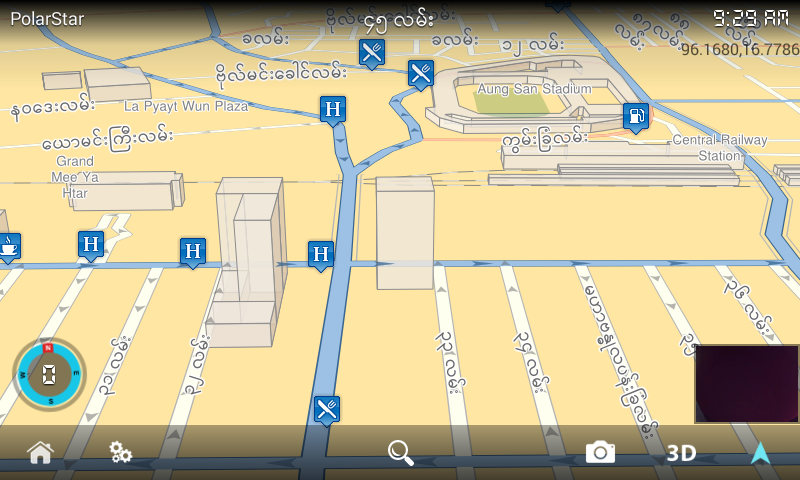 It can watch 2D, 3D for the comfort of Polar Star X users. The foremost buildings are also drawn with 3D design. And soon, if there is an accident, we can watch the video recording without disputation because the Polar Star X has Black Box which records along the way where we go. Polar Star X GPS can be girded easily in the Cigarette lighter in our car.Tech Specs of Polar Star X GPS with Black Box are as follows.
Professional DVR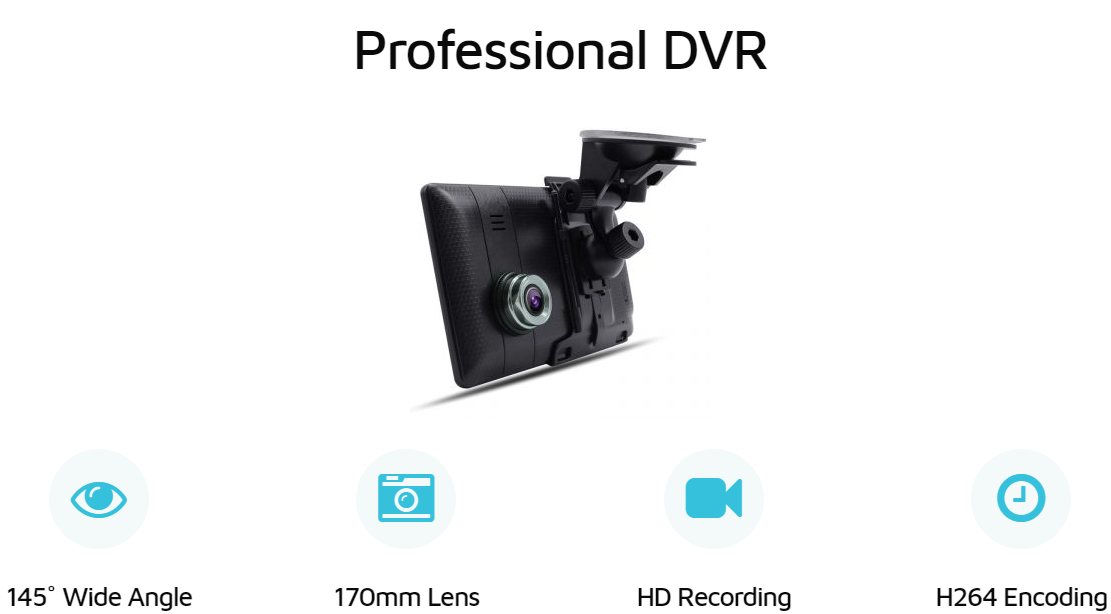 DVR Camera from Polar Star X can see 145°wide angel and keeping and recording from right to left of car, having 170 mm Pro DVR Lens and Sensor to keep the clear sight day and night, keeping the recording video with HD quality. It can keep Memory 16 GB from twelve hours to sixteen hours continuously without losing quality because it has Quad-Core Processor and using The H 264 Encoding with Double Pass.
World Class Navigation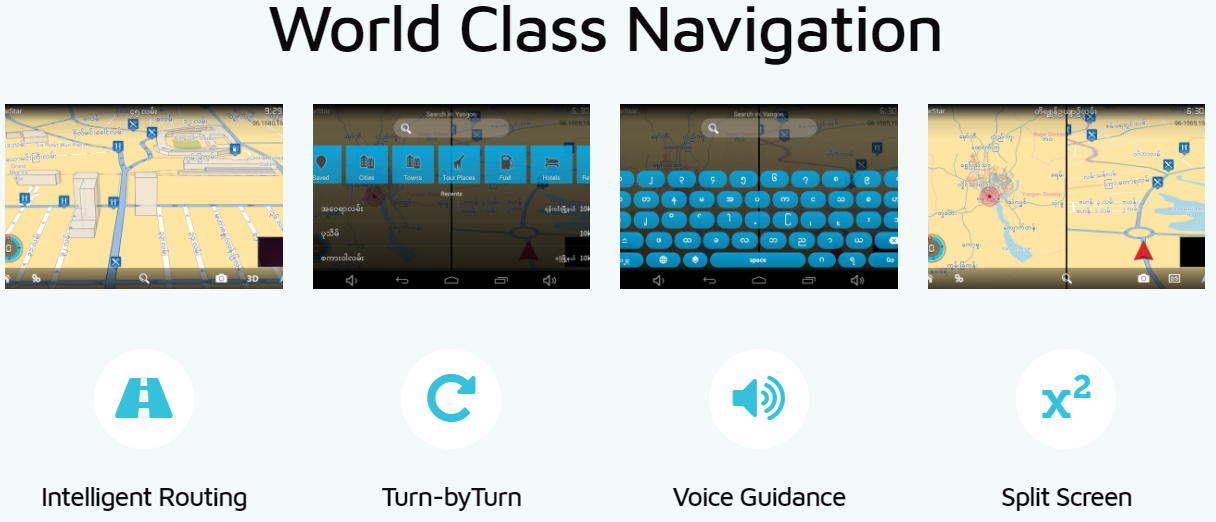 In Polar Star X, when we choose the places where you want to go, the Intelligent Routing calculates which ways we have to go at the same time. When calculating, it can calculate and bargain on the conditions of Myanmar as not like the older GPS. If we go not like in the guideline or the faster way, Intelligent Routing can calculate automatically. So we don't need to worry. There is Voice Guidance which can guide Myanmar or English by voice even to turn or go straight. It has Split Screen that can show the highway roads, bridges with 3D and map of Myanmar and location of cities by 2D.
Multimedia Ready

The main operation System that drives Polar Star X is an Android. So, we can use all applications about Diagnosis and can play games in android system. We can listen music we want with the SD card or a copy to Built-in memory because it also has Music player. As it contains MX Player, we can watch any video format. It also contains FM Transmitter to catch from the car radio for higher resolution when we play music or video.
PolarStar Link App

We can find the Facebook Check in places, Google places, Open Street maps from Polar Star link app where we want to go and has "Search Everything Function"which can open directly and send shared places to Polar Star. Moreover, we can do everything such as finding the photos and videos which are shot by Polar Star X from Polar Star Link App, posting to FB and sending them to the police station from Viber without connecting a computer.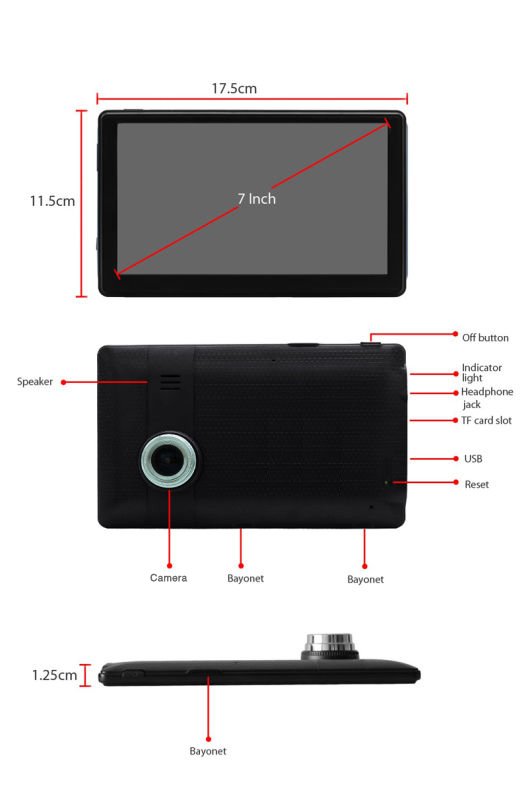 Specifications
OS: Android 4.4.2
CPU: MTK8127 1.3 Ghz Quad-Core
GPU: Mali 450
Screen: 7'' 800*432 Anti-Glare Capacitive Touchscreen
Memory: 512MB DDR3
Internal Storage: 8GB or 16GB (AVIN Model)
SD Storage: 16GB or 32GB
Camera: 145° Wide, 170mm Len, 1080 Full HD
FM Transmitter
WiFi: a/b/g/n
Bluetooth: 4.0
Accelerometer
GNSS: 3D GPS
Battery: 800mAh
We inform that by using Polar Star X GPS with Black Box, Myanmar citizens can reach easily to the places where you want to go without danger in time.
Image Source: http://www.technomation.asia/polarstar/