ATOM introduces Myanmar's first ever mobile gaming platform, Let's Play Arena
ATOM introduces a mobile gaming portal called "Let's Play Arena" that will enthuse all gamers across Myanmar. Let's Play Arena enables healthy competition amongst gamers through tournaments and features more than 100 "Pop Pop Par Par" casual games. Many sought-after in-game items for the most popular games can also be easily purchased on the platform. Lifewise, customized data packages at affordable rates are available.
All E-sports enthusiasts in Myanmar, whether they are solo gamers, team-oriented gamers, or professional, are welcome to participate in Let's Play Arena's highly competitive stage to climb to the top of leader boards in community events. There's something for everyone casual, MOBA, and Battle Royal gamers alike.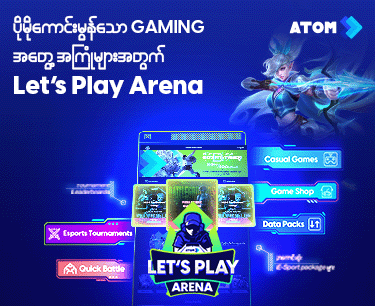 Photo Source https://arena.atom.com.mm
Newzoo, a Dutch company that specialises in gaming market insights and analytics, states that gaming, particularly mobile gaming, has become one of the fastest growing segments across the globe, especially due to the pandemic that shifted everyone's social and lifestyle aspects.
"ATOMis incredibly excited to explore the world of gaming and bring the gamers of Myanmar a Beyond Better gaming experience while offering more of everything to the community. We have innovative game packs created for gamers where the gaming experience is optimized and enhanced for a Beyond Better experience. We want to help power up Myanmar gamers on their adventures with game items, exclusive bundles, and attractive rewards for E-sports and casual game competitions," said Sudhansu Kumar Sinha, ATOM's Chief Marketing Officer.
ATOM's 4.5G network allows customers, especially gamers not only to play their favourite mobile games with the lowest latency, no lag, and stable ping to create victories, but also for experiencing best streaming and entertainment services.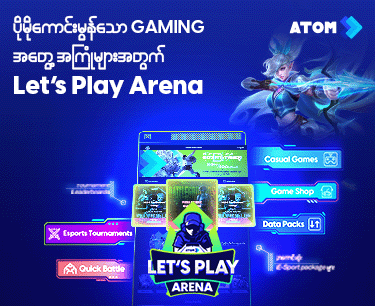 Photo Source https://arena.atom.com.mm
Let's Play Arena can cater to the development of Myanmar's E-sports community by creating daily, weekly, amateur to pro-level tournaments, where gamers can chase their dreams through a series of tournaments. Moreover, in-game items for the most popular games can be purchased in an easy, fast, and safe way with ATOM phone bills. Data packs will also be customised to fit gamers' needs and provide a high-quality experience for every game they play.
Myanmar's gamers can easily access Let's Play Arena at arena.atom.com.mm_and start experiencing a beyond better gaming experience.