MPT and Wun Zinn Mobile App Celebrate Love of Reading with "Review Diary" Book Review Contest
MPT has teamed up with Wun Zinn Mobile App to launch "Review Diary", a book review contest starts from 1st July.
The initiative aims to improve book readership across the nation, promote literacy, and to encourage new and aspiring Myanmar authors.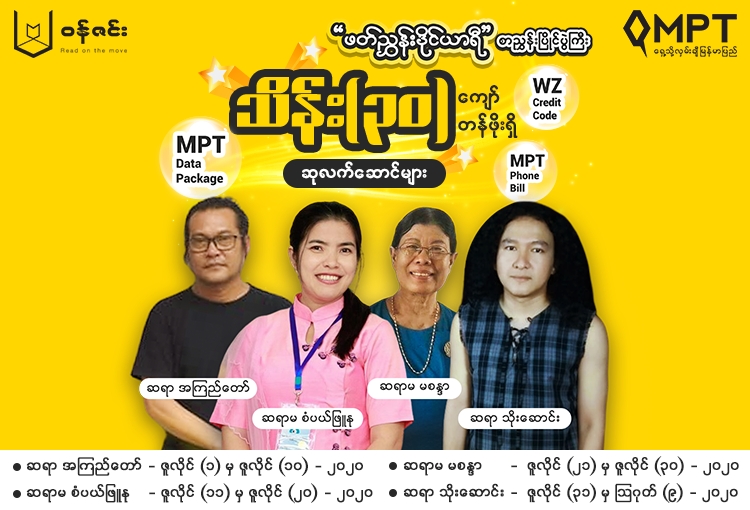 Photo Source https://www.facebook.com/mptofficialpage
"Review Diary" Contest will surely bring exhilarating experience for book lovers across the nation where contestants choose their favorite book from the preselected list of 20 books by 4 famous authors and write a short, personal review.
Afterward, contestants are required to post their reviews on Facebook with relevant Hashtags (#AuthorNameReviewDiary #WunZinnMPT) at their Facebook account with the Public within the following timeline.
After that, join the Facebook Group of "Review Diary" Contest via http://bit.ly/ReviewDiaryFB and there has Google Form link, and participants need to fill the form, and then the registration process will be finished.
"It is proven that reading can improve literacy and critical thinking skills and writing increases the capacity for empathy. We are encouraging more reading and writing, especially among young book lovers during the Covid-19 outbreak and New Norm. Myanmar has witnessed the emergence of great authors through many generations and we are confident that this contest will become a catalyst to create a new generation of young Myanmar writers," said Mr. Tetsunori Nagashima, Chief Commercial Officer of MPT-KSGM JO.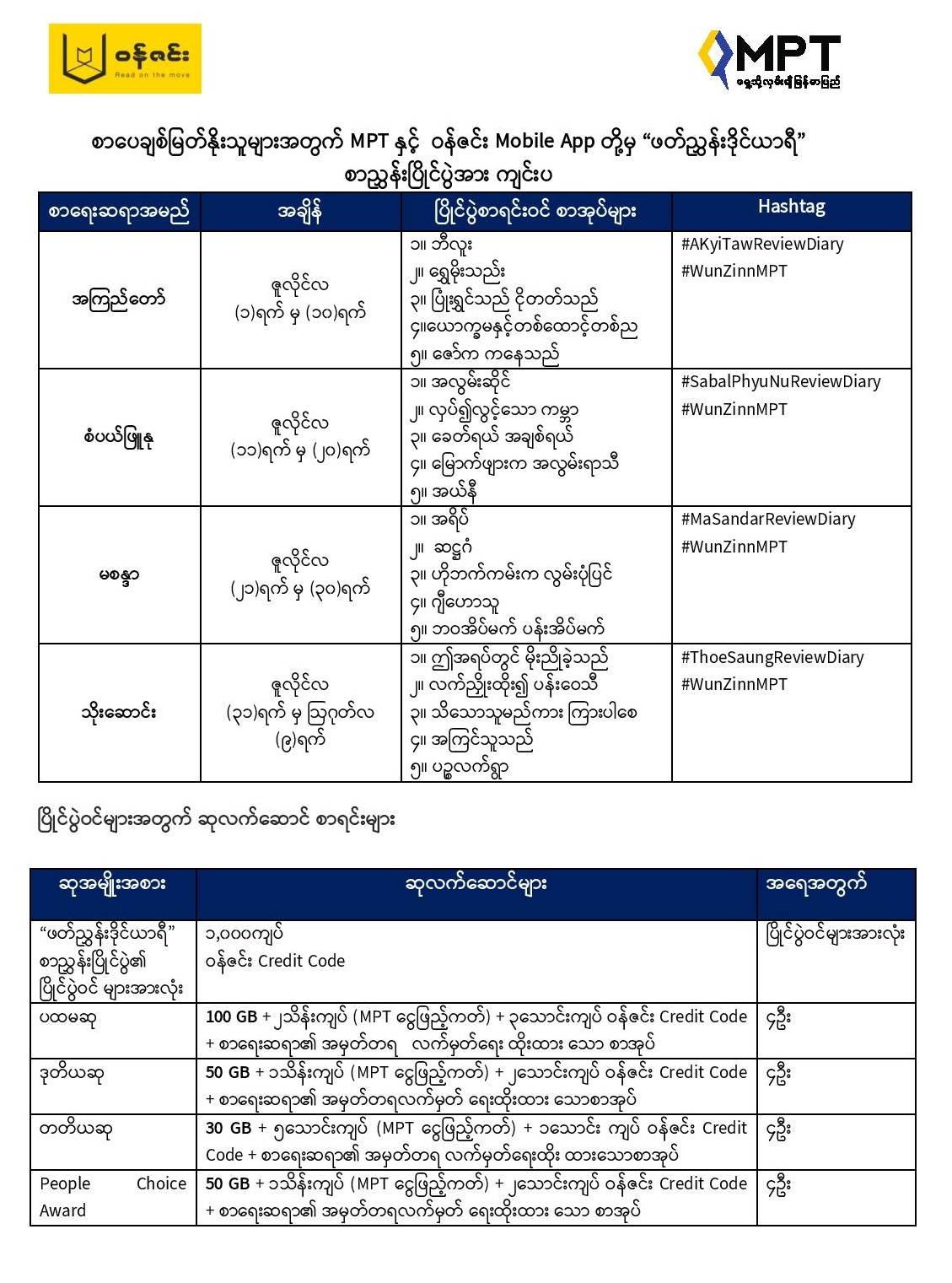 Photo Source https://www.facebook.com/mptofficialpage
The evaluation will be based on scriptwriting and creative writing. People Choice Award will be given according to the number of Like and Share (Facebook Reaction) on Facebook. Access to the Terms and Condition is available at htts://bit.ly/ReviewDiary (Starting from July 1)
Wun Zinn App could be downloaded at http://bit.ly/wzmpt for Android users and https://bit.ly/wz_mpt for iOS users. For more information, please call 106, visit the MPT official Facebook page at www.facebook.com/mptofficialpage/ or MPT official website www.mpt.com.mm or Wun Zinn official Facebook page https://www.facebook.com/wunzinn or Phone Number – 019339216, 106.