MPT Launches New USSD Payment Channel for its Postpaid Customers
MPT, Myanmar's first and leading telecommunications operator, has introduced a new payment channel to improve the product experience of all Postpaid Services and FTTH customers. Now, all postpaid service (PSTN, GSM, CDMA, ADSL, IPStar) and FTTH customers can seamlessly settle payments using MPT GSM mobile phone.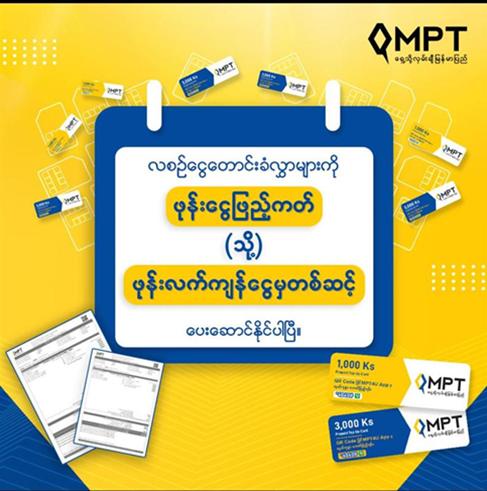 Photo Source https://www.mpt.com.mm/mm/
MPT's postpaid (PSTN, GSM, CDMA, ADSL, IPStar) and FTTH customers can take advantage of a well-known USSD self-service gateway to seamlessly and conveniently settle invoices and make payments to their monthly bills via top-up cards or main balance of MPT Prepaid SIM. Mr. Tetsunori Nagashima, Chief Commercial Officer of MPT-KSGM JO, said "With the new USSD payment channel, we are offering our valued postpaid customers an easy way to make monthly payments without any hassle, as part of our goal of offering a wide variety of services to enhance the digital lives of our customers. At MPT, we are relentlessly working to ensure the convenience and satisfaction of all our customers."
The USSD gateway, a one-stop-shop of self-services designed to increase simplicity and convenience, is available 24/7/365 and supports both prepaid and postpaid customers. For each USSD channel, users are guided through their choices and receive instant responses.
Payments can be proceeded by two USSD channels: *258# and *106#. MPT GSM prepaid mobile users can make payments by the main balance or by using top-up cards. There is no limitation for payment amount by the Top-up card and customers can make payment by prepaid balance 5 times a day.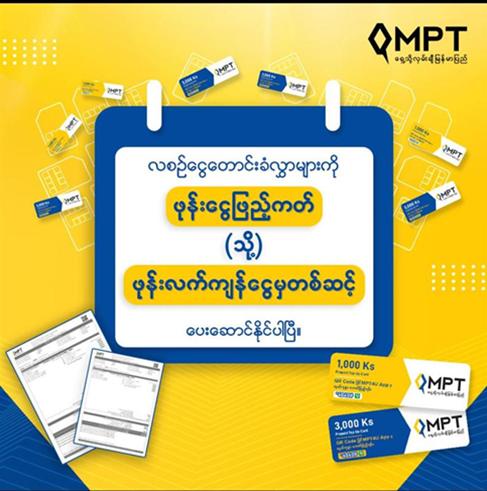 Photo Source https://www.mpt.com.mm/mm/
MPT customers can also take advantage of an innovative E-invoice system where they will receive their monthly bill statements via SMS or e-mail instead of traditional paper invoices. Digital invoices are not only more convenient but also helpful in saving the environment.
Customers can easily apply for E-invoice service by visiting the nearest MPT Office, contacting Call Centre 106, or via https://www.mpt.com.mm/mm/e-invoice-registration-mm/. After successful registration, the customer will receive an SMS or e-mail to confirm the preferred E-invoice distribution channel. Every individual customer registering for E-invoice will get a 500 kyats discount each month for five consecutive months, altogether 2500 kyats.
For more information about MPT call 106, visit the MPT official Facebook page at www.facebook.com/mptofficialpage/ or MPT official website www.mpt.com.mm.