MPT Announces the "Super Double Data Package" Promotion for Its Customers
"Super Double Data Package" promotion where data-hungry customers can enjoy double the amount of data with the purchase of MPT's data packages.
MPT's fast, reliable, and award-winning 3G & 4G networks cover over 96% of Myanmar's population, spanning across even the most remote parts of the country for customers to enjoy the benefits of MPT's products and services. By taking advantage of this double-data offer at no extra charge means, MPT customers can enjoy more hours browsing the internet, playing online games, streaming movies, or staying connected with family and friends on social networks.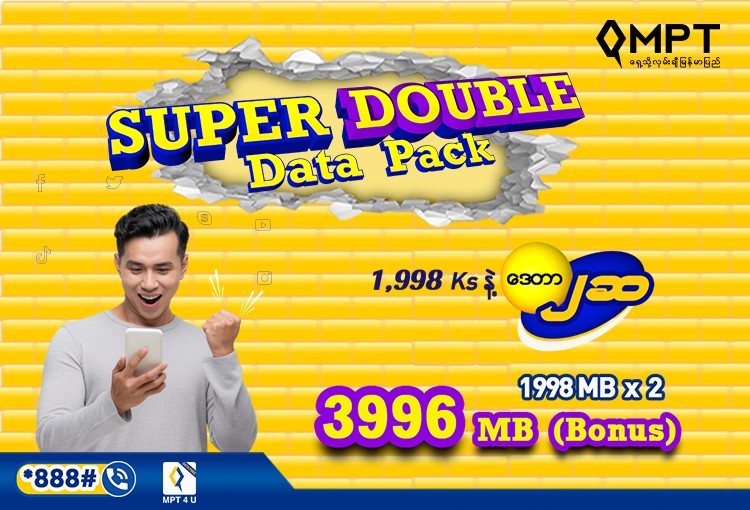 Photo Source https://web.facebook.com/mptofficialpage/
"At MPT, we are constantly innovating to provide a superior experience and great value to our customers. Our new data packs redefine the affordability of mobile internet in Myanmar and offer great value to MPT customers. Mobile users of all data appetite can now find the right deal to enrich their digital lives over MPT's high-speed networks. With our double the data offer we are making it even easier for our customers to watch their favorite shows online, play mobile games, or share happy moments with friends and family," said Mr. Tetsunori Nagashima, Chief Commercial Officer of MPT-KSGM JO.
All MPT GSM/WCDMA prepaid and postpaid users (Swe Thahar/ Shal Pyaw/ Shwe Zagar) can subscribe to Super Double Data Packs. Base tariff users will be able to subscribe to the Super Double Data Packs after switching their tariff to Swe/Shal/Shwe.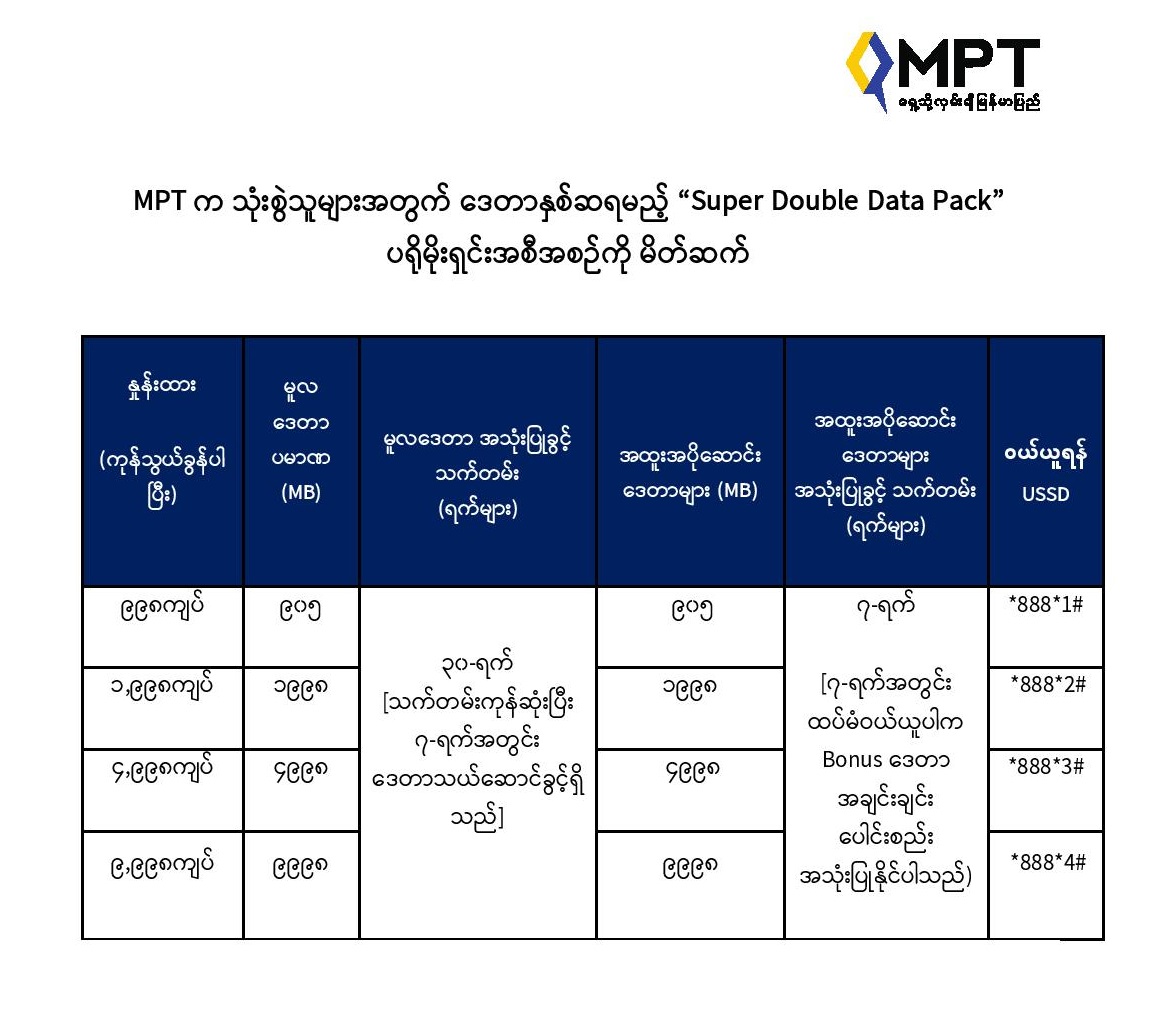 Photo Source https://web.facebook.com/mptofficialpage/
Multi-subscriptions are allowed for purchasing packages. The main data quota has a validity of 30 days& will be merged with the validity of the latest purchased pack and can have carryover function for remaining data after expired validity if new data packs purchase within carryover period (7 days after expiry). Super Bonus Data is valid for 7 days and can be merged data quota and validity if new data pack purchases within 7 days.
Customers can check for main data quota, super bonus data, and validity by dialing *224# or through MPT4U application.