Pre-order of new Samsung Galaxy foldable smartphones kicked off in Myanmar
For the customers who cannot wait to experience the new Galaxy foldable smartphones: Galaxy Z Fold3 and Galaxy Z Flip3, Samsung Myanmar has launched the pre-order period which runs from August 18th to September 18th, 2021.
Valued at the pre-order price of 3,439,000 MMK, Samsung Galaxy Z Fold3 will be available in Black and Silver colors while Galaxy Z Flip3 will be available in two colors: Cream and Lavender with the pre-order price of 2,159,000 MMK.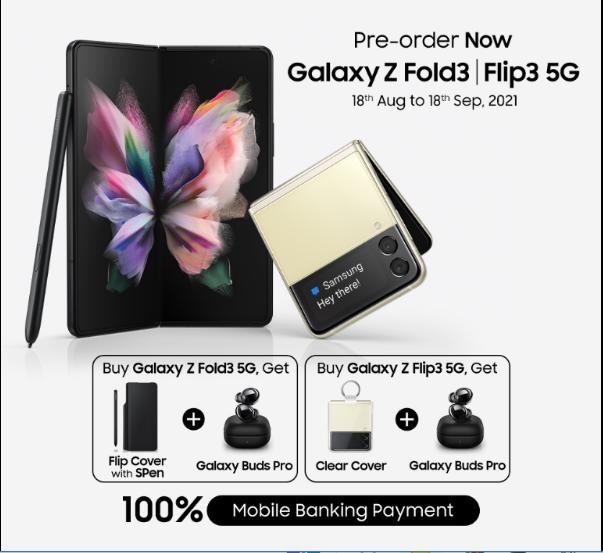 Photo Source http://news.samsung.com
Both devices will be available in 5G version, and Samsung Myanmar will accept the 100% payment with mobile banking.
"With Galaxy Z Fold3 and Z Flip3, Samsung is once again redefining the possibilities with foldable smartphones that empower users with the flexibility and versatility needed for today's fast-paced world," said Ko Zarni Win Htet, Head of Business Group at Samsung Myanmar.
With an initial deposit of 100,000 MMK, customers in Myanmar can pick up their new devices by paying the remaining amount between September 21st and 23rd, 2021. Pre-order customers will also receive the below pre-order gifts as a special privilege. –
() 1 x Flip Cover with S Pen and 1 x Galaxy Buds Pro for Galaxy Z Fold3 pre-order
() 1 x Clear Cover and 1 x Galaxy Buds Pro for Galaxy Z Flip3 pre-order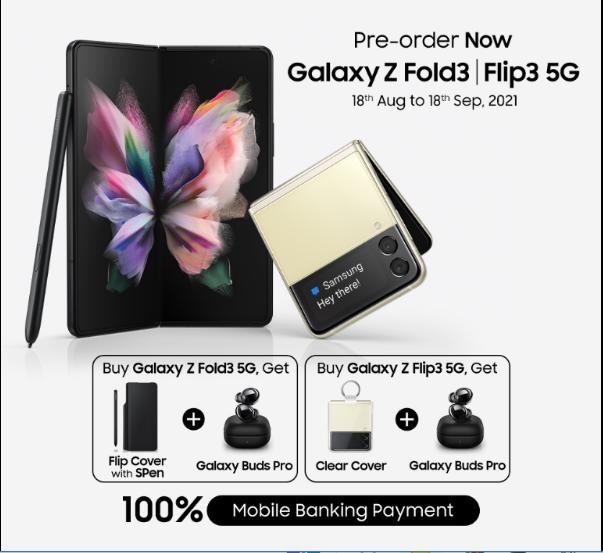 Photo Source http://news.samsung.com
Customers can also upgrade their Samsung Galaxy S Series and Note Series smartphones (Eligible for Samsung Galaxy S10, Note8 and above) to the newly launched foldable smartphones just by topping up the remaining amounts.
Moreover, (only for the first 100 customers for each model), they can also enjoy an additional trade-in amount of 300,000 MMK for Galaxy Z Fold3 purchase and 200,000 MMK for Galaxy Z Flip3 purchase respectively.