MYANMAR INTERNATIONAL ECOMMERCE EXPO 2017
We went to the event 'Myanmar International Ecommerce Expo 2017' held during 24 March 2017 – 26 March 2017 at The Myanmar Convention Center in Yangon.
We went in the morning and few visitors at that time.
Exhibitors also did not come yet, so there were booths where nobody was.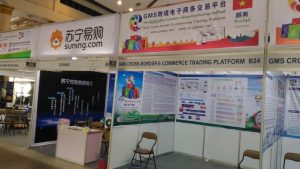 When I looked at the booths, companies that operated EC sites were exhibiting for the promotion of their site, and there were many exhibitions of delivery service companies for delivering items purchased at the EC sites.
And we saw payment services, web advertises services.
I do not know if it is related to EC, but there were booths such as mobile money and taxi dispatch application.
Visitors are those who operate EC sites, but there are not many EC site management companies in Myanmar , so few visitors came.
Similar events in other countries are mainly exhibitions such as payment services and delivery services required by EC site operators.
However, as there are a few companies doing services associated with the EC site, it may be unavoidable that there are also exhibitors of services that are slightly out of the EC.
It seems that it also held a contest called 'Mr & Miss E – commerce Myanmar 2017'.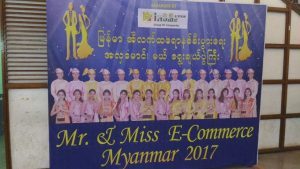 There was plenty of time for loud music to hang up on the conversation, so I could not believe that the operation was excellent, and as there were few visitors during the time we were there, the event still has room for improvement.
Since it is named '2017', if they will hold the same event again in 2018, I would like to expect improvement.