Techfox launches Graphic Design Online Classes
Techfox is now starting to launch Online Classes for Graphic Design enthusiasts. The first 10 people to register for the Adobe Photoshop Courses will get 50% off and Free Certificate. And those who register after the first 10 people will get 50% off of Adobe Illustrator Course.
You will be able to attend both courses for 20,000 Kyats. This course is for Beginner to Advanced Level. After the course, you will be able to design the Photo Manipulate Artwork Design, Logo Design, Photo Retouching, Skin Retouching, and Poster for Social Advertising Post. The class will also create a portfolio and help those who submit the assignment in the given time, to get a job after completing the course.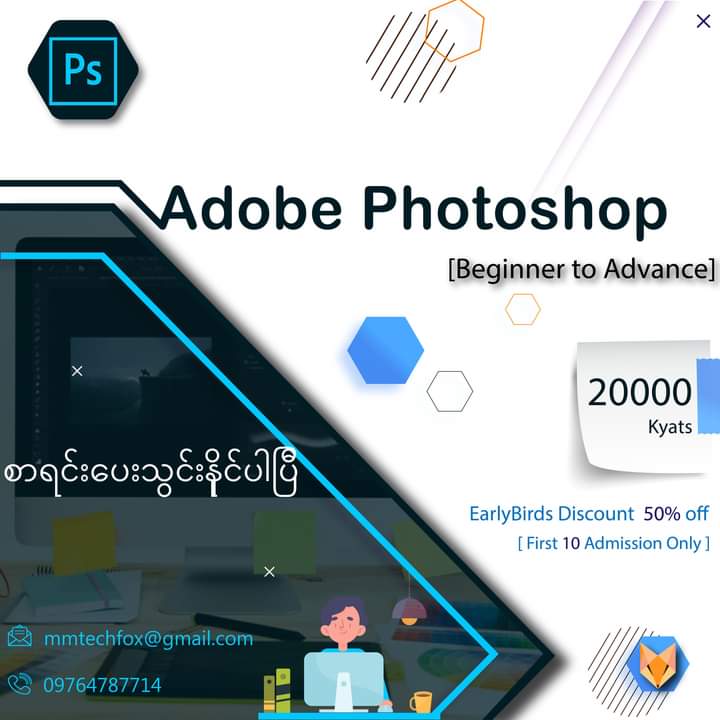 Photo Source https://www.facebook.com/Techfoxx
The Certificate is not given just after attending the Course although the Certificate is free and no cost for it. It will be given to the person who submits the above assignments. And it is sure you will become proficient in Photoshop Software.
The Course Outlines are as follow
(1) Understanding the Adobe Photoshop Workspace and Tools
(2) Getting Start with Layers, Color, and Adjustment layers
(3) Creating shapes, Text, Layer Styles
(4) Smart Object, Transform & Distort
(5) Typography Design
(6) Photo Retouching
(7) Photo Manipulation
(8) Presenting your work by different mockup
(9) Creating Animated Photo
(10) Mastering Photoshop tools and plugins
In addition, more than 30 other lessons will be taught until you become proficient. As a bonus, knowledge sharing like finding resources, and Tips, and Tricks for graphic designers will also be shared after the course.
Techfox is always responsible for any teaching needs. Also helps to fix any errors that may occur during the software installation process. As the teaching method, we will teach you with lecture videos that explain in detail in which you can study at your convenience.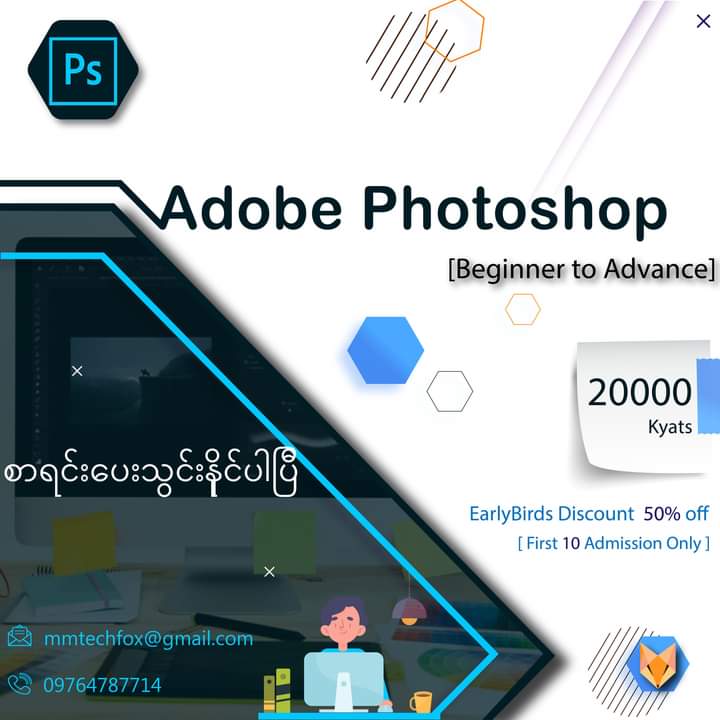 Photo Source https://www.facebook.com/Techfoxx
Although the class is not with Zoom Meeting, you can ask questions at any time. We will explain with video call if we cannot explain in Comments or Messenger.
It is like learning outside though it is an online class. You will be able to understand easily for Techfox will explain in detail and individually what you don't understand.  We will explain all the fundamental facts and no need to worry about those who don't have the basics.
You can register and deposit the fee as follows.
99930799952197801 (Kbz Bank)
0109223010010946 (AYA Bank)
09969836483 (K-Pay, Wavepay)
09764787714, 30
mmtechfox@gmail.com