AB Programming Training Center to launch Web Development Course for May 2022
Japan Technology Company, Aluto Benli Company has announced to launch Web Development Course for May 2022 at its AB Programming Training Center. You will be able to learn Frontend Development, Web Foundation Course + Backend Development, and PHP Web Development Course in the Web Development Full Course.
Those who want to start a career as a Web Developer in Japan or other foreign countries, in Outsourcing Japanese IT Company in local, or those who want to start career as a Web Designer, Web Development, who want to learn more about web development fundamentals, Web Developers, who want to learn PHP Web Development systematically, and those who want to create their own website, Online Shopping Website using PHP should take the Web Development Course.
The course will start on May 21, 2022 and be taught two days a week (Saturday/Sunday) from 9 AM to 12 PM. The duration will last for three months. The course outline are as follows.
1. Web Foundation (HTML, CSS, Javascript, JQuery, Bootstrap)
2. HTML, the most basic of a website
3. CSS which makes a website more refined
4. Javascript which perform the actions of a website
5. HTML5 and CSS3 that can create Responsive web designs
6. Bootstrap, the Web design responsive framework
7. about World wide web
8. about Dynamic website
9. PHP Web Development
10. PHP Environment & Operations & Syntax
11. Database Technology-MySQL (essentially useful in Real World)
12. OOP Concept (must know for Programmer)
13. SQL Query
14. JQuery
15. Laravel Framework (Framework introduction)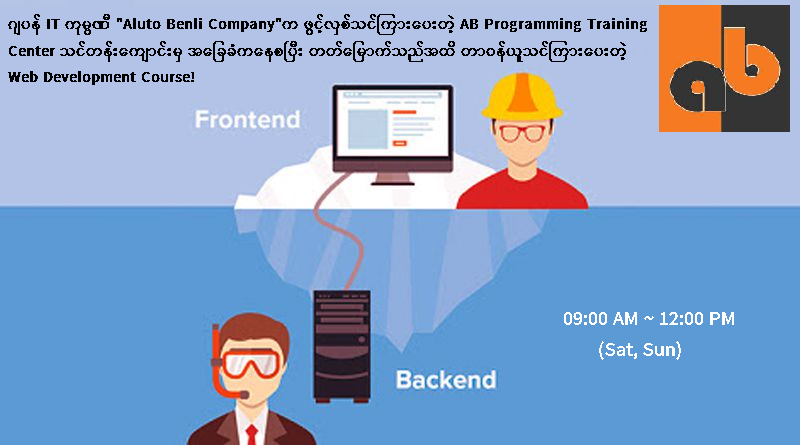 Photo Source https://www.facebook.com/alutobenlitraining
This is a course that can also be taken by those who have computer basic skills even if they don't have basic programming skills. This web development course will teach you from basic to working level and train you to the point where you will be able to create a website, design, a project by yourself.
The first three enrollers will also get to enjoy a discount of 20,000 MMK and will be able to join with 130,000 MMK only. The lecturer will deliver the lessons Live Face to Face via Zoom. The course fee will be 150,000 MMK.
Although the normal in-class fee was 300,000 MMK, this class will be delivered with the lowest possible fee during this hard time for those who want to learn technology and for youths who will enter the workplace in the future. Online payments will also be accepted.
Trainees will be limited in order to provide effective teaching. Trainees will receive a certificate from AB Programming Training Center if you meet the required attendances although it is an online class. The video recording files will be provided after each training session.
For inquiries and registration, you can call the number 09- 759 646 802 or contact through Page Messenger. Payments can be accepted with Wave Pay, KBZ Pay, AYA, and CB. Below are the address and phone number of the training center:
No.77, Room 2B, Dhammazedi Road, Myaynigone,
Sanchaung Township
Phone: 09- 759 646 802