ATOM Offers Free Calls and SMS for Customers in Rakhine State Impacted by Cyclone Mocha
ATOM is extending support to its customers in Rakhine State who are expected to be impacted by Cyclone Mocha. ATOM is offering its customers in Rakhine State free 50 minutes of voice calls and 50 SMS, valid from 13 May 2023 to 15 May 2023, for calls and SMS made between ATOM customers, to help them stay connected with their loved ones and seek assistance if needed.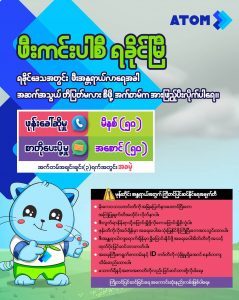 ATOM understands that staying connected during natural disasters is essential, and is committed to keeping people connected during this difficult time. This assistance from ATOM is part of the company's ongoing commitment to make meaningful contributions in support of emergency response efforts in Myanmar.
ATOM encourages people in Rakhine State and its customers to take precautions and stay safe during the natural disaster. Some useful tips include tuning in to weather news and following recommendations, relocating to a safer place if needed, charging mobile phones to use during periods of emergency, preparing an emergency bag, keeping important documents and ID cards in a safe place, and preparing drinking water and food.