A Consultation Meeting will be Held for Myanmar Nationals in Japan to Assist in Finding Jobs
It is reported that a consultation meeting will be held for Myanmar nationals in Japan to assist in finding jobs.
This meeting will be held on 28th February (Mon), 2022 with the intention of helping Myanmar people who are currently in Japan. During the consultation meeting, the following topics can be discussed:
(1) How to find a job in Japan?
(2) Want to change job, but how to find a better one?
(3) For IT and Engineers, what type of jobs are better and have the potential for career-up?
(4) For those who have completed school in Japan but don't have a job yet, how to try to land a job?
(5) Elderly-Care job which is also a chance for those struggling to get a job and what are the Visa advantages?
The consultation will be made online where each individual will be able to openly consult such job-related matters to remain in Japan with Khine Zin Kyaw (Career Counseling) who has 9 years experience of HR Media Company.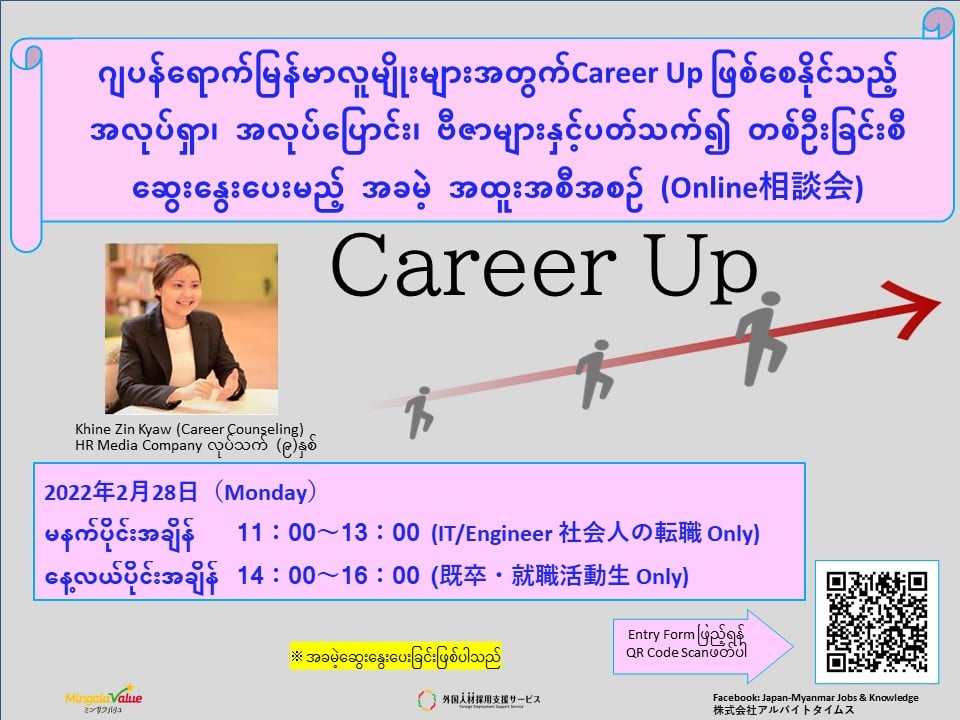 Photo Source https://web.facebook.com/permalink.php?story_fbid=4467424250029894&id=732800030159020
For interested individuals, the morning section would be for IT/Engineer, and the afternoon section would be for those who have completed school in Japan but are having difficulty in finding a job.
The morning section will be from 11:00 to 13:00 and the afternoon section from 14:00 to 16:00. For IT/Engineers who are currently working at a company but wish to move to a better job, the consultation date and time will be 28th February 2022, 11:00 to 13:00.
Suitable participants are those seeking information about recruitments for foreigners and Japan's job situation, those who wish to move to well-paid IT/Engineer jobs, and those who would like to consult for Career Up. (Must be currently living in Japan).
For job seekers who completed school in Japan, those who are having a hard time finding a job, and those who want to consult about Elderly Care jobs and Visa related matters, the consultation date and time will be 28th February 2022, 14:00 to 16:00.
Suitable participants are the job seekers who completed school in 2022 and those who have completed their Training job term and would like to change to Kaigo. Interested individuals must fill out the Entry Form below. Form closing date is 25th February 2022 (Fri), 5 pm. https://docs.google.com/…/1FAIpQLSffe…/viewform