Announcement of Travel Expense Provision Plan for Participants of Myanmar Job Fair in Tokyo
It is reported that a plan to provide travel expense to attend Myanmar Job Fair has been announced, which would be applicable to those Myanmar citizens who live at a far distance from Tokyo. This event will be an exclusive job fair meant for Myanmar nationals only and will be held in Tokyo on 22nd January of 2022.
This is also a special chance for Myanmar students from the areas far from the vicinity of Tokyo to get travel expense for Job Fair. Part-time job Times Co., Ltd has arranged this special plan of providing travel expenses for Myanmar nationals who live in the regions far from Tokyo so that those who are willing to participate in the Myanmar Job Fair organized exclusively for Myanmar nationals would not miss this opportunity because of the venue location is in Tokyo and difficulty with travel expense.
For students who will come from remote areas, one should submit the Entry Form not later than 10th December 2021 to be eligible for this plan. Since the number of applicants for this plan is limited by region, Entry Form must be submitted early before 15th January.
To be eligible for this travel expense provision plan, the following four conditions must be met.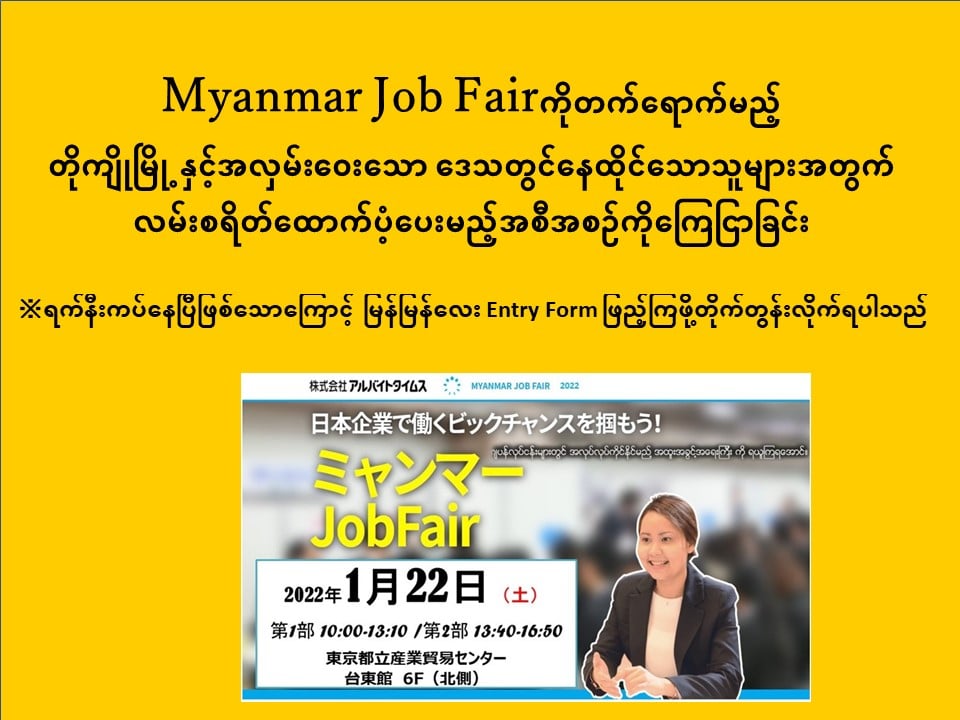 Photo Source https://web.facebook.com/732800030159020/photos/a.736210653151291/4215171648588490/?type=3
(1) Must be a holder of student visa who will complete school education during the period of March 2022 to March 2023 in Japan University, master and PhD.
(2) Travel expense provision will be calculated based on the current address. The number of advance Entry Form submitters is limited by region.
(3) Only those who submit Entry Form before 10th December 2021 will be able to get the travel expense provision.
(4) Must be able to arrive within the entry hour on the day of Job Fair.
Morning entry hour is 10:00 to 10:30 and Afternoon 13:30 to 14:00.
Only those who meet the mentioned conditions will be eligible for travel expense special plan. Travel expense provisions by region can be found in details on the Job Fair Page. https://mingalavalue.jp/contents/Jobfairevent10
Those who get travel expense provisions will be notified by mail. It is required for both who have participated before and first-timers to submit the Entry Form.
Entry Form Link https://docs.google.com/…/1FAIpQLSe0IeHTfodjcf…/viewform