Plant trees with Ecosia while using the internet
Ecosia is a search English based in Berlin, Germany which is a non-profit organization established in 2009 with the aim of helping to solve the problem of deforestation around the world.
Ecosia has also been awarded numerous awards in Europe and elsewhere. It's also the first Germany Company to receive a B Corporation Certificate for its highest level of participation in social and environmental performance.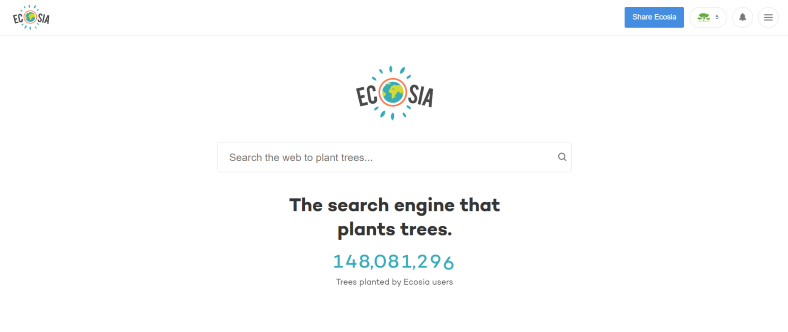 Photo Source https://www.ecosia.org/
The organization earns money when users search through the Ecosia Search Engine and spend the revenue on planting trees.  Approximately 45 searches are needed to plant a tree. The searched numbers can be found on the top right corner of the website with the tree icons. As there are android and iOS applications, the numbers will be added for use from across platforms if you log in to the same account.
Users can plant a tree every 45-time searches while browsing the internet or working. Currently, Ecosia has over 15 million users, always spends 80% of its revenue on planting, and planted over 148 million trees. The number of trees planted will increase over time. Trees are planted in the most needed countries, Burkina Faso, Madagascar, Peru, Indonesia, Morocco, Brazil, Nicaragua, Ethiopia, Tanzania, and many other countries.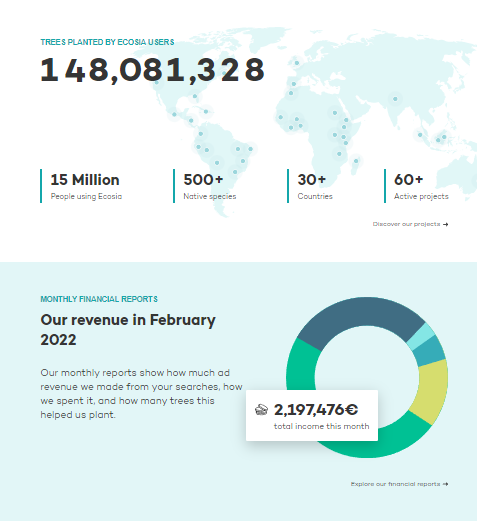 Photo Source https://www.ecosia.org/
In addition to the revenue generated from search engine usage, the Ecosia shop is also created. Special Edition, T-shirts, Jumpers + Hoodies, Kids, Stickers, Bundles are available to order in the shop. You can plant 20 trees for buying a shirt.
Visit www.ecosia.org for more information. You can add Ecosia – The search engine that plants trees chrome extension for free and download Android and iOS applications through Google Play Store and App Store.