Glimpses of the Most Used Mobile Apps in Myanmar
Image Source: https://play.google.com/store/apps
Nowadays, Information Technologies are developing with the other developed technologies in the world. Therefore, the role of technologies becomes more important in Myanmar too, and it can be seen that more Mobile Technologies are used. It also can be seen that many Mobile applications are widely used in Myanmar now. The below descriptions are about the most popular Mobile Applications in Myanmar.
The first one is:
Ipivi : Buy and Sell in Myanmar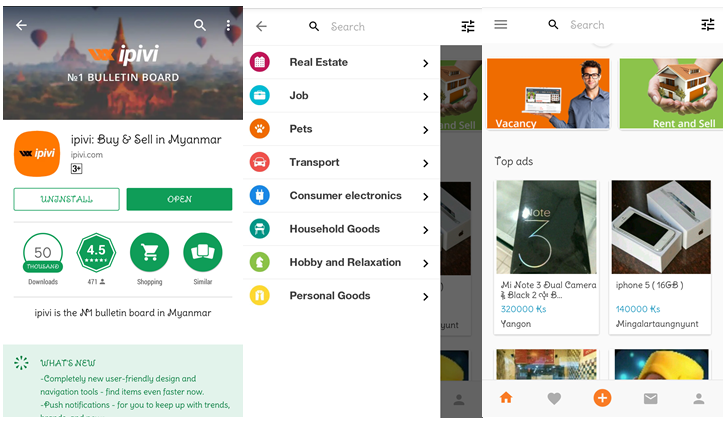 Image Sorce: https://ipivi.com/
Ipivi is the free local advertisement Mobile App and pays service for from the second-handed cars, mobile phones, furniture, Laptops and computers to clothes. No accounts need to be opened and advertisements can be uploaded for free and if you want to buy something, you can buy things from ipivi which are more interesting and cheaper than any other outdoor shops.The items that can be bought in ipivi are electronic things like phones, laptops, tablets, domestic machines, TV, sound box, video, photos, computers and its accessories, games and items for entertainment, hobbies and relaxation, sports items, musical instruments, books and magazines, cars, motorcycle, bicycles, spare parts for them, trucks, goods for marine transportation. Moreover, commodities like clothes, shoes, beauty and health, watches, clocks, and some fancy accessories, pets, jobs, real estate agencies also can be found in ipivi. You can also buy and sell from ipivi.com internet website.
Shwe Mee Eain – Myanmar Book Mobile App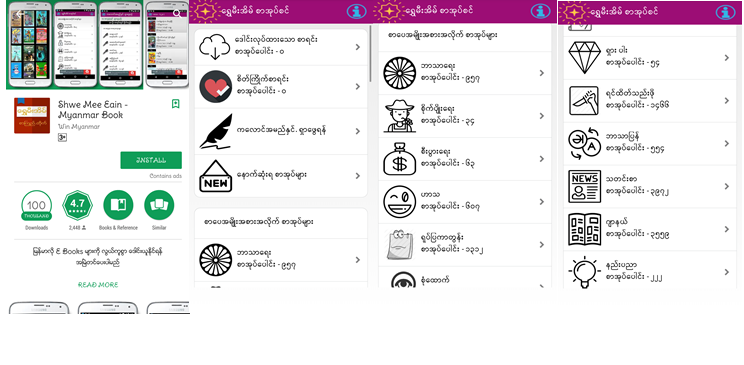 Image Source: https://apkpure.com/shwe-mee-eain-myanmar-book/com.myanmardev.myanmarebook
The main purpose of Shwe Mee Eain Bookshelf is for all book lovers from all the places, including Myanmar to be able to read various books, fiction books and non-fiction books in most Android phones easily and quickly and to improve knowledges and to support and share with pure heart and soul. Shwe Mee Eain is a good Mobile App which uploads the links for Myanmar books and also has a collection of books' websites and books from Facebook fan page so that you can easily explore. In the 1.0 version of Shwe Mee Eain Bookshelf, you can search books, according to their categories, authors, mark your favorite books and download your favorite books into your phone. Types of books available on the Shwe Mee Eain Bookshelf are religious books, agricultural books, economics books, comics, comedy, health, history, Kungfu books, mystery, novels, poems, rare books, horror books, newspapers, journals, magazines and technology books and many others. So, it can be said a good Mobile App.
Myanmar 24h Latest News Mobile App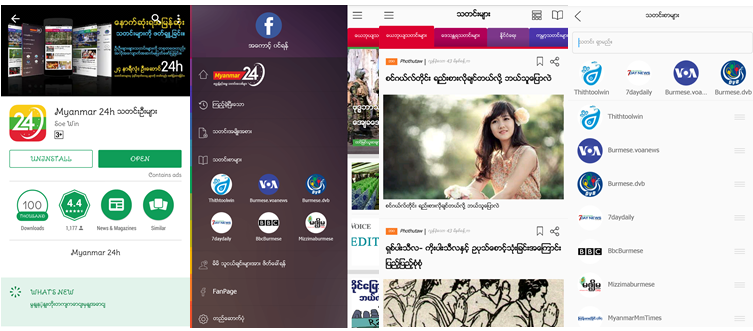 Image Source: http://myanmar24h.com/
Myanmar 24h Latest News Mobile App is a great Mobile App that presents recent news timely and there are many users now. The news categories included in Myanmar 24h Latest News Mobile App are general news, local news, political news, world news, economic news, sports news, entertainment, health, education, crime, life news, technological news. You can also read news from other newspaper such as Thithtoolwin, Burmese.voanews, Burmese.dvb, 7daysdaily, BBCBurmese, Mizzimzburmese, MyanmarMmTimes, Phothutaw, Trend, Myitmakhamediagroup, Eleven, Burma Irrawaddy, The voice Myanmar, Popular Myanmar, YMG and so it is for sure a good Mobile App.
MMAS ( Myanmar Mobile App )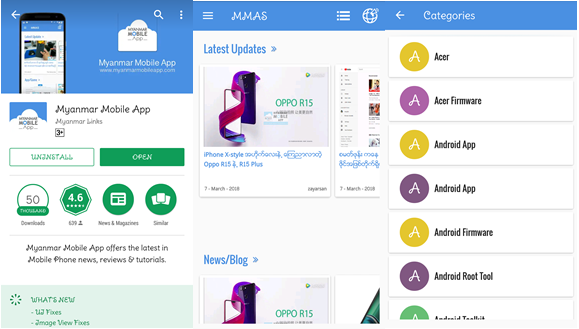 Image Source: https://www.myanmarmobileapp.org/
The Mobile App which disrupts all the news concerned with technology. The categories included in MMAS (Myanmar Mobile App) are Latest Updates, Phone Review, App/Game, Tutorial, Knowledge and the alphabets from A to Z are in order for technological words in categories that users can search easily and quickly. It can be seen that Myanmar's technologies become increasing day by day with the increment of Technology all over the world.