New Launched Huawei Band 6 including SpO2 Level Monitoring and many Workout Modes
The price of new launched Huawei Band 6 including SpO2 level monitoring and many workout modes is 79,000 MMK. Its features can be read as follows.
Huawei Band 6 is designed with a 1.47-inch AMOLED FullView display and a slim and smart frame with a 64 % screen-to-body ratio and 148 % larger viewable area. You can look at something with an impressive quality because it is combined with resolution 194 x 368 ratios and 228 PPI.
The large and high screen-to-body ratio can provide not only a good look but also the data you want. Bigger photos, many exercise records, and heart rate monitoring can be shown in detail. Moreover, you can get a freedom view due to the 4-way touchscreen controls.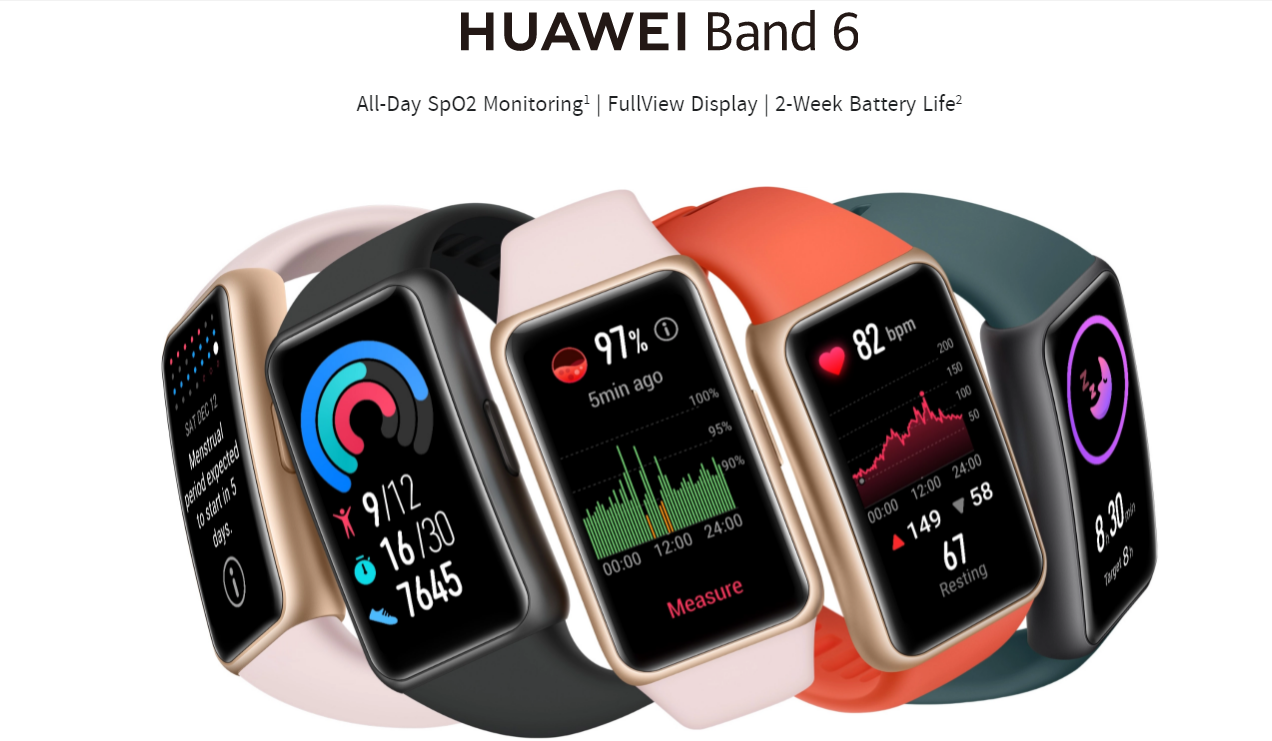 Photo Source https://consumer.huawei.com/mm/wearables/
You can change a watch face that is suitable for your mood after choosing one from a variety of watch face designs in the HUAWEI watch face store. You can easily swipe to get a screen that can catch your eyes and even use your photos as your watch face.
It can be available in 4 different HUAWEI Band 6 colors to choose from for your own visual. You can wear the device which is UV-treated silicone, easy and light on your skin, and dirt-resistant. Very comfortable wear can also be accessible because its weight is just 18 g.
For endurance athletes, HUAWEI Band 6 can offer 14-day battery life for normal use and 10-day for heavy use. You do not need to worry when you face running out of battery. You can get 2-day use of the battery after 5-minute charging with the magnetic charger.
Keeping a record of your heart rate is one of the best things for your health and fitness. TruSeenTM 4.0 heart rate monitoring technology monitors your heart rate accurately 24 hours a day by using optical lenses and AI-based data. When your heart rate increases or decreases from the normal level, the device will alert immediately.
Low blood oxygen level, SpO2 can cause fatigue, memory loss, and brain and heart damage. For this reason, you will want to stay in a safe condition. HUAWEI Band 6 includes a built-in SpO2 detection system 1 to monitor your blood oxygen level 24/7. If the level decreases too low, because the band will vibrate, you can get the time to breathe and regain the normal condition.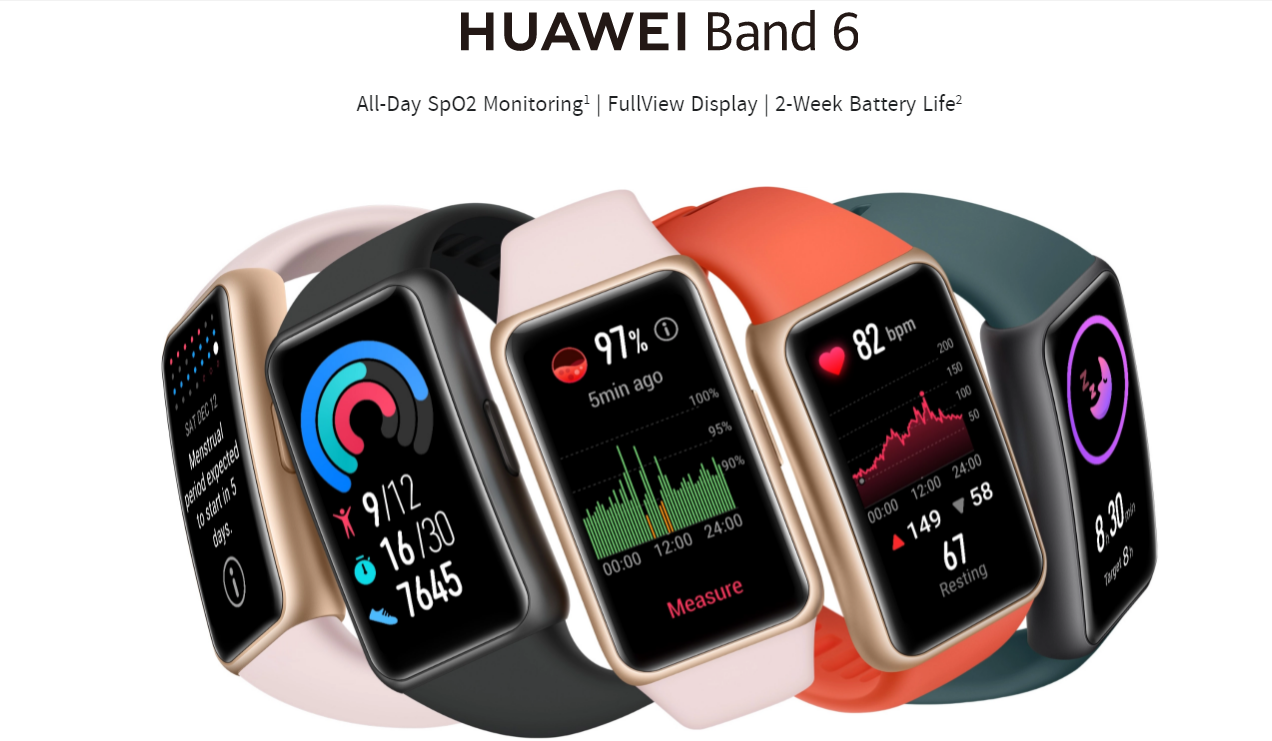 Photo Source https://consumer.huawei.com/mm/wearables/
TruSleep TM 2.0 can detect the time of waking and 4 stages of sleeping which are deep sleep, light sleep, REM, and napping. The quality of sleep and your sleeping time can be recorded with 96.3 % improved accuracy. Six main sleeping problems can be identified and over 200 suggestions for sleeping time improvement can be received.
HUAWEI Band 6 will automatically record the performances via a colorful, eye-catching ring.
You can choose 96 exercise modes and keep a record of your heart rate, calories, and others. Your data can be stored and analyzed in easy-to-read graphs. So, you can set the goals by showing your fitness journey.
HUAWEI Band 6 can not only provide just the health and fitness monitoring but also be easily used by connecting with your phone. Viewing incoming calls and messages, weather information, controlling your music, and taking photos through your phone camera can be conducted by using the device.
The information of HUAWEI Band 6 can be checked via the following link.
https://consumer.huawei.com/mm/wearables/