HUAWEI MatePad Pro Tablet which became the best Mobile Companion
Everyone has ever been the time of lowing the battery or receiving "Reminder Message" while opening the laptop on the work table to work.
When it comes to battery life, everyone has faced such problems and those who are in the workplace suffer more. The reason is that people who are really busy spend their 24 hours online, and sometimes they don't even have time to plug in their devices while making meetings. Whatever the tablets and smartphones have the best performance, and it just needs to plug in and recharge to be available for their performances. What will happen if the Energy Source is now available in these modern days of the Portable version?
HUAWEI Tablets have reached a step forward here. MediaPad M6, released in 2019 has 6110 mAh Battery, and MatePad Pro, released in 2020 uses 7250 mAh.
Both of these tablets offer amazing battery life and MatePad Pro is connected with components like the best Kirin 990 Chipset, Smart Magnetic Keyboard, and HUAWEI M-Pencil more than battery.
It is powerful in Hardware session new features like HUAWEI App Multiplier, Multi-window, and Multi-screen Collaboration in software session.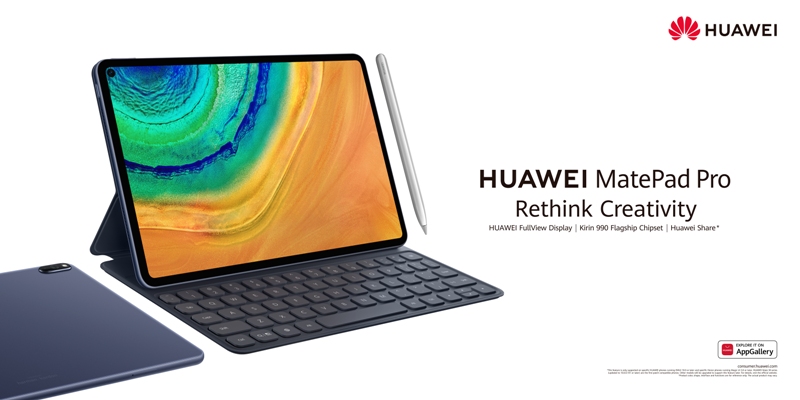 Photo Source https://web.facebook.com/HuaweimobileMM/
10.8 inches screen and 7250 mAh battery are used in this tablet and it will last 12 hours for watching 1080p films, 11 and a half hours for Web Browsing, 11 hours for normal Office use according to the test of HUAWEI Labs.
Thus, thanks to Kirin 990 for using the whole day with just a single charge. It can function as the tablet as well as the power saver. EMUI 10's energy-saving procedure is also included to get a daily Robust Battery Life.
If you have been using too much battery, it is no need to worry about charging a long time for 7250 mAh as it has a solution for it.
According to the support of the 20W Fast Charging and 40W SuperCharge system, MatePad Pro can recharge 3 hours usage of battery capacity within a half hour. It requires 2 hours to get a full charge and provide a longer battery life to the users.
In addition to this fast-charging system, MatePad Pro supports Wireless Charging which supports 15W rates. The 30 minutes charge will last for 2 hours and charging up to 1 hour will last 4 hours.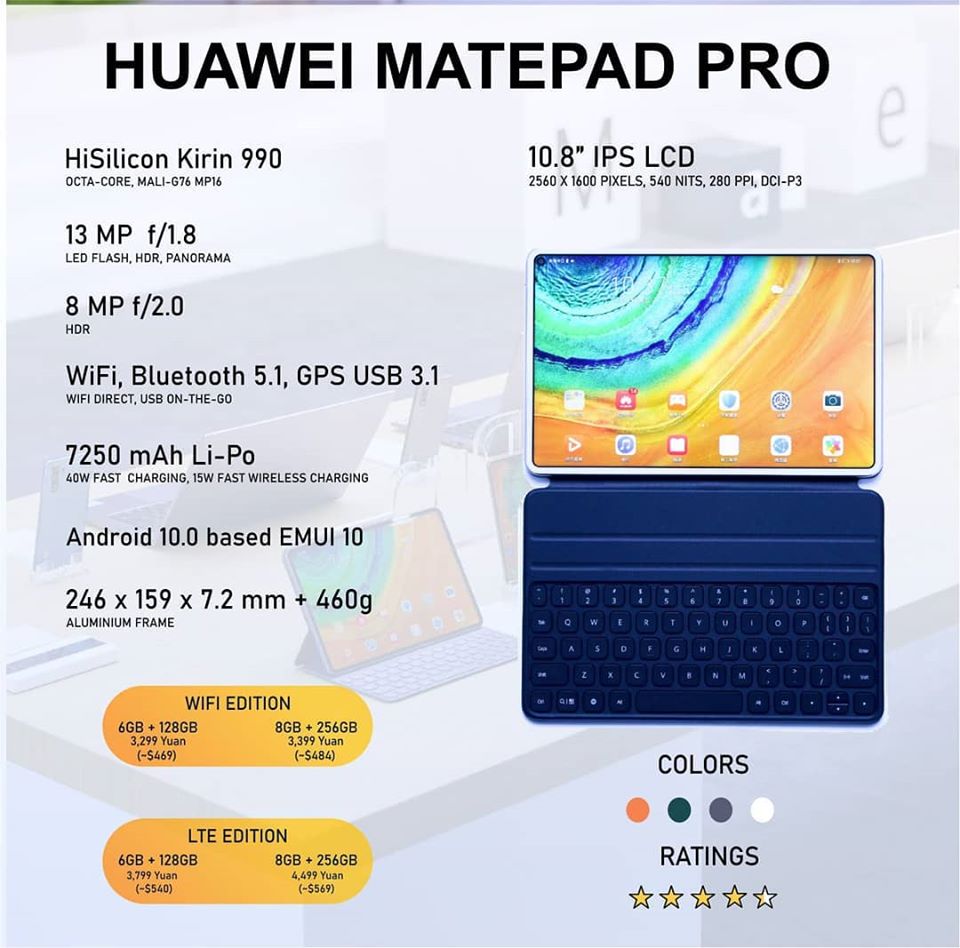 Photo Source https://web.facebook.com/HuaweimobileMM/
As the pioneer of Wireless Reverse Charging, MatePad Pro becomes the world's first Tablet with Wireless Reverse Charging system. In that case, it can be used as a power bank and can recharge any smartphone, Headphones, and Gadget devices that support Qi Wireless Charging.
There is no special action is needed for Reverse Charging and the charging process will proceed after putting the device on the backside of the tablet. Thus, MatePad Pro is a powerful Tablet as well as long battery life which can also recharge other devices. In short, MatePad Pro is an important mobile companion for smartphone and Gadget devices as well as a tablet that offers a long-lasting battery life and a variety of features with innovative technology and Kirin 990 Chipset for the best performance.