TO THE STARS WITH HUAWEI P30 SERIES
Huawei is going to conduct "Mobile Photography Workshop" for P Series users who are interested in Mobile Photography. For those who have a tendency to participate in that workshop, it is needed to be the HUAWEI P Series users in the first place. Once they are selected, they will be fully funded to join "TO THE STARS WITH HUAWEI P30 Series" Mobile Photography Workshop which is going to be held in Kalaw and there, they will have a chance to discuss with Photographer Ko Aung Pyae Soe. On that trip, the authorities, the participants and the Tour Guide will go Trekking to the Workshop Venue at the mountain where it can be happened to taste the stars and galaxy depending on the weather conditions. The selected (20) candidates will be informed through email on 30th April.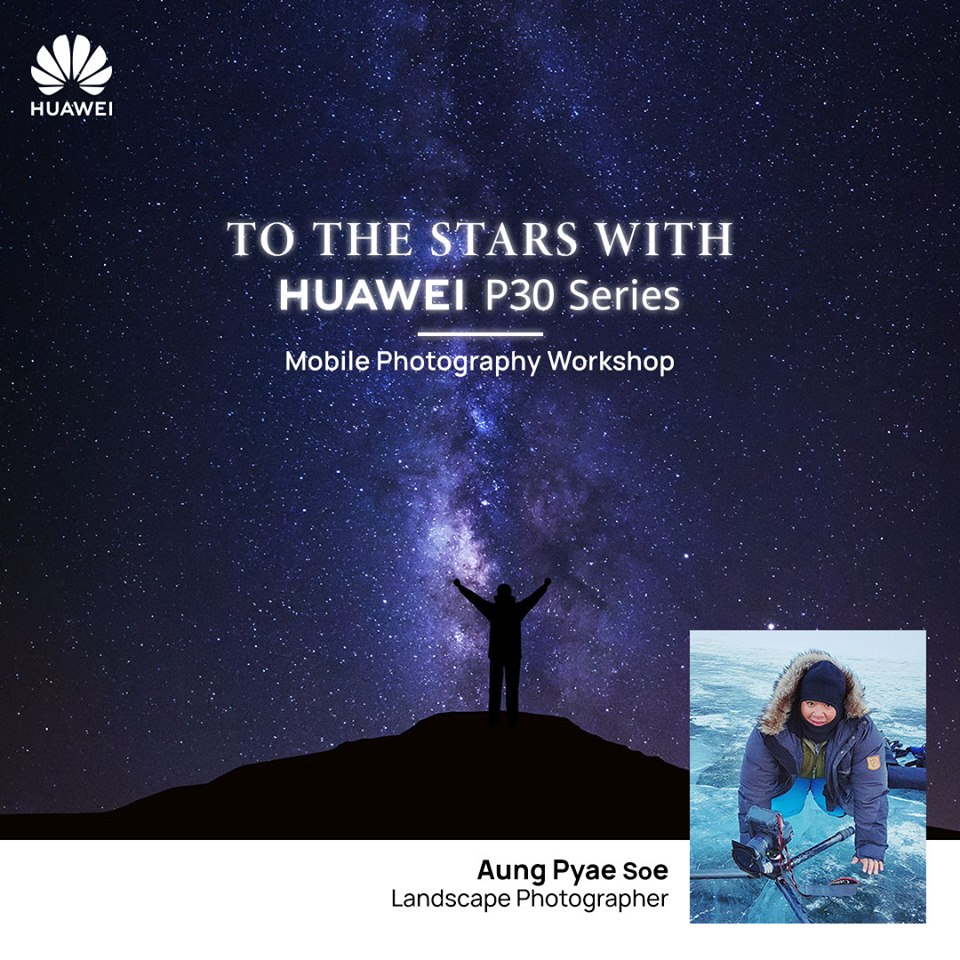 Photos Source- Huawei Myanmar Facebook (https://www.facebook.com/HuaweimobileMM/photos/a.334650983311586/1980019068774761/?type=3&theater)
Terms and Conditions
Once registered to participate in this program, cancellation is not allowed. If it happens so, those candidates will not be accepted to join in activities organized by Huawei within one year.
Trip to Kalaw will start from a pick-up point in Yangon on 4th May at night and will get to Kalaw on 5th May in the early morning. After having breakfast and taking a rest, a workshop with Ko Aung Pyae Soe will be started and lunch will be provided. The trip will be headed to a village in the evening and then will be continued to the venue at the mountain by Trekking. At night, having dinner, tasting the stars, discussing Photography and the custom explanation about Galaxy and Stars will be delivered. On 6th May, after having breakfast, a trip to Yangon will be begun from the mountain. (Detailed plans will be instructed to the selected candidates).
The candidates needed to be over 18 years old for the purpose of going on a trip.
The application deadline for this Mobile Photography Workshop is on 29th April and Accurate personal information must be completely provided. The announcement of selected candidates will be posted on Facebook Page and Event and will be informed through Email as well.
Only one entry per person and replacement is prohibited.
Only HUAWEI P Series users will be eligible and late submissions, incomplete and inaccurate submissions, duplicated and those do not follow the Terms and Conditions will not be considered.
Huawei Mobile has the full right and authority to make decisions if there is an issue.
For more information, Contact at 09-952406801 and 09-964033809.
Note
Expenses for accommodation and living costs will be fully supported and there at the mountain, tents are given for night-stay. Tripod and other appliances related to Mobile Phone camera should be taken along with.
Those who are interested to apply have to fill the application form at http://bit.ly/2ZqOv8G  and it is needed to send not later than 29th April.